2023 Ultimate Guide: Sales Funnel Statistics for Boosting Conversions
Want to increase your conversions? The right sales funnel statistics will help you accomplish this goal.
The path to steady sales, enhanced conversion rates, and business growth is paved with repeated layering of effective funnel tactics. Knowing the numbers behind how / why other funnels perform well helps you to know exactly what to do.
In this complete guide, you'll learn essential sales funnel statistics. Here's some of what's included for your benefit:
An in-depth exploration of the performance others are seeing with their sales funnels—which will help you grow your funnels' conversions faster.
This guide (plus a video) offers pragmatic insights and tactics for you to copy and paste into your funnel. Let's dive in.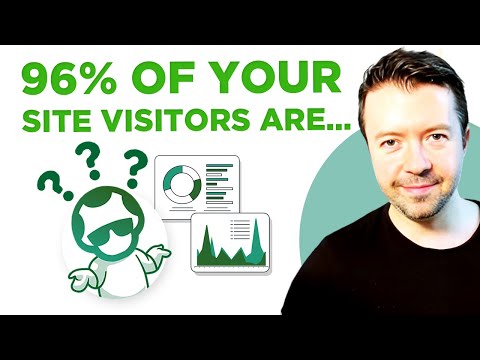 #1–Key Sales Funnel Statistics You Shouldn't Ignore in 2023
Did you know that 48% of marketers worldwide are placing their focus on sales funnel improvements for 2023, according to HubSpot?
Our world is evolving — and so should your marketing strategies.
Let's get an overview glimpse of the latest statistics about sales funnels. If you're in a rush, focus in on this section.
Valuable Stats
1. A significant number of businesses, over 570,000 to be exact, are turning to sales funnel technologies (SaaS tools, apps) to improve their performance, according to data originally from BuiltWith.
2. ClickFunnels has maintained its stature so far, holding onto a considerable 55.8% market share, also according to BuiltWith.
3. User-generated content (UGC) has gained quite a foothold in today's market. How do we know? It reportedly can ramp conversion rates by over 200%, according to Yotpo.
4. Personalized calls to action (CTAs) in emails aren't just fluff. They proved their worth by boosting conversion rates by an impressive 202%, according to HubSpot.
Why It Matters in the Real World
Companies today are increasingly becoming data driven. Take the company "Impact", for instance.
By introducing personalized CTAs, their conversion rate grew by 78.5%.
Similarly, a consumer study by Turnto Networks revealed that 90% of shoppers say UGC sways their purchasing decisions more than any other marketing strategies.
Expert Insights
"The classic funnel stages still matter… users just don't go through them sequentially."
— Josh Aberant, CMO at SparkPost
True, and featured this quote here because it's a great overall insight to get us started in this guide.
The key takeaway? Customers / leads will make their own funnel path to the "bottom" where they make a buying decision.
Funnel structure is helpful but, craft your funnel to flow with the market rather than keeping the funnel steps rigid.
Actionable Tips
Let me share a few tips from the AutoGrow team's and my experience:
1. Continually refine your existing sales funnel elements, you don't have to start from scratch. Believe me, personalized CTAs in emails can significantly improve conversions. Check out our survey funnel data here where we've seen between a 300-400% increase in engagement.
2. Be sure to invest in sales funnel technology. Many tools out there will save you time and grow your sales easily, but many business owners and marketers are not tapping into each tool's full potential.
3. Authenticity matters. User-generated content can build buyer trust and pave the way for significantly higher conversions.
At AutoGrow.co, we stick like bees to honey to a clear ROI tracking guideline.
It's simple.
For every dollar invested, how much do we generate in return, in terms of revenue and in terms of profit?
I recommend this for your sales funnel strategy. Sounds basic but most of us are held back by not doing the basics well.
Further, the key isn't just knowing the stats. It's leveraging them to spur conversions and business growth.
Next up, maximizing your sales funnel conversion rates!
Funnel Statistics #2—Maximizing Conversion Factors: Landing Pages, Speed, and Personalization
Now let's keep warm up on a mix of conversion funnel elements and factors…
Here are some key stats to keep in mind as inspiration and as actions you can take.
Valuable Stats:
1. On average, landing pages convert at about 2.35%, according to WordStream across all industries. (keep in mind here that the authors of this research did not define "conversion" so clearly so we assume this may include some pages with paid offers and not just lead magnets or squeeze pages where people click a button to get to the next step).
For lead magnet landing pages specifically, if you aren't asking users to fill out more than 1-3 form fields, 20-40% is what I recommend you aim for. That's based on our experience creating, testing, and launching 100s of lead magnets for clients.
2. Pages that load in one second see a conversion rate 2.5 times higher than pages taking five seconds, according to Portent.
3. Pages with a single CTA hit conversions up to 13.50%, according to Unbounce.
Again, keep in mind that conversion can mean a few different thing here (see note on the WordStream statistic above)
Would you believe me if I told you we achieved an 80% opt-in rate for a client's lead magnet? It's true (you can find a video testimonial related to it on our pricing page), though this was before Facebook was slapped by Apple's cookie tracking policy. I think it would still convert nearly as well now though.
4. Across all industries, according to Yotpo, people who look at UGC are converting 161% more than people who are not looking at UGC.
Making It Real: Case Study Example
This case study is from Vodafone.
The A/B test conducted with web.dev demonstrates the impact of page speed.
After testing two identical pages, one with a 31% improvement in perceived load speed, results showed that the optimized landing page had an 8% increase in sales.
A faster site = more conversions, more sales (and even more traffic based on Google's own published guidance for SEO).
Expert Insights
The key to funnel optimization is consistent testing.
This will provide you with valuable data to up your conversion rates.
Testing is crucial.
"If you're not testing, you're not maximizing your potential profit."
— Neil Patel
Actionable Tips
So, how can we turn this mix of stats into profit-driving tactics?
Here's your guide:
1. Make your webpages load fast. Utilize Google's PageSpeed Insights to stay on top of your load times. Your traffic and your sales will grow as a result.
2. Remember, one page should have one outstanding CTA.
3. Leverage UGC. Include your customers by showcasing their experiences.
4. Customize your CTAs. A bit of tweaking with your CRM or marketing automation system data can pay off.
Sales funnels are ever-changing. They improve with continual testing and refining.
Remember, even a small increase in your conversion rate can significantly enhance your profits.
Ready to up your sales funnel game?
Let's delve into choosing the right sales funnel builder.
Funnel Statistics #3—Top Sales Funnel Technologies and Their Market Shares
Ever thought about the tech behind your sales funnel as a small business owner?
The right sales funnel software tools can really enhance your conversions.
Let's delve into why this choice is crucial.
Valuable Stats
1. According to data from BuiltWith, from the 570,000 websites using at least one sales funnel technology about 319,900 websites are using ClickFunnels.
2. Mailchimp has the majority of the market share for email marketing tech at 65.75%. It is followed by Klaviyo and Constant contact at 9.75% and 5.82%, respectively.
3. Looking at CRMs, Salesforce is the leader with 31.3%. Competitors Adobe, Oracle, Microsoft, and SAP are tailing.
Why It Matters in the Real World
The right tech stack can be quite effective.
For instance, Action Jacquelyn effectively used Kajabi to develop her fitness app and course and attained a seven-figure fitness and wellness business.
Moreover, it's not just them; even BizCover found success using Salesforce CRM, which enhanced team efficiency and automated the majority of its operations.
I have a fellow entrepreneur friend who's quite successful at launching info product. He said, he thinks choosing the right tools is similar to choosing the right (vs wrong) people to hire to your team. If the tool does what you "hired" it to do, you'll grow.
Expert Insights
Whether you're a 9-figure enterprise, or a bootstrapped entrepreneur, your funnel "tech stack" will partly define your success (or lack of).
But beyond the tool doing what it's supposed to, the tool itself doesn't do the work. The hammer doesn't swing itself (and this goes for AI too).
The tools should work, and be easy for you and your team to integrate into your workflow. Beyond that? The tools that power your funnel: recognize their execution is fueled by the inputs you give.
Make sure that "fuel" (e.g. content) connects with your audience so as to build those relationships which turn into referrals and sales.
Actionable Tips
1. Pick your tools wisely. Don't be taken by "popular" software names; find what fits your needs.
2. Understand the effectiveness of a sturdy CRM for your sales funnel management. It streamlines your processes and improves conversions.
3. Get to grips with your tech tools. Using all their features can align your sales funnel strategy and increase conversion rates.
Want to know how user-generated content can boost your sales funnel results?
Let's talk about that next.
Funnel Statistics #4—Harnessing The Power of UGC in Sales Funnels: A Statistical Exploration
UGC is more than just a hot trend.
When trusted customers rave about your product, it not only reinforces credibility but also significantly ramps up conversions.
Let's dive in.
Valuable Stats
1. In case you missed it earlier, the reports show that UGC can rocket conversions by over 200%, according to Yotpo.
2. In 2022, there was a 3.8% lift in conversions among site visitors who were served up some form of UGC, according to Power Reviews.
3. In fact, 92% of those polled said that referrals from known people are the most trusted source, according to Nielsen.
Varieties of User-Generated Content (UGC) and Their Impact
Different types of UGC make a difference:
1. Customer Reviews and Ratings: An online thumbs-up does wonders, boosting conversion rates by a potential 270%, according to Spiegel Research Center.
2. Customer Photos and Videos: Visual UGC leads to higher engagement and can propel conversions by up to 161%, according to Yotpo.
3. User-Created Content: UGC is 35% more memorable than other media, and 50% more trusted.
Why It Matters in the Real World
The Australian tea shop T2 successfully launched new products during pandemic lockdowns through UGC. T2 got the latest tea to their most loyal customers which resulted in an immediate increase in reviews. The reviews and visual UGC that the sampling campaign produced resulted in a significant increase in conversions and revenue per visitor, according to Bazaarvoice.
Following a similar trajectory, Glossier built their marketing strategy around UGC, and brand growth followed, according to Extole.
Expert Insights
Marketing expert Jay Baer says, "Hugging your haters and embracing complaints is a way to differentiate your business from the competition."
This insight underscores the unexplored potential of all forms of UGC, including the critiques.
AutoGrow's Journey With UGC
At AutoGrow, we're always looking into how we can use UGC more effectively.
For example, we received an amazing blog comment saying how the commenter has taken a number of our tips, implemented, and grew his business.
Our current idea is to take this quote and place it near a CTA to join our email list. It's a powerful testimonial, so I'm certain it'll help grow conversions.
Actionable Tips
These tried-and-true UGC strategies are ones you might want to meditate on for your business:
1. Host Contests: Encourage customers to share their experiences publicly by holding contests.
2. Leverage UGC Platforms: Use tools like Yotpo to curate and display customer reviews and photos on your product pages.
3. Combine UGC and Influencer Marketing: Pairing influencer marketing with customer reviews can significantly boost your conversion rates.
Remember: UGC isn't a fleeting trend; it's a marketing necessity.
When you manage it right, UGC can seriously boost your sales funnel.
Now, let's tap into the world of personalized emails in our journey through the sales funnel landscape.
Funnel Statistics #5—Driving Sales Funnels through Email: Engagement Statistics and Tactics
Valuable Stats
1. The average open rate for emails is 21.5%, according to Campaign Monitor.
2. Order confirmations have an impressive 58.32% open rate according to Omnisend. Yes, it took me by surprise too.
3. Here's an interesting fact: Emails with videos garner 300% more clicks, according to HubSpot. Not a typo, 300%!
4. Transactional emails enjoy 8 times more opens and clicks, according to Experian. Seriously, you shouldn't overlook these.
5. Personalized subject lines increase opens by 26%, according to Campaign Monitor. A little personal touch does make a difference.
6. Segmented emails result in a significant 300% higher click-through rate, according to
Revinate. Segmentation is definitely more than just a buzzword.
7. More than 8 out of 10 people will open a welcome email, according to GetResponse. That's some proper red carpet treatment!
Why It Matters in the Real World
But why are these stats important?
They've proven beneficial at AutoGrow.co.
For instance, one of our food delivery clients saw an uptick in open rates and delivery orders by including short "dish of the day" videos in their emails.
Expert Insights
Quoting Kath Pay, "Every email is a customer survey of your target market, by testing they vote on what resonates best with them."
Actionable Tips
1. Videos Are Your Friend: Embed a concise video in your email. Trust me, it boosts engagement. We proved it at AutoGrow.co.
2. Don't Just Confirm, Suggest: Spruce up your transactional emails. Use them to suggest related products or to request a review. We tweaked our emails at AutoGrow.co and witnessed a significant jump in upsells.
We at AutoGrow.co also researched about the best times to send emails.
Best time?
Tuesdays and Thursdays between 10:00 a.m. and 11:00 a.m.
By implementing these tips, you're likely to retain subscribers and transform them into repeat customers.
Up next, let's look into the problem of cart abandonment. How do you prevent potential sales from slipping away?
Funnel Statistic #6—Tackling Cart Abandonment: Strategies To Retain Potential Sales
The overall average cart abandonment rate in 2023 stands at a startling 70.19%, according to Baymard.
But don't worry! Many e-commerce businesses collectively lose an estimated $18 billion each year to cart abandonment, according to Forrester, but you can avoid joining them.
Valuable Stats
1. Cart abandonment is an unpleasant truth in e-commerce. The silver lining is, there are proven methods to offset it. In 2022, Fit Small Business identified email and ad retargeting are the best solutions for recovering lost sales.
2. Moreover, a strategic recovery email could yield a solid conversion, with 28.3% of clicked emails resulting in a recovered sale, according to SaleCycle.
Why It Matters in the Real World:
Here's an example.
ReplaceDirect reduced cart abandonment by a whopping 25% just by highlighting no added shipping costs on the product pages itself, according to VWO.
Another success story is from Andrew Youderian who managed to recover between 3% and 11% of abandoned carts each month through targeted email campaigns, according to Econsultancy.
Expert Insights
E-commerce expert Christian Holst from Baymard says, "Cart abandonment/conversion rate also depends on other things than the checkout experience. Some sites can have a poor checkout experience but still have a decent cart conversion rate, without revealing any untapped potential."
Justin Emig, director of E-commerce strategy at York Wallcoverings believes, "The most significant aspect that online retailers often overlook, which greatly impacts customer experience, is not making the checkout process streamlined and easy. Customers want to give you their money. Make it easy for them with a straightforward and simple checkout."
Actionable Tips
Let's delve into some key strategies on handling cart abandonment:
1. Transparency Matters: No hidden costs. Keep customers informed.
2. Keep Checkout Simple: A smooth checkout process equals success!
3. Engage With Customers: Use live chats or chatbots! Improved customer engagement leads to better sales.
4. Send Timely Reminders: Cart recovery emails can flip the game. Utilize them to your advantage!
At AutoGrow.co, we used a unique strategy — a $7 tripwire offer.
This not only reengaged those about to abandon their cart, but it also increased their order value by $30-$50.
Understanding your customers and using targeted strategies can significantly boost your conversions!
Funnel Statistic #7—Adapting Sales Funnels for Mobile: Essential Strategies in a Mobile-First World
Valuable Stats
1. Picture this: As of the first quarter of 2023, smartphones accounted for approximately 74% of retail site traffic worldwide, according to Statista.
2. Also, consider that a slowdown of as minimal as 100 milliseconds decreased conversions on mobile by 7.1%, according to Internet Retailing.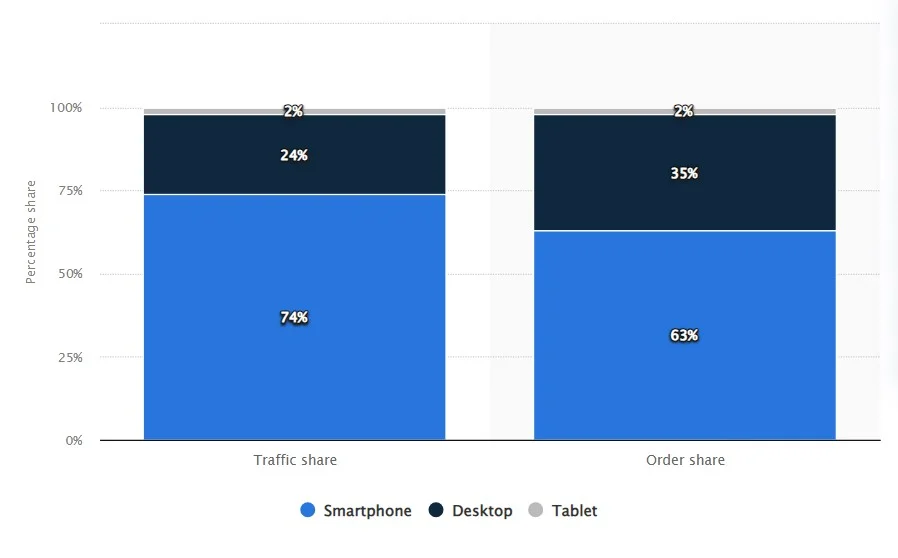 Why It Matters in the Real World
Recognizing that mobile isn't optional, Grand Marketing Solutions saw mobile conversions grow by nearly 30% by adding a mobile-responsive design.
Expert Insights
Cyndie Shaffstall, a recognized marketing specialist, asserts, "Mobile is not the future, it is the now. Meet your customers in the environment of their choice, not where it's convenient for you."
This is a mindset we firmly adopt at AutoGrow.
Email Matters
When optimizing for mobile, email should not be an afterthought.
Believe it or not, 42% of email opens in 2019 occurred on mobile devices, according to Litmus.
The main takeaway? Your mobile-optimized sales funnel should incorporate email marketing strategies tailored for smaller screens.
Actionable Tips
1. Enhance Load Speed: Use compression tools, optimize visuals, remove excess code—every small fix is significant.
2. Adopt a Responsive Design: Ensure your website adjusts smoothly to any device.
3. Streamline Navigation: Make it easy for your users to find what they need.
4. Craft Finger-Friendly CTAs: CTAs are a must—so make them noticeable and easy to tap.
5. Test Relentlessly: Use tools like Google's Mobile-Friendly Test. Regularly ensure your mobile user experience is top notch.
Always remember, with mobile optimization, consistency is key. Updates are significant. Start today and set yourself up for an abundance of mobile conversions!
Funnel Statistic #8—The Art of Upselling and Cross-Selling: Techniques To Boost Your Funnel Revenue
Upselling and cross-selling can genuinely give your revenue a boost.
Whether you're a massive online retailer or a small service professional, these techniques can yield excellent results.
Let's dive in.
Valuable Stats
Let's examine some significant statistics for upselling and cross-selling:
1. Existing customers are 50% more likely to try new products and spend 31% more, on average, compared to new customers, according to Business 2 Community.
2. If you operate a SaaS business, note this: 70%-95% of your revenue comes from upselling, says the Pacific Crest SaaS Survey.
3. Upselling can make customer acquisition 68% cheaper, says Sumo.
4. For tripwire funnels and upsell conversion rates, aim to hit between 1.5% and 3%, suggests Data Driven Marketing.
Why It Matters in the Real World
Consider these well-established entities:
1. Thanks to intelligent upselling and customer segmentation, Amazon boosted its revenue by an estimated 35%, according to The Future of Commerce.
2. Dropbox, a hero in the SaaS industry, managed to convert about 2.2% of free users to premium ones, according to the American Marketing Association.
3. At AutoGrow.co in 2018, we saw that implementing a $7 tripwire led 5% of visitors to purchase a product.
Expert Insights
Why are upselling and cross-selling important?
Dr. Robert Cialdini provides an insightful perspective on this in his book, "Influence: The Psychology of Persuasion."
Actionable Tips
Here is what you can do to introduce upselling and cross-selling into your sales strategy:
1. Display premium items or variants next to standard ones to highlight their value.
2. Use customer segmentation to identify and target those who'd likely respond to upselling or cross-selling.
3. Customize your offers to align with your customer's needs.
4. Be honest and relevant with your offers. This way, you'll appeal to your customers' main goals.
Upselling and cross-selling work for businesses of all sizes, including ones like AutoGrow.co.
They can help you convert more customers and generate more revenue.
Stick around, we're about to show you how to shape your content strategy up next.
Funnel Statistic #9—Content That Converts: Tailoring Your Content Strategy to Each Funnel Stage
Good content is essential for a successful website.
You need to put the right kind of content in the right place. Here's how:
Valuable Stats
1. Want to attract more visitors and links? Post long-form essays of 2,000 words or more, according to Neil Patel.
2. Blogs are king. 55% of marketers say blogs are their go-to for inbound marketing, according to HubSpot.
Why It Matters in the Real World
Let's consider Buffer, a comprehensive social media tool.
They opted for long-form posts over short ones. Their audience doubled in just a few months!
Expert Insights
Andrew Davis, author and keynote speaker, believes, "Content builds relationships. Relationships are built on trust. Trust drives revenue."
Valuable Tips
To make your content more impactful, consider the following tips:
1. Write in-depth about topics that matter. It can catch the reader's attention as well as please the search engines.
2. Involve insights from industry experts in your content to give it an edge.
3. Mix up your content formats for each stage of the funnel—blogs, emails, newsletters, and more.
4. Don't forget that everyone loves a good story. Include yours or your customers' experiences.
Tech Tip
Optimizing page load times, especially for mobile devices, is essential. It can make a difference to whether your content is read or not.
Tools like PageSpeed Insights can help detect speed bottlenecks.
With the right strategies, content creation challenges can be overcome, and you can turn your content into a conversion machine.
Stay persistent, and see how your online business can benefit.
Funnel Statistic # 10—Social Selling: Harnessing Social Networks To Boost Your Sales Funnel Results
Valuable Stats
1. Looking at how social selling impacts your return on investment, 61% of organizations engaged in social selling report a positive impact on revenue growth, according to Sales for Life.
2. Companies using social selling techniques are 40% more likely to hit their sales targets than those that don't, according to MarketSplash.
3. Additionally, 54% of social media users utilize social platforms to research products, according to GWI.
4. 78% of businesses that employ social selling outperform their rivals that don't, according to LinkedIn.
Why It Matters in the Real World
Let's see this stuff in action. Ivanti went from 1,000 to 3,000 shares in the first month—and then up to 17,000 shares within the first quarter when they launched the brand ambassador program and drove employee advocacy, according to Sprout Social.
Companies with sales teams using social selling have 51% higher revenue growth than nonusers, according to Startup Bonsai. So yes, social selling can be a game-changer for sales funnels.
Expert Insights
Sandy Carter of Unstoppable Domains advises, "We embed social media inside our processes. Let's look at our processes and see how we can enhance them with social."
The team at AutoGrow.co found that regular interaction with our audience through social media not only gave a human touch to our brand but also served as a critical source of customer feedback.
Social Selling Tips for Different Platforms
Each social platform requires a tailored approach:
1. LinkedIn: Promote your personal brand, share thought leadership content and interact with potential leads.
2. Facebook: Build communities through Facebook groups and engage your audience regularly.
3. Twitter: Track brand mentions and industry hashtags, initiate conversations, and build relationships.
4. Instagram: Blend product and lifestyle images, engage with followers, and utilize Instagram Stories for Q&As or product demos.
More Actionable Advice
Here are few steps to excel in social selling:
1. Interact regularly with potential leads.
2. Highlight client testimonials and success stories for robust social proof.
3. Encourage your audience to share your products or services. A simple share can lead to a potential, organic lead.
With social selling, you'll have leads that are ripe for conversion. As we step confidently into the next stage of our sales funnel journey, remember that constant social interaction, compelling social proof, and effective sharing techniques can enhance your sales efforts.
Funnel Statistic # 11—Looking Ahead: Expert Predictions on Sales Funnel Strategies in 2023 and Beyond
Staying updated with future trends can pave the way for success. Being prepared for the evolving state of sales funnels can give you an edge.
Valuable Stats
1. Shama Hyder, a digital marketing authority, notes that AI allows B2B marketers to engage with their target audiences in a personalized, more engaging manner.
2. Aaron Ross, author of "Predictable Revenue," predicts CRM will become more integrated, facilitating a more efficient sales process.
3. Salesforce predicts that AI adoption by sales teams will grow by 139% in three years, making it the top growth area in sales.
Why It Matters in the Real World
Netflix managed to revolutionize viewer engagement by using AI for personalizing content, rocketing its global growth, according to Medium.
Similarly, Salesforce revamped CRM functionality by integrating AI and automation, greatly improving operational efficiency.
Expert Insights
From my experience, the future of sales funnels is not competing against AI, but partnering with it. Thoughtful use of AI can supercharge your sales funnel operations.
Actionable Tips
1. Embrace AI in your sales funnel to enhance the user experience.
2. Stay alert to CRM trends. They play a vital role in plotting your sales course.
3. Adopt automation. It can help you handle repetitive tasks, freeing up time for strategic planning.
Keep learning. Stay in sync with the emerging trends that could redefine the sales funnel landscape. Business practices evolve frequently, so being adaptable is key.
Conclusion
We've traversed the landscape of sales funnels, right? Let's recap:
Sales funnels are the lifeblood of your business.
Personalized CTAs are direct and effective.
Page loading speed is essential: the faster, the better.
Having the right tech tools at your disposal is vital for growth.
User-generated content is valuable, not just a trend.
Upselling and cross-selling are unsung heroes of revenue streams.
Tailoring content for each funnel stage is crucial.
AI and automation are our allies, not adversaries.
Attention, SMB owners and marketers! Which tactics are working for you? Do share your insights. Your experience might inspire someone else's growth!
Up next, the final stage: action! Useful knowledge only becomes effective when implemented. So, it's time to apply these strategies and utilize an optimized sales funnel to elevate your business.
Remember, every single step is important. Our growth is achieved one conversion at a time!
Keep AutoGrowin', stay focused.
Image Credits:
https://trends.builtwith.com/
https://blog.hubspot.com/marketing/personalized-calls-to-action-convert-better-data
https://www.impactplus.com/blog/writing-button-text-that-can-double-your-conversions
https://www.wordstream.com/blog/ws/2014/03/17/what-is-a-good-conversion-rate
https://www.portent.com/blog/analytics/research-site-speed-hurting-everyones-revenue.htm
https://medium.com/inside-unbounce/infographic-the-data-behind-landing-page-trends-in-2018-b4b6787a40dd
https://blog.hubspot.com/marketing/personalized-calls-to-action-convert-better-data
https://web.dev/vodafone/
https://www.datanyze.com/market-share/email-marketing–13
https://www.appsruntheworld.com/top-10-crm-software-vendors-and-market-forecast/
https://www.nielsen.com/insights/2012/consumer-trust-in-online-social-and-mobile-advertising-grows
https://writix.com/wp-content/uploads/2021/12/Spiegel_Online-Review_eBook_Jun2017_Pv2.pdf
https://www.bazaarvoice.com/blog/10-user-generated-content-marketing-examples
https://www.websitebuilderexpert.com/grow-online/user-generated-content-examples
https://www.yotpo.com/platform/visual-ugc
https://www.omnisend.com/blog/confirmation-emails-the-ultimate-guide-to-increasing-sales-on-autopilot
https://baymard.com/lists/cart-abandonment-rate
https://www.salecycle.com/blog/featured/remarketing-report-q4-2016
https://econsultancy.com/nine-case-studies-and-infographics-on-cart-abandonment-and-email-retargeting
https://www.statista.com/statistics/568684/e-commerce-website-visit-and-orders-by-device
https://www.litmus.com/blog/infographic-the-2019-email-client-market-share
https://www.invisionapp.com/inside-design/examples-responsive-web-design
https://sumo.com/stories/ecommerce-upselling
https://instapage.com/blog/upsell-landing-pages
https://blog.hubspot.com/blog/tabid/6307/bid/5014/study-shows-business-blogging-leads-to-55-more-website-visitors.aspx
https://developers.google.com/speed
https://blog.gwi.com/chart-of-the-day/social-browsers-brand
https://business.linkedin.com/sales-solutions/social-selling
https://becominghuman.ai/how-netflix-uses-ai-and-machine-learning-a087614630fe
https://www.salesforce.com/products/ai-for-sales