As a kid, I used to try and earn extra money when I could.
In the summer, I would wash cars.
In the winter, I'd shovel driveways.
When a particularly bad blizzard hit New York one year, I managed to earn nearly $1,000 in a day. I'd hired a few friends, and I pre-sold homeowners the day before on our shoveling services. That way we were ahead of the competition and could focus on getting paid.
All it took was a bit of sweat equity to get my own "service business" off the ground.
Service businesses are the easiest kind of business to start, but they are also the most challenging to grow.
That said, if you have a solid idea for an info product or software product, you should see fast and easy growth — but ONLY after a certain point. This is because it takes time to build market awareness. And at $20-$50 per month, you need a LOT of customers before you have a substantial business.
What if you could somehow combine the benefits of a software product with the ease of starting a service business? Is it possible?
It is.
Enter: the productized service.
And if you want to skip all the heavy lifting and save time, consider our done-for-you funnel service for productized service companies.
What Is a Productized Service? (One Clear Definition to Rule Them All)
A productized service simplifies and focuses your business' marketing operations into a model that is more predictable, process-focused, and easier to sell.
In short, your professional service is packaged so it becomes more like a product you can easily sell and service in a repeatable way.
Some of the best productized service businesses package their services with a recurring offer.
For instance, say you own a productized home maintenance company. For a small fee each month, you may send your staff out to inspect a home per your multi-point checklist. This ensures the homeowner is living safely.
In the case of this company, your services would be ongoing. It makes sense to charge a recurring fee.
What Are the Benefits of a Productized Service?
That brings us to the benefits of a productized service. As you'll see, there are a myriad of perks.
Increased Revenue for Your Service Business (and Save Time)
One of the biggest benefits to productized services is increased revenue. This is especially true if you charge recurring fees, so revenue will be more predictable and compound over time.
Telling people exactly what they're getting makes the sale easier and also works to grow revenue. You can describe your services tangibly—three tasks done or five units of X or Y for a specific dollar amount—which makes it easier for people to make purchase decisions faster.
When people get on the phone with you, they will already understand the offer, the scope of work your service covers. This way, the phone interaction with your prospect becomes less about selling and more about answering any final questions or simply taking their order.
I've observed this positive result with our own productized service.
Improving Your Company's Cash Flow Position
This is a little different than focusing on revenue. By improving your cash flow position, you can budget more easily and plan your expenses better. You won't feel trapped in the feast or famine cycle where you're desperately hunting for your next lead.
Less Stress
That cash flow predictability alleviates a lot of worry as a productized service business owner. Once you get the business up and running, you'll have a system of doing things that are consistent and less stressful.
More Scalable
With cash flow consistency comes scalability. You're doing the same thing over and over on a regular basis. That means you'll get better at delivering the same results.
This is good for both your business and your consumers because it can lead to positive word of mouth.
This will help if you want to sell your business one day. It'll be much easier to do so.
6 Examples of Successful Productized Services
Productized Service #1: WP Curve
WP Curve does WordPress maintenance. We've written about them many times, and it only takes one trip to their website to see why.
Immediately, WP Curve lays out all its benefits. The company mentions having more than 1,000 active users at any one time, 4,000 jobs done for June, nearly 40 members available globally 24/7, and more than 44,000 jobs done since the company was founded in 2013.
Their pricing plan is just as in-depth and informative, served in a packaged way.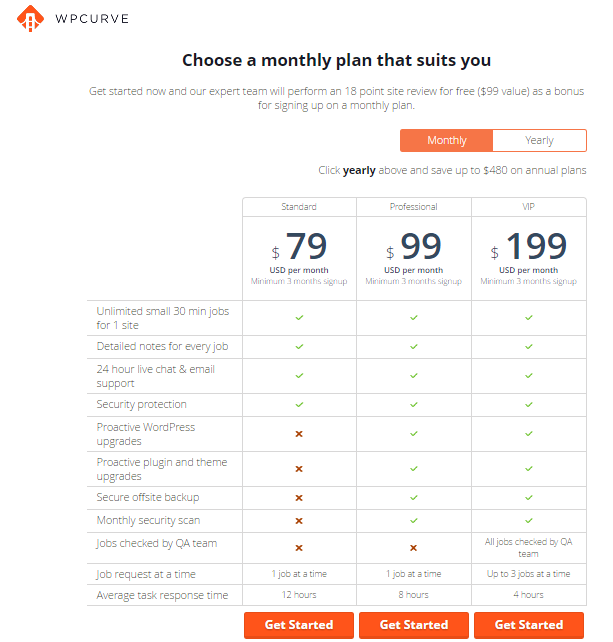 Productized Service #2: Design Pickle
Design Pickle is a relatively new website. The company gives you access to a graphic designer who will do unlimited requests for logos, book covers, websites, and much more.
Their website begins with a short video by founder Russ Perry. In the five-minute clip, he explains everything there is to know about his productized service.
If you don't have time for a video, there's a rundown of all the services further down the page, including flat-rate pricing, unlimited revisions, and world-class support.
Companies like Infusionsoft, Taser, Market Like a Nerd, and DigitalMarketer have made use of Design Pickle's services, which increases their credibility.
Productized Service #3: AutoGrow.co
Then there's us at AutoGrow. Our productized service is the creation of sales funnels and lead generation funnels to help increase revenue for professional service businesses.
As I mentioned earlier in regard to increasing revenue with a productized service, our services are described very tangibly, so our clients know exactly what they're getting with each package.
Productized Service #4: Apollo Answering Services
Apollo Answering Services is actually one of our clients. The company helps lawyers, construction companies, and doctors answer their calls when they can't be there.
The company has different pricing packages, which crystallizes what a good productized service page should look like.
We use them as an example a lot, as you'll notice if you're a regular reader of the blog. That said, they're worth mentioning because they are a very specific service business.
We've helped them to productize their business on the marketing and operations end, and behind the scenes, they have a very systemized onboarding process.
Productized Service #5: Here Comes the Airplane
Here Comes the Airplane is pretty funny. It's a San Francisco-based service that supposedly feeds your baby via helpers so you don't have to. It may be for adults, too. Not much else is known about it.
I did think it was worth including because the premise is interesting.
Right now, there's a waiting list you can join. Then, according to the company, a helper will come out and "assess the size of the silver spoon in your mouth. You never have to worry about feeding yourself again."
Fun concept, right?
The pricing is right on the homepage. You can choose from three plans: up to three meals with the Tea Spoon plan, up to six meals with the Table Spoon plan, and up to 10 meals with the Soup Spoon plan.
Here Comes the Airplane even has accolades from TechCrunch. They're big about promoting the GPS tracking and background checks each helper goes through before they start working.
Productized Service #6: Heroic Search Link Building Service
SEO has a bad rep because of the not so transparent process & shady tactics SEO agencies use. If you have ever hired SEO's before, you probably have had at least one bad experience.
Heroic Search seeks to make the SEO process transparent & affordable. The Service is productized such that people can buy links individually instead of paying for a full SEO campaign. The best part is, the links are built by emailing & starting real relationships with site owners instead of using software & bots.
They have come up with different packages based on how difficult the client's industry is to build links in.
A Few Quick Tips for Developing Your Own Productized Service
These tips are intentionally brief and meant to augment your operations as a productized service company:
Keep things simple. The simpler your process, the more it will appeal to customers.
If you can, offer a recurring service. This will create a consistent cash flow and make your business more predictable.
Make sure you're meeting a need. In researching this article, I found plenty of example lists of productized services, but many of those lists are from companies that are no longer in business. If you're meeting a need, this shouldn't happen.
Conclusion
Productized services are still a relatively new concept, one that's only about two or three years old. That means not a lot of people are aware of these services, but they should be.
By following these tips, a productized service can dramatically change the way you run your business.
To review:
Again, simple processes with tangible products/results will appeal to more customers. They can clearly visualize the benefit of your services.
Improving your cash flow is important to business longevity. Once you get a consistent, predictable cash flow, managing your productized service company becomes easier.
The goal is to get to the point where you can't take on new clients anymore because your client list is so full. This allows you to be more selective, picking the most profitable partners to work with.
Do you offer a productized service? Do you plan to after reading this article? Which of my tips and examples did you find most relevant to your company? Let me know in the comments below.
Keep Hustlin', Stay Focused
—Matt