How to Build Your eCommerce Sales Funnel + Free Templates
Thanks to big-name brands like Amazon, using eCommerce websites has become an everyday part of your life. 
But if you're running an eCommerce business, you know how hard it can be to attract buyers and turn them from "just browsing" into "take my money."
And that's where an eCommerce sales funnel comes in. 
An eCommerce sales funnel helps you automate your prospect qualification. 
And with the right funnel, you can attract, nurture, and sell to leads without having to lift a finger. 
And by automating your leads with your eCommerce funnel, you'll have the extra time you've always needed to grow your business.
Today, I'll tell you:
Why your business needs an eCommerce sales funnel and what 3 core components are required for it to work.
4 ways an eCommerce sales funnel differs from other funnels.
Plus 2 free eCommerce sales funnel templates proven to convert that we use at AutoGrow for our clients. 
Alright, let's see if you know the answer to this question…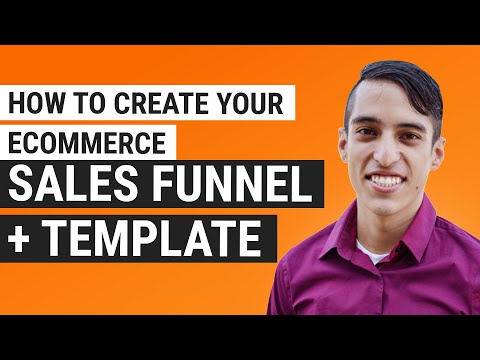 What Is an eCommerce Sales Funnel? 
By now, we've all heard of a sales funnel, right? 
Well, if for some reason you still haven't, a sales funnel is a simple concept. And it can really revolutionize the way you bring new prospects into your online store. 
Here's a technical definition of a sales funnel that we tend to go at AutoGrow: 
"A sales funnel is a series of steps designed to guide visitors towards a buying decision. The steps are composed of marketing assets that do the work of selling, like landing pages and emails."
Here's how it works. 
Each stage of a sales funnel is meant to push a visitor one step closer to buying.
It does so by boosting trust, educating prospects about their problem, and showing them that your product is the solution they've been looking for. 
Each element of a sales funnel is also optimized to keep prospects moving towards the end goal of becoming a customer.
And if they drop out of your funnel (i.e., stop visiting your pages), there are funnel elements designed to bring them back in. 
The biggest benefit of a sales funnel is that it can automatically qualify leads and sell your products.
It can work perfectly for coaching sales funnels or for selling online courses.
But this is especially true within eCommerce industries because these types of products usually require less human interaction to close a sale.
As a result, eCommerce businesses that build tight and high-converting sales funnels can dramatically increase their efficiency. 
Makes sense, right?
So, the next question is…
Do You Need an Ecommerce Sales Funnel? 
Heck yeah, you do. 
As I always put it: 
If you're in business, you're in marketing. And if you're in marketing, you need a sales funnel.
Today more than ever, it's essential that businesses create a sales funnel to nurture leads, build rapport, close the sale as touch-free as possible, and improve client retention. 
Why?
Because business owners are busier than ever. 
The small business loan company Kabbage found in a recent survey that nearly 1 in 3 business owners work more than 50 hours per week.
And nearly 9 out of 10 work on the weekends. 
As a result, a lot of small to medium-sized businesses don't spend enough time or money on selling their products.
In fact, almost half of small businesses spend less than 2 hours per week on marketing efforts.

And just 1 in 5 use any form of digital marketing to spread awareness about their products. 
The reason?
TIME. 
Digital marketing takes time. It takes research. And it takes a keen eye and a creative mind to do well. 
And unfortunately, a lot of business owners just don't have that kind of free time. 
But with a sales funnel for your eCommerce business, though, you can practically automate your marketing efforts—no extra time needed. 
As a result, a sales funnel lets you bring in and qualify leads while all you have to do is keep on managing your business. 
So again, do you need an eCommerce sales funnel?
Yes. 
Now, let's get into how to build one for your business.  
3 Core Components of Every eCommerce Sales Funnel
Despite just how different products can be within eCommerce (think PhD level textbooks vs. mini whale humidifiers and pomeranian winter coats), every sales funnel is going to have the same 3 core components: Fuel, Foundation, and Follow-Up. 
For instance, let's take a look at one of our eCommerce sales funnel templates that we've created for one of our former clients.
Looks pretty complex, huh? Well, once we break it down, it'll start making more sense. 
Now, as you can see, each element of the funnel falls into being one of the 3 core components. 
And each of these components has its own special role to play too.
Let's take a closer look at what those roles are. 
1. Fuel: As the name suggests, fuel is where your sales funnel leads come from. For most funnels, the major traffic sources of fuel are an existing email address list, content marketing, and paid advertisements. At AutoGrow, we tend to use paid advertising and existing email lists the most. But for eCommerce sales funnels, in particular, paid advertising is the primary funnel source because it lets you target the right prospects—a crucial piece of marketing your eCommerce business (more on that later).