The 11 Tools You Need in Your Marketing Toolbox to Scale Your Agency
A well-stocked tool box is an electrician, carpenter, and marketer's most valuable asset.
Anyone who knows how to get something done right (and cares about their safety) has a box with all of their tools inside.
Because they never know when they'll need a screwdriver, a hammer, or even a plastic knife (sometimes that's all it takes!) to get the job done.
And if they don't end up needing one, it can come in handy when any maintenance work pops up too.
The same thing happens in your digital marketing agency.
You need a marketing toolbox. You need digital marketing tools to automate as many areas of your business as possible.
Why? So you can focus on scaling your agency!
Because the key to running a successful agency is to use sharp tools and software that will let you improve your marketing strategy, get more clients, and keep up with your existing clients' work.
That's why in today's article, I'm going to tell you:
Why it's important for your agency to have a handy box of tools so you can be prepared to use them when you need them—and what happens when you don't have any.
How it is critical to guard your tools and know when to use them—and how the misuse of them can actually cause injuries to your business.
And finally, the top 11 tools that will help you scale your digital marketing agency.
Ready to see which tools will bring the most value to your digital marketing agency? But first, let me ask you...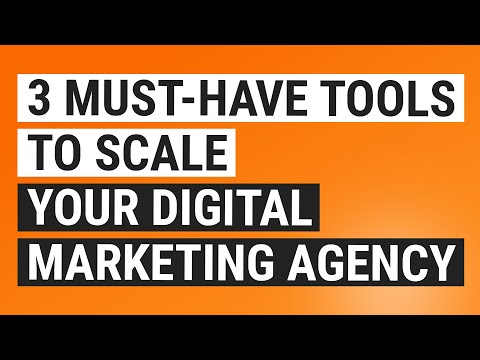 Why Do You Need Digital Marketing Tools to Scale Your Agency?
Because why wouldn't you?
Tools are necessary for any work in life—plumbing, carpentry, changing a flat tire, removing your wisdom teeth—pretty much anything.
And as any worker out there nowadays carries one—electricians, dentists, surgeon, cooks, cleaners—digital marketers should do so too. That's especially true if you're an agency owner looking to scale your business.
You see, tools are the necessary devices used to carry out a particular function in any aspect of life and/or work.
The same way there are tools for content marketing, there are plenty of marketing agency tools.
You see, digital marketing tools are the instruments that help your agency scale faster. The utensils that day to day optimize your business for getting more clients, improving conversions, and saving you time.
And considering that, according to WordStream, acquiring new clients is the #1 challenge that 42% of agencies face and the #2 biggest challenge that 31% of agencies face is managing time—you can get a pretty good idea of how beneficial it is to use marketing tools for your agency.
So the right tools used in a strategic way can actually save you time, money, and why not, energy too.
No matter if your clients work in the healthcare industry (which according to WordStream 49% do), or in loans or arts and entertainment (which 12% and 16% do)—all agencies need tools to fulfil the demand of the clients' work.
But the misuse of a marketing agency tool can damage your business just as the misuse of a sharp knife can hurt your hands.
Because if you don't use them strategically, then it would be like stabbing yourself with a sharp object.
Luckily, this article will teach you which specific tools to use for what specific purpose.
And without any further ado, here's the first marketing agency tool…
#1 Digital Marketing Agency Tool for Live Chat Software: Tawk.to
When it comes to growing any business, live chat support is critical in addressing any questions potential clients may have.
And the best way to calm prospects' buying fears is by actually being available on your site 24/7.
You know, in case a night owl decides to sign up for your service at midnight and has any questions before doing so.
In fact, according to Invesp, 73% of customers find live chat to be the best way of communicating with a business and 63% of consumers are more likely to return to a website that offers live chat.
And 77% of prospects won't make a purchase if there's no live chat support.
Tawk.to is a great marketing agency tool for live chat support and messaging.
We actually use it at AutoGrow and it has let us close more clients because of our rapid responses.
In fact, right after we added Tawk.to's live chat to our site, 3 clients signed up for our services in less than 7 days.
Why Use It to Scale My Agency?
Because their platform allows you to reach out to your customers directly from your website, mobile app, or from a customized page.
You must try it because, first of all, it's a freemium tool. And second of all, it makes it easy to send personalized and real-time customer service messages and monitor traffic on your website.
Tawk.to facilitates closing sales because it lets you nurture the relationship with potential buyers before they leave your website.
Bottom line: if you don't use a marketing agency tool for live chat support, you could be leaking leads and clients.
#2 Digital Marketing Agency Tool for Workflow Automated Tasks: Zapier
If you're dedicating too much of your precious time to menial tasks, then you need to automate your workflows.
Zapier helps you set up automated tasks between apps for your clients (these are known as Zaps).
And you can use it to get a mobile notification each time someone messages your Gmail. This way you don't have to remember to keep checking your inbox every 2 seconds.
Why Use It to Scale My Agency?
One of the main selling points of Zapier for digital marketing agencies like yours is that this automation lets you combine multiple actions and apps together in one Zap.
Zapier will not only save your agency a lot of time by automating repetitive tasks. This tool will also help you integrate with your clients' tech stack.
Bottom line: if you don't use a marketing agency tool like this one, your work could be unnecessarily time consuming.
#3 Digital Marketing Agency Tool for Project Management: Teamwork
Teamwork is a project management software that gives your digital marketing agency the tools needed to deliver high-quality projects for their clients.
It lets you manage multiple complex projects with ease, assign tasks so everyone knows who's responsible for what in your team, and uses time tracking to measure how long a task takes.
All so you can plan new projects more efficiently.
Why Use It to Scale My Agency?
If you're an agency owner, you're managing all of your clients' work.
No matter how many client accounts you have, you must deliver all the work on time for each client.
And this marketing agency tool gives you a complete picture of your team's capacity so you can better manage all the work more effectively.
Bottom line: if you don't use a marketing agency tool for project management, your team could get overloaded and the quality of the work will be terrible.
#4 Digital Marketing Agency Tool for Web Design: InVision
InVision is a design platform that connects your workflow with essential integrations.
It works with your clients' existing tools to streamline the entire product development process.
Why Use It to Scale My Agency?
One of the services that digital marketing agencies offer is design.
Design represents a very important need for clients who sign up for any agencies' services.
And when clients like being involved in the review process of any design task, the way that the design is presented to the client for easy feedback sharing is important.
With InVision, clients can actually leave notes with comments on any section of the design asset.
And this definitely makes the process of sharing design with clients easier.
Bottom line: if you don't use a marketing agency tool for web designing, you could be neglecting 85% of the services that most agencies offer which is web development (according to WordStream).
#5 Digital Marketing Agency Tool for Delegating Digital Marketing Work: AutoGrow
AutoGrow lets you delegate all of your digital marketing tasks through our web app.
If you can't really take on all of your clients' work, you can assign any work to AutoGrow from your laptop, phone, or your tablet.
It's as easy as logging into the web app, creating the tasks you want to delegate to us, and we'll get the work done for you.
All we need from you is the digital marketing tasks you want us to work on. That's it.
Why Use It to Scale My Agency?
First, the AutoGrow Web App saves you money (a lot actually) and plenty of time.
Second, AutoGrow takes care of all the hiring for you.
And third, no one's offering you the same service.
No one out there has a web app where you can just submit your request for the work you want to be done.
And best of all, you can do it all without having to get on the phone with anyone. You do everything through the web app.
We solve a really big problem in our audience because as one study by ResearchGate found, just 2.5% of people are able to multitask effectively.
And with AutoGrow, we can multitask with unlimited tasks per month.
Bottom line: without a team of pros that can take care of all of your digital marketing tasks, you could be sinking thousands of dollars and an ocean of time trying to do it all yourself.
#6 Digital Marketing Agency Tool: LastPass
This tool is so useful for any business.
Anyone working with clients can use LastPass to store all of their passwords without having to annoyingly click on "Forgot My Password" ever again.
Because when your agency handles tens or hundreds or thousands of clients, there's no way you can write down all of the usernames and passwords for every single digital marketing tool they use.
The more tools you use, the more passwords you have to create to keep your info secure. And how do you keep track of them all?
If it isn't through LastPass, then you're missing out.
Why Use It to Scale My Agency?
Using LastPass comes down to saving time so you can focus on any other area of your business.
Bottom line: without a tool like LastPass, you could be spending too much time collecting your clients' login and password information.
#7 Digital Marketing Agency Tool for CRM: Podio
Podio is a cloud-based tool for team and clients' integration and collaboration on projects.
And as any agency owner knows, customer relationship management (CRM) is critical to running a successful agency.
Not to mention easily storing and maintaining your clients' information, tracking and managing client communication, billing information, invoicing—a lot of things are needed for your agency growth.
The good thing is this tool is easy to use and it has a simple user interface that integrates easily with tools like Box, Mailchimp, and Google Drive, so you can customize it to match up with any of your CRM needs.
It lets you manage client data, contacts, track client projects, and much more.
Why Use It to Scale My Agency?
If you're using more traditional tools like Google Spreadsheets to track anything in your business, Podio can actually help you save time while maintaining accurate data.
Bottom line: without a CRM tool, your team could be focusing on the wrong projects and tasks. And Podio can let you have a clear view of staff availability to manage workloads.
#8 Digital Marketing Agency Tool for Landing Page Building: Unbounce
Unbounce is a user-friendly tool for creating landing pages.
For beginners or savvy designers, this marketing agency tool offers templates to get started that you can customize as you wish.
With it, you can build landing pages with no coding required and you can A/B test different variations of landing pages to see which one converts better.
Why Use It to Scale My Agency?
In digital marketing, you need a website (or at least some key landing pages) in order to drive people to your site and convert them into paying customers.
There are proven design conversions tactics you can use for your landing pages in order to convert prospects.
But to do that, you need first to have your clients' landing page(s) built so you can then add those best practices.
And that's when a landing page builder like Unbounce comes into play.
Bottom line: without landing pages built for your clients you could be missing massive opportunities of conversions for them. You wouldn't be converting their prospects into buyers. And you wouldn't be making any sales at all for them.
#9 Digital Marketing Agency Tool for Time Tracking: Time Doctor
Time Doctor lets you accurately track where time is spent in your business and ensures everyone on your team is working on the tasks they should be working on.
You must track the time your team members spend in different tasks because there's a risk you could be taking by not doing so.
According to Software Advice, 43% of hourly workers admit to exaggerating the amount of time they work during their shifts.
And one-quarter of respondents say they claim to be working more hours than they actually worked between 76-100% of the time.
On top of that, according to the American Payroll Association (APA), almost 75% of businesses in the U.S. are affected by when employees are paid for time they have not actually worked.
And this "time theft" can actually cost companies up to 7% of their gross annual payroll.
So this marketing agency tool tracks the total time each person on your team spends in a specific project, and breaks down how much time they're spending on smaller tasks or with certain clients.
Why Use It to Scale My Agency?
As an agency owner, time is one of your most precious assets.
You need to use it wisely in order to get the desired outcomes from your business.
And to ensure everyone on your team is getting their work done, you can't invest your precious time monitoring them.
So marketing agency tools like Time Doctor actually help you track your employees' time while you don't have to monitor them.
Bottom line: when scaling your agency, you need to have a better use of your time and your team's. You can't afford wasting time when it comes to complying with your clients' work.
#10 Digital Marketing Agency Tool for Email Communication: Right Inbox
Right Inbox is a marketing agency tool that saves you time on repetitive tasks and helps you to send better emails and reminders for emails you need to send out.
This tool is especially helpful when you have clients in different time zones. Because you can write the emails and schedule them to be sent later.
Why Use It to Scale My Agency?
As a busy agency owner, you need to keep constant communication with clients and follow up when needed.
Right Inbox lets you do that in a very simple way.
Bottom line: if you miss any important communication with clients and forget to email a client, chances are your clients will get pissed off and want to cancel.
#11 Digital Marketing Agency Tool for Creating Ads: Bannersnack
Bannersnack is a cloud-based, professional banner and ad maker.
This tool lets you create fully responsive banners for all screen sizes on any device.
It comes with plenty of features that allow you to design your ads and manage and implement advertising campaigns across online channels.
Why Use It to Scale My Agency?
Because as a digital marketing agency, one of the best ways for you to acquire new clients is by bringing website visitors back to your site with a retargeting ad strategy.
And Bannersnack lets you create display ads in every shape or format. And with it you can:
Create HTML5 animations
Add interactive elements
Add videos
Add call-to-actions
Add links
Embed your own custom code
You should try this tool because it's pretty easy to use.
You can start from scratch or select a default template or standard-size layout.
Customizing each template is as simple as dragging and dropping images, text, or any other element.
Bottom line: with no ads strategy in place, you won't be able to bring back your site's visitors that had previously left it.
Conclusion
If you want to scale your agency without ads, then a great way to start is by using these top marketing agency tools.
These tools are free and/or affordable and will give your agency that final push it needs to skyrocket sales and conversions.
Because let's face it, acquiring new clients, leading a team, managing workloads, and delivering high-quality work to your clients is tough. And you need help.
And that's when and where all these marketing agency tools come into play.
Because the key to running a successful agency is to use sharp tools and software that will let you improve your marketing strategy, get more clients, and keep up with your clients' work.
And because you never know when you'll be needing a hammer to hammer a nail, or a knife to cut a slice of bread—it's better to have a box full of tools for when you need them rather than needing them and not having them.
And if you need help scaling your agency, we can help you do just that. All you have to do is delegate your or your clients' work to us and we'll get that done for you and your clients.
Now, quick question, what's the biggest challenge you're facing as a digital marketing agency? Are you able to manage all of your clients' workload?
Let me know in the comments below.
Keep AutoGrowin', stay focused.