3 Stages of Your Website Sales Funnel that Are Leaking Money (Part III)
When I started my first business as a 19 year-old college sophomore I had absolutely no clue what I was doing. I was just a kid excited about entrepreneurship, eager to see if my idea for a digital coupon business could work.
I remember, probably the funniest marketing mistake I made was taking a large chunk of the investment money I'd raised from friends and family and promptly blowing it all on custom T-shirts with the company name and logo on it. Granted, they were some pretty sweet looking T-shirts — but the return on investment was zero.
Around the same time I remember we decided it would be a "good idea" to spam half the campus with a link to our website. That actually worked pretty well believe it or not … until the administration office found out and said stop or we'll kick you off campus.
Good times 🙂
These past mistakes combined with my experience helping hundreds of other businesses to grow in recent years (including our own) allows me to help and relate to you in a way that is much richer and deeper had I not made them.
Personally, I find it annoying to hear from gurus who talk only about how super successful they are and how easy it was. It just doesn't seem realistic, which is exactly why I'm being open with you here. I don't want to "sell" you false hopes, I want you to see that:
You and I aren't that different which means you can do it too and
I want to give you a proven, sustainable framework for growing your business with a better sales funnel which is part of your overall "sales engine" (more on that later…)
To finish my point, people who have never failed are A LOT less hungry for success. Which is why I'm eager to help you take advantage of the many low hanging fruit opportunities in your sales funnel right now…
For example, today I want to give you two strategies that require a minor investment of upfront effort and then pay you back months and years into the future.
The first uses Twitter to "auto-grow" your inbound leads week to week. And even if your Twitter presence isn't well developed, I'm going to show you here how to quickly get hundreds of engaged, quality followers.
The second strategy uses search engine optimization (SEO) to organically attract buyers into the top of your funnel.
Let's dive into it…
The Auto-Grow Technique: Lead Generation with Twitter
With Twitter, if you don't much of a following right now, here's an easy way to start building one that is both engaged and targeted. If you're skeptical of why building your Twitter following might be useful, don't worry, I'll explain how this works to generate leads for you in a moment.
Find the blog of a competitor who has a significantly engaged following on Twitter (i.e. they retweet his / her posts). Your competitor has already done the hard work for you, making it easy for you to reach people who are also in your target audience. To make sure their follower base is high quality, you want to look for not just a competitor with a large following, but a profile that shows they have invest some time and attention into customizing their profile image, as well as tweets that show an active "human" presence.
Next you want to copy the link to their most recent blog post and paste it into the search field on Twitter.com (if the post has a Tweet could button it's easier and more accurate to just click the tweet number). In the example below I'm using Awber.
Next go down the list of search results and look at each person's profile. Look for and follow profiles who have a good ratio of follows to follower. This indicates they are likely to follow you back.
Ignore profiles of people or brands who don't appear to follow-back. You'll want to do this 25-50 times per day until you reach at least 1,000 followers. You can track your daily follower growth using TwitterCounter.com, which is a free tool.
At least once a week you should go over to Just Unfollow (another free tool) which makes it easy to identify and unfollow Twitter profiles who are not following you back. This is important because other people are more likely to follow someone with a healthy ratio of followers to following rather than someone who looks like he / she is just following everyone.
Rinse and repeat! You can continuously use the same competitor if you like or branch out and try a different profile.
If you're busy, you can actually semi-automate the above process by hiring a virtual assistant on Elance.com or Freelancer.com to do it for you. Then just send them a link to this blog article.
Ok now let's talk about how to implement the lead generation piece of the equation. The key benefit to this technique is that it will help to attract a handful of extra leads over time and build your email list.
Setup a simple, conversion focused landing page with a free offer relevant to your core business (e.g. free case study). Leadpages.net has some free landing page templates that they gave away on their blog or you can pay for their service and not have to deal with any code (recommended). For example, here's the landing page I setup when implementing this strategy: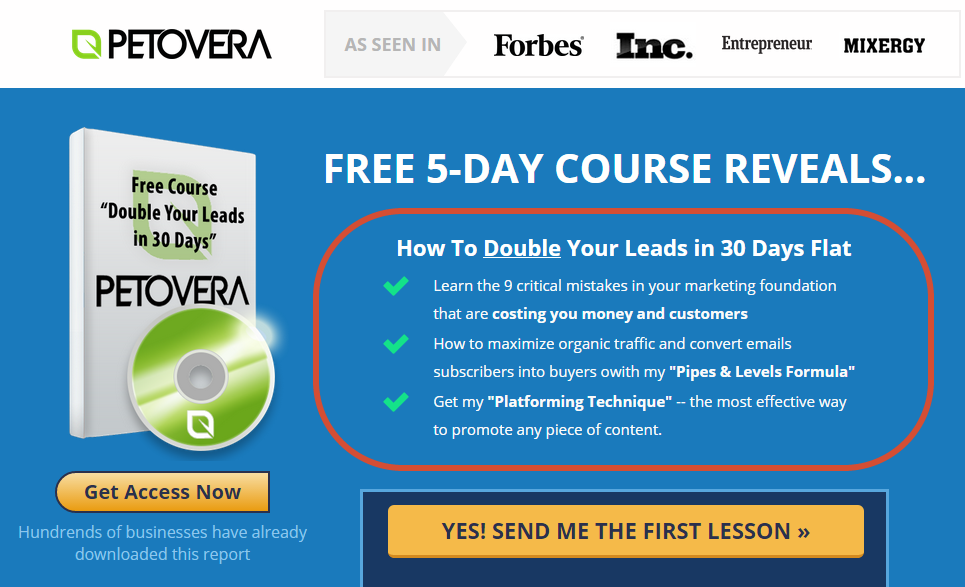 Next, create an account on Bit.ly and then create a unique link to your landing page offer. This will allow you to track clicks over time.
Next, go ahead and sign-up for a free account on Zapier.com. Zapier is a really useful tool that helps connect a variety of web apps and websites to perform automated tasks for you. In this case, you want to setup a time-based "zap" that posts a message to your Twitter account once per week (e.g. Wednesday at 2pm) with the bit.ly landing page link.
After you set it up, make sure to test it out at least once all the way through and you're done!
You'll want to experiment with posting the link at different times of the day, as well as with repeating the setup process but with a different landing page offer.
Plus, the larger and the more engaged your Twitter following, the more effective this technique will be.
If you're wondering: does this actually work? The answer is yes. Without any optimization I'm seeing about 2% conversion rate (that's total email sign-ups divided by the total number of followers). In addition,
Now for the SEO strategy…
Two Types of On-Page SEO (and Which One to Use in Your Sales Funnel)
First, I want to teach you a key distinction about how SEO actually works to build your business.
At it's core, SEO is about ranking your website high for keyword searches that MATCH with content and offers on your site. For instance, if someone is searching for "fast flower delivery NYC" and the page they land on helps them meet that need, a sale is likely to occur.
There are 4 types of searches, but for the sake of simplicity let's just say there's just 2 for now.
There are searches with purchase intent, and…
There are searches with research intent.
For example, someone searching for "Web design examples" = research intent. On the other hand, someone searching for "Web design services" = buyer intent. See the difference?
The CORE of your website sales funnel (those key pages that are designed to do all the heavy lifting and SELL people into buying from you, i.e. homepage, services page, etc.) needs to be SEO optimized to attract organic search traffic with BUYER intent. Here are a couple of tactics for finding and selecting keywords with buyer intent:
Use the Google Keyword Research Tool and input your initial keyword ideas. Ideas with buyer intent will usually show up as having "high advertiser competition" so make sure to sort the return results by this factor.
Use the Google Keyword tool again but this time instead of keywords, input the web address to one of your competitors websites. Google will instantly identify target keywords that your competitor might not even be aware of.
After you've selected your target keywords, you're going to want to add them into your <h1> and/or <h2> HTML tags on your key sales funnel pages, and especially into the title tags and meta descriptions of those pages.
Only target 1-2 keywords per page, don't "stuff" keywords in thinking it'll just get you more results — it won't
If you're a local business, consider attaching local keyword endings on to your target search terms (i.e. "personal trainer nyc")
Use keyword variations so it looks natural to Google (and especially to your visitors–write for humans first, search engines second)
For each page, choose keywords and keyword phrases that are as SPECIFIC to the written text on that page as possible. There should be some variation in the title tags from page to page.
This SEO strategy for targeting keywords with buyer intent at the top of your sales funnel works well because many business websites ignore this low-hanging fruit. Furthermore, most who try simply guess about which keywords to use without first doing some research.
For even better results (especially if you're in a crowded, highly competitive market), target long tail keywords and/or position your site and sales funnel to appeal to a specific market niche (e.g. keyword example = "Web design for dentists").
I hope you'll take action on these strategies because they really work. Learn a lesson from my early (funny / slightly embarrassing) marketing mistakes. There is plenty of low-hanging fruit for you to pick-up on at the top of your sales funnel…
And you don't need to spam or print hundreds of T-shirts in order to get results 😉
Conclusion & Next Steps
In part I we discussed the definition of a sales engine and how building a complete sales funnel comes first and is also the most critical component.
Your sales funnel is broken down into three stages. We started by focusing on building out the middle stage of your funnel. This stage is all about engaging visitors and getting them to click or opt-in to your free offers. Here, we learned about the importance of not trying to "marry" your customers on the "first date."
Next we moved to focus on the bottom of your funnel which is where purchases happen. Here I taught you how the 80/20 Power Curve applies to pricing in a way that can generate significantly more revenue for your business; I also gave you two actionable tips on how exposure frequency and "selling at checkout" can increase your purchase rate as well.
Finally, in this lesson today, we moved to the top of the funnel and discussed how to use Twitter and a one-time investment in on-page SEO to boost the quality and quantity of traffic coming into your funnel.
To conclude, thank you for taking the time to read these training lessons… but the truth is we're only scratching the surface of what's possible. If you run or own a small service business then I highly recommend you checkout my complete course called Sales Funnel Blueprint.
Inside you'll discover a complete, templated checklist of everything you need to create the perfect sales funnel from start to finish. This is an asset that will pay for itself by working for you to generate more leads and more sales. In this course I'll show you exactly what webpages you need to include, how to correctly position your offers, how to write sales copy that sells for each page, and how to design it visually.
Also included are much more detailed strategies around demand generation at the top of your funnel, as well as how to setup your automated "back-end" email marketing funnel to follow-up with leads and drive more buying decisions.
I hope you'll take a moment to check it out. I guarantee that if you're a small service business, this course will help you grow your business or I will DOUBLE your money back (see page link for details).
In addition, to make it an even easier purchase decision for you, here's a coupon for $50 off any of the 3 course packages: OCTSPECIAL (just note that it expires next week!)