It's amazing what a fresh redesign can do for your business.
But it's not an obvious connection that most business owners make.
This is because most business owners are not designers or professional internet marketers.
And unless you're born with natural design talent, it can take years to learn the difference between a mediocre landing page design and one people will like and trust.
So, you might be in a position where you know you're selling something people want… But you also realize something must be broken since your website seems to be leaking leads and not converting at the rate you know it's capable of.
This was the case with our own website recently, specifically our homepage. But we fixed it– here's how along with a complete checklist guide to help you do the same.
Identifying the problem and where to start
I knew people wanted our services, but many of our leads were coming from our email list and from referrals. Very few were coming directly from people visiting our website and then requesting a consultation.
To attack the problem, we decided it was best to start with the homepage. After all, conducting a full website redesign when you have hundreds of webpages that are already converting for other parts of your funnel could be risky.
The old homepage design worked–it was one of the most highly trafficked pages of our site and it helped AutoGrow attract more email subscribers daily. But that was part of the problem: the call to action was to get on our email list.
However, we didn't simply want to grow our audience, we wanted new clients who could benefit from our services.
Getting results with the new landing page design
It took about 50 hours total to rewrite and design from scratch. Our designer and I went through multiple revisions.
After seeing the results we had gotten for our clients, we were confident we could "practice what we preach" on our homepage and get a decent result. I definitely didn't expect it to be this good though…
Here's how it looks today (you can see the full version at www.autogrow-pro.frb.io)
In the 48 hours after launching the new homepage, we received more inbound leads (not simply email subscribers, but potential clients who wanted to work with us) on the website than we had in the previous two months combined. In addition, that same day we closed a $4,000 sale, so the investment into upgrading the homepage design had already paid for itself.
Obviously, the changes we'd made were working… But it made sense since our clients were reporting similar results after we redesigned their sales funnel:
We helped a software consulting firm earn an extra $300K in 2014. Initially, it looked like it would be a down year.
An answering service company doubled their revenue using one of our redesigned sales funnels and in 2015 are headed for a million dollar run rate ($80K / month).
What was it that has allowed us to get results like these for ourselves and our clients?
After thinking about it, I realized there was a pattern. Our team had been drawing off a model or "mental template" with each landing page design.
This is why today, other than having great people on staff who have won copywriting and design awards for their work, we follow a proven checklist of what elements an effective landing page must have. The checklist is below, and further down I go into greater detail with examples on each item.
This is most ideal for service businesses and SaaS companies, but it can also be used to inspire design on e-commerce websites.
Note: An effective landing page does not need to have all of these, but generally speaking the more of these you can include the better.
Explanation and examples of each key landing page element
Headline
A killer headline is one that works to disqualify non-prospective customers by being extremely clear about what value your product or service can offer them. Simultaneously for visitors who are a fit with the core offer being advertised, it should entice them to want to read more.
Example:
Here's one I used on a previous startup where our target market was restaurants who face enormous seasonal and weather driven sales swings.
Example:
Here's another one we did for a client who is building a retirement property in Costa Rica. This headline is specific but is designed to entice readers to read more.
Pain Points
No matter what your business sells (but especially if you're a service business), it's critical to not just have a clear headline, but to explain the problem your company can solve for clients. This language should be as vivid as it is specific.
This is also your opportunity to list out the specific symptoms of the problem that your company can help the client to alleviate.
Examples:
Tax accountant: "Tired of paying more of your income to the government than you should? Frustrated with how long it takes?"
Answering service company: "Missing important calls from clients or patients? Tired of always being 'on-call'?"
Agitate the pain
You want to not just state the pain points. It's important to go into vivid detail in the sales copy on your landing page. This is because you create the feeling in the mind of the reader that you understand their pain and what they're dealing with.
And as Dane Maxwell, expert copywriter and serial entrepreneur said (I'm paraphrasing here):
"If people feel that you understand their pain, they will almost undoubtedly presume you have the solution."
Example:
But what does it look like to "agitate" a pain point? All it means is going into greater detail. I find that the easiest way to do this is to tell the customer the story of him or herself.
Think about those annoying infomercials you might have seen late on TV. Almost all of them use the same proven formula. They start out with the problem, focus on the pain and then agitate. This is where they are showing you a picture of someone trying to do something (i.e. clean the floor) but it's in black and white. This agitates the pain because it presents the "before" image as completely ineffective–there must be a better way!…
Here's the visual Grasshopper designed to support their "agitation" text:
Solution statement
It's important to clearly and explicitly state what it is you're selling to people. After all, if visitors to your landing page aren't clear on what you're offering them, what's the incentive to convert?
Example:
Here's how we stated it in the sub-headline on SaberBlast.com (see below).
It's worth noting that the solution being offered is even clearer if you take into account the primary headline at the top of the page which reads:
"Email marketing software that automatically gets you leads…
without the expensive pay-per-click"
In a way, this primary headline is a mix of a value proposition, solution statement, and it partially presents the problem as well.
So you can see how you can mix some of these elements together–as long as your landing page communicates clearly.
Clarity equals conversions. Which is why Saber Blast (a SaaS product that charged monthly for it's services, had very little reputation, and no free trial) was able to convert 2% of cold traffic on average into paying customers.
List out the benefits
Once you've declared what your solution is, it's time to describe the exact benefits that the prospective clients stand to receive if they decide to hire you or buy from you.
Listing benefits is really as easy as… making a list! But again, you want to be specific here and you want to avoid listing features. Features are different from benefits because features describe how something works rather than describe specific advantages that add up to the primary pain point(s) being solved.
Example:
Here's how we presented some of the key benefits to working with AutoGrow on our homepage. Note how, from a design perspective, we included visual cues (icons) to go with each benefit listed.
This helps to re-enforce the idea, and make it more memorable, as well as more "real" (i.e. this is not just words on a page, you get this as part of your client experience).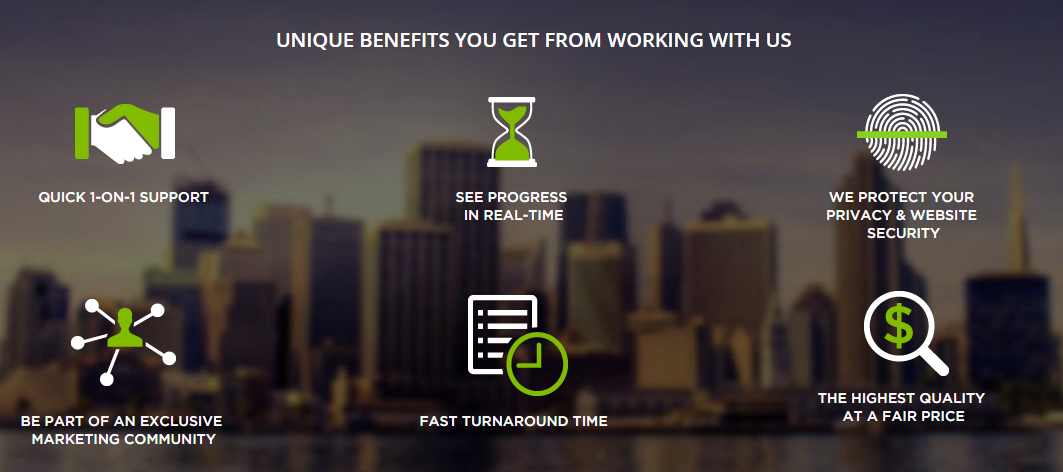 Other examples of benefits can include being specific about how you deliver value to would-be clients and customers. Like:
We do all the work for you — it's a "done for you service"
Save time (explain how though) — "We're always on call, so you don't have to be."
Save money (explain)
Make more money (explain)
Here's another example from a client's landing page we designed where the benefits were listed out:
Testimonials
If you say you're awesome, most people won't believe you.
But if other people say it, it's much more believable.
Your goal on any landing page is to build trust and interest, then funnel that into action (a click, an opt-in, a lead, a sale).
Earning testimonials is a common tactic for furthering this goal, especially with regard to building some initial trust.
Example:
Text testimonials still work, and they work even better assuming you include a photo of the client who gave the positive review.
But the most believable form of testimonials today are authentic, unscripted video testimonials. This is why I added a video testimonial to our Sales Funnel Blueprint purchase page about in late 2014:
Third-party logos, accreditations network / group memberships, awards
In the same way that people care more about what other people say about you than what you might say about your brand, showing credible third-party logos works the same way. Showing who else your brand is associated with it works to build your reputation.
Example:
This can include the logos of past or current clients you work with.
But it can be extended to include logos of technologies you work with or support, accreditation from an organization well-known in your market, as well as group memberships.

Research
Using research is one of the most underutilized tactics on landing pages today–especially on landing pages where you're trying to drive sales or leads for high-end services.
It's similar to a testimonial and other forms of social proof, but in some ways it's more effective in convincing skeptical prospects. This is because it's a statement of scientific fact, often with numbers.
People might have different experiences working with you, but hard research that supports your problem / solution statement can be difficult to argue with. Especially when it comes from a university or well-respected organization.
Example:
Here was the sub-headline and simple graph we presented on SaberBlast.com to re-enforce the value of the email marketing tool:
Press logos
Just like how testimonials and thirdy-party logos work, featuring your press / media prominently takes it one step further.
I'll avoid repeating myself here since I already explained how social proof works above, but if you want to learn more about how to get press mentions for your business, check out this article.
Example:
You get the idea, and chances are you've seen other companies presenting their press in a similar fashion.
If possible though, what's more effective than basic press logos is a quote or recorded clip (if it's on TV) of that media attention.
Vanity / reputation metrics
Many business owners overlook the opportunity to frame their reputation with numbers, as I said before in the research section above.
Performance or "reputation metrics" are often not presented to potential clients as results. The purpose of a reputation metric is to give prospects an idea of how much of a "big deal" the company is, as well as how long they've been around.
In fact, saying "We've been in business since XXXX [year]" is helpful to prospects evaluating your business. This is because an older business often indicates they're doing something right.
Example:
Here's one from Freelancer.com. Big numbers are impressive, even if they don't mean much (i.e. of 14,000,000 users, how many are actually active?).

This one is from Grasshopper. Again, 150,000 isn't the current number of paying customers, but it's still a substantial reputation metric.
Top 4-8 FAQs
I recently published an article on how to write a conversion-focused FAQ section, so I recommend you check that out if you want to learn in more detail about this tactic.
Generally speaking, your FAQ section should be placed further down on your landing page (or in your sales funnel) after you've clearly defined the problem and communicated the solution and benefits.
The purpose of an FAQ, from a sales perspective, is to anticipate and address objections in a way that makes people more comfortable and confident in their decision to buy from you.
Example:
Note how in this screenshot example below from FreshDesk, we see the FAQ is placed right below the call to action button.  This is important because the decision to click (or not) is largely motivated by how confident the website visitor is, that the current solution being pitched to them is aligned with who they (and their businesses) are.
This is why you see the top two questions as "So you're a Startup?" and "… big organization with specific needs and requirements?"
Risk reversals & guarantees
Risk reversals are fun because they are almost guaranteed to increase your conversion rates without costing you a cent (unless you provide a terrible service with unhappy customers–in that case using a risk reversal is a risky move until you get your house in order).
The purpose of a risk reversal is to make prospects feel more comfortable and frame the offer in way that puts most or all the risk on you, the business.
Examples:
There are a number of different types of risk reversals.
Free sign-ups / accounts
Free trials (14 day, 30 day, 60 day)
30 day money-back guarantee (and 60 day guarantee)
100% satisfaction guarantee
Personally, I'm a fan of the "Double Your Money Back Guarantee" because it has the most "umph" to it, and I believe it shows the most confidence in your offer. This is what I use with our Sales Funnel Blueprint course.
I believe (though cannot cite data on this, so this is simply my professional opinion) that using more vivid language around your guarantee can also help to increase it's effectiveness.
For instance:
"If you're not happy not only will we give you a refund, no questions asked, but I will personally buy you lunch and a cup of coffee and set you up with a competitor's product, free of charge."
Security logos
You might have noticed a recurring theme about this checklist by now: trust = conversions. And if your landing page design isn't working to build it, your conversion rates will be significantly lower.
When it comes to security seals — the whole purpose of which is to show people "hey, this site is safe" — not all seals are created equally, at least in terms of conversion benefits. According to a recent study, users trusted the Norton security seal the most.
Example:
If you you purchase an SSL certificate from a company, you are allowed to display that company's security logo on your website.
You may also want to consider using the logo of your payment processor as well, assuming people in your market would recognize the name. In the example below, we used Stripe.
Some sites use a more "ghetto" version of this tactic. They'll simply tell people that their data is safe as in the example below from one of Basecamp.com's older products. It might seem silly, but it does work because even without the brand credibility that might come from using something more official like Norton — people simply want to be reassured.
Call-to-action button
The text on your call to action buttons matters more than you think. This is why milti-million dollar companies, like LeadPages.net who are constantly testing their call-to-action buttons, use text that is specific to what the visitor wants in that moment.
Examples:
This is reflected in examples like the "Show Me My Heatmap" button below.
This is from the multi-million dollar online sales funnel that is CrazyEgg.com.
Note how the language is from the point of view of the customer ("Show Me My") and then it's specific as to the deliverable the prospect wants ("Heatmap").
If you run a service business, a CTA like this would be a good start (below).
However, you should note that the colors red, yellow, and orange are known to covert at significantly higher rates compared to other colors. I've tested this myself, and you can also see this in the example above as well as in the "Add to Cart" button on Amazon.com.
Social media properties
Adding social media properties to your site is just one more way to build your credibility. You're using it as social proof.
However, some businesses make the mistake of simply having social media icons without showing the total count of social followers that they have.
Example:
This is a fairly good example from Digital Marketer.com. What I also like about this example is that these aren't links on their page. That's important because by making them links you're inviting people to get distracted and leave your website.
Phone number
"If this is a real business, I should be able to place a phone call, and talk to a real person."
Now, people don't think literally in those terms. For the longest time, we didn't even have a phone number on our website here at AutoGrow (big mistake).
Most people won't even call the number, but it's one more "trust symbol" if you will, and one more customer-focused element that will help your overall design. So if you're worried that "oh too many people will be calling me," don't be.
You should be thinking more about the positive additional results it will produce for your business.
For instance, one client told me that at least half of all his leads came directly from inbound phone calls.
Example:
Below is a good example of where your phone number should be placed. It should be prominent, and highly visible to visitors.
Review sites
Testimonials are great, but sometimes seeing them in the "authentic" context of a popular review site makes them more compelling.
For example, many well-known internet marketers will paste screenshots of informal reviews that people have left for them on Facebook. Naturally, visitors recognize the design and this re-enforces the idea that yes, these are real people and their feedback wasn't "doctored" in anyway.
Examples:
On one of our client's sites for instance we linked directly to her reviews on Yelp and Google Places. Though the visitor will be taken off the website, this is a safer bet compared to linking out to social media profiles, like Facebook, where the visitor might get distracted and never return.
Furthermore, for anyone skeptical about the influence reviews have on individual buying decision, consider the research below. You can also read more about reviews and how to earn them more easily here.
Privacy policy
People want to know you're not going to misuse or resell their information should they decide to fill out a form, or in general, give you any information about who they are.
We're living in a cynical world, and rightfully so. There are tons of blackmarket email lists for almost every market imaginable for rent and for sale today.
I've seen some split test experiments where adding this actually decreased conversion rates, but I believe generally speaking, this works to boost conversions. On all of our Leadpages pop-ups and landing pages, we split test with and without it, and the versions with it almost always out perform the designs without it.
Example:
Addressing the privacy issue can be as simple as adding a line of text near your call to action button. If it's a core issue to many of your visitors, you may want to have a full privacy policy statement, or discuss it in the FAQ section.
Visual cues to support benefits & text
This one is self explanatory. People are more likely to remember what they see than what they read.
Example:
The visuals are meant to re-enforce the ideas in the sales copy. It also makes the ideas and benefits being talked about seem more "real" and not simply promises or text on a screen.
Price anchor
A price anchor is where you address people's objection to the price of your offer–but you can also "anchor" against free offers as well.
I'll explain.
With a standard price anchor (as demonstrated in the example below where a website membership is being sold on Digital Marketer.com), the goal is to position the cost as an investment and/or make it seem small in comparison to the benefits received.
If you want to price anchor a free offer — like a consultation — you might talk about the benefits prospects will miss out on receiving if they aren't able to invest in a simple, no-pitch 15 minute discussion (for example).
Example:
Conclusion
This is a long list, but even if you include just half of them in your next landing page design project, you'll be in great shape.
Here are the key points to remember:
Your writing and design should be focused on creating a customer-focused experience while they're on your website
People care less about what you say about yourself, and more about what other people say about you
Always have a clear goal on your page — "powered" by a call to action button that will drive conversions
State the problem and explain, in detail, the pain points your solution addresses
Give people a final incentive to trust you and try your services. Money back guarantees and "free" are the most effective incentives.
Which points from the above checklist do you plan to implement on your next landing page?
Are there any other key landing page elements we should add to the list above? Leave a comment and let us know.
Finally, if you found this article useful, please share it on Facebook, Twitter, LinkedIn, and Google+ for the benefit of others.