Get 50% More People to Click to Your Site (Hint: Email Subject Lines)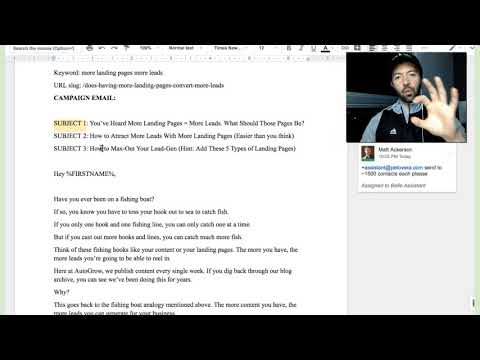 Welcome to Video 2 in the Matt Hacks video series. This week, once again, our focus is on traffic. So each tip that I give you in this series is focused on the weekly theme.
As mentioned, this week is traffic and next week is going to be email list building, according to the AutoGrow Funnel Framework.
Over time, we'll go level by level in the funnel, showcase one focus each week, take massive action and then loop back. Of course, I'm going to share the journey with you, including the successes, the mistakes, all of it.
You, dear viewer, can benefit because you'll follow along and learn from me. You can also ask questions if you want, as these will give me more ideas for future Matt Hacks.
The Importance of Headlines in Content Promotion
Okay, so here's a really simple problem. It's something that might even be a problem for you right now.
The problem is this: If you could write better headlines for your content, you could get more traffic to your website, right?
You know this because each week or month, if you send out a newsletter, you might see a lower or higher click rate and open rate.
That's because the subject line changes, and the subject matter of the overall content you're promoting or looking to promote changes, too, right? So if some people on your email lists are more interested in one topic and another group of people are more interested in another,  the sizes of those groups and their interests vary over time.
So the question is: what is a simple way for you to write better headlines and get more traffic? Well, it's this.
Testing and Optimizing Headlines
Here's how we're actually optimizing our headlines and how we did it for a recent email campaign and email newsletter we sent this week.
The topic was landing pages and lead generation. As of this writing, we have over 12,000 active email subscribers, meaning these people have openly clicked and opened our emails at least once in the last 30 days.
Since we have a big enough audience, we can test three subject lines at a time.
So we come up with three different ideas, and we make those the subject lines for the email. Version A is going to be this one, Version B is going to be subject line two and Version C will be subject line three.
We then set the amount of time we want to test for two to three hours if it's a smaller sample set and we want to test more subject lines.
I believe this method is better than using a plugin, like Thrive Themes' headline-tester tool.
I also know that in the past, Noah Kagan's company came out with a headline-tester tool called KingSumo but I never really got how those actually worked, so I read up on them.
I discovered that those tools work by A/B testing the actual page, but then that begs the question: what do you consider success? Actually getting to the end of the post? Actually clicking and signing up?
I think this method is better because it's targeting people who have already opted into your email list. You can get a result much faster because you're sending it out in a short amount of time. That's important because you're going to know which headline is the winner within a matter of hours with statistical certainty.
Not only that, but you can then take that winning headline and promote that on social media, as well as use it in the title tag for the landing page for SEO purposes.
Google Algorithms, SEO and Your Email List
Now let me get more specific about SEO. If someone is searching Google, part of how Google ranks you, (especially now with the RankBrain algorithm update, which Backlinko's Brian Dean covered in extensive detail), is based on signals that Google looks at.
For example, what's the rate of someone seeing your search result on the landing page, clicking it and staying on the landing page? In this case, if you are sending an email newsletter and you're optimizing on the click-through rate, that should translate into a higher click-through rate for Google search results as well.
Now again, I just want to elaborate on the problem a bit more…
So we have research, but I could show you stats all day long. Just the idea that most people are reading your headline and so many few people are actually clicking through and consuming the article or the content in-depth, is telling.
Instead of more stats, here's a recent campaign. We added a 14% open rate and a 2% click-through rate out of about 200 people. You can see that kind of filters down. So maybe 10 people will see the headline, maybe two people will click it, and then maybe just one person will actually read it all the way through.
Basically, the closer that you can get to that end result, where people are actually reading it all the way through and consuming it, that's going to yield the highest level of engagement and help to build the best relationship with your audience. Of course, the end result is you get more traffic, too.
There's additional research out there that I want to cite from ConversionXL, you can go check it out if you're interested in reading more. But it basically just backs up what I said, about how maybe 97% of people would actually come to a page and then read the article title, but only about 60% of people would actually finish reading the article.
You can see how this is a real problem that you need to pay attention to. Further, as one final data point, when I interviewed Neil Patel about content promotion a few months ago, he said that what he spent most of his time on was writing a great headline and writing the introduction to hook people.
So go out, take action. Come up with great subject lines to A/B test in your next newsletter and then take the winner and make that the title of your article.
Thanks a lot, and if you want to learn more, subscribe to our newsletter. I'm going to link it directly below this video on YouTube and also on the blog post on our site. Talk soon.