Your Sales Funnel on Cruise Control: 11 Top-Notch Platforms
If you've been a fan of the AutoGrow blog for a long time, then you know we get a little excited about online sales funnels.
And maybe you've even purchased some of our templates at some point.
But why shouldn't we get excited about sales funnels?
They're the bread and butter of online marketing.
Plus, it's our blueprint for printing money for our clients.
So it's kind of important.
However, in order to turn your sales funnel into tangible results, you need to ensure that you invest in some software that assists you with accomplishing your marketing goals.
That's why we've put together this list of the 11 best sales funnel platforms that work in 2022.
With these platforms, you'll be able to:
Automate a large chunk of your marketing processes to save you and your team time and money.
Identify bottlenecks in your marketing and sales processes — so you can fix them before it's too late.
Access data to inform you on what works and what doesn't work with your sales funnel.
Okay, are you ready to turn your sales funnel into a money-making machine?
Let's get started…
What Is a Sales Funnel?
Probably a good question to have answered before reading about it.
So think of every marketing strategy that you use.
Social media.
Landing pages.
Lead magnets.
Webinars.
You get the picture.
Now, you know how you want to generate leads, but how exactly does that translate into sales?
Moreover, how does each step of the buyer's journey relate to one another, if at all?
With a sales funnel, you can map that all out to give you a clear picture for how your prospects turn into customers.
For example, take a look at one of our sales funnel templates we use for our clients all the time.
See how it simplifies your entire marketing and sales process?
Now, that one was pretty straightforward. However, you can make them more complex if need be.
Want to create a funnel or optimize an existing one for your agency, e-commerce store, coaching business or SaaS? AutoGrow.co is the place to start by letting you delegate your marketing projects without the typical headaches of hiring. Start Your Trial Today.
With a well-crafted sales funnel, you can basically put your digital marketing on cruise control.
Because once you have it nailed down and you've got all the right tools, you can start focusing more time on other things, like scaling your online business.
Now that you're familiar with what a sales funnel is, let's talk about why you should care about sales funnel platforms.
Why Should You Invest in a Sales Funnel Platform?
For one thing, it'll make your life exponentially easier.
Seriously, every platform on this list is dedicated to helping businesses like yours (or your clients') grow.
A recurring theme you'll notice is that almost every platform on the list assists you with your lead generation tactics, which is a top priority for 61% of companies, as reported by HubSpot.
By lead generation tactics, I'm talking about things like:
Website development
Landing pages
Opt-in forms
Pop-ups
Cart pages
And with lead generation, of course you'll need lead nurturing too.
For that, email marketing is included with a lot of these platforms for follow-up messaging.
Additionally, a lot of these platforms offer sales funnel templates along with the core product features. Too bad they don't do it for free like AutoGrow does.
What's great about these platforms is that they're easy to use.
In fact, you don't need to know how to code or anything like that.
You simply just need to have a basic understanding of how digital marketing works and some of the best practices to use.
Once you nail down what your sales funnel looks like, you can rest easy knowing that these platforms will automate mostly everything.
For example, a user who downloads your e-book will receive a "congrats on downloading" email followed by lead-nurturing messages aimed at cross-selling.
How To Know Which Sales Funnel Platform Is Right for Your Business
As you'll see in this article, not every sales funnel platform is the same.
Although there are some overlaps, each has its own unique style and list of features.
So when it's time to choose a platform to help with your sales funnel, you need to pay close attention to how well each one aligns with your business's needs.
To illustrate, if LinkedIn ads are a key component of your marketing strategy, you'd want to make sure that your choice of sales funnel platform includes social media management.
And in tandem with platform features, you also must pay close attention to integrations.
Because if your company relies on software like Salesforce, you don't want to end up choosing a platform that can't sync up with your Salesforce customer database. That would just add extra steps for your team.
As I said, sales funnel platforms serve the purpose of making life easier for you. And integration is a crucial component of making that happen.
All right, so now that you know why a sales funnel platform is important for your online business and what to prioritize when selecting one, let's take a look at the list.
Best Sales Funnel Platforms #1: ClickFunnels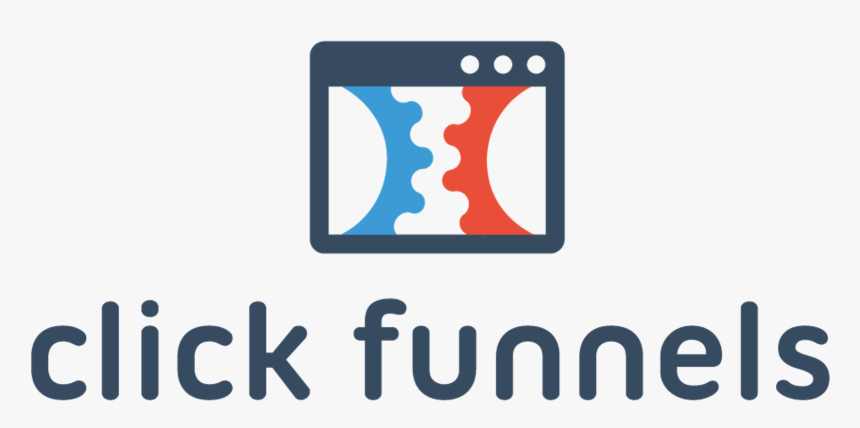 ClickFunnels is a popular choice among online businesses.
According to Datanyze, the company holds a 39.20% market share, ranking them as No. 1 in landing page builder software.
ClickFunnels was created for small business owners who might be unfamiliar with digital marketing.
And honestly, with so many other responsibilities as an entrepreneur, do you really have time to become a master of marketing? (Not talking to you, agencies.)
With this sales funnel platform, you can flesh out the step-by-step process of your e-commerce customer journey.
As of writing this article, ClickFunnels has netted over $13 billion for companies that have used their software.
Not only can you use ClickFunnels for lead generation strategies like opt-in pages, you can also use it for one-click upsells and automated follow-ups.
Pricing
$97 per month but has a 14-day, free trial.
Best Sales Funnel Platforms #2: Leadpages
With Leadpages, you can design your e-commerce website with custom elements and a wide variety of templates.
As a bonus, Leadpages will actually make recommendations that will help you convert more website visitors before you publish your landing pages.
Leadpages is best if you focus on collecting leads through the following methods on your website:
Alert bars
Pop-ups
Opt-in forms
By the way, Leadpages integrates with nearly 100 other online marketing tools, including all CRM platforms and email service providers.
Pricing
Starts at $37 per month if you pay annually, plus a 14-day, free trial.
By the way, if you're wondering if you should choose Leadpages or ClickFunnels, check out this article on why Matt thinks Leadpages is actually better.
Best Sales Funnel Platforms #3: GetResponse
GetResponse really has it all for your e-commerce marketing needs.
The four main customers they have in mind are:
Entrepreneurs
Online marketers
Marketing managers
Medium-sized and large companies
And the features that come with GetResponse are in-depth.
Everything from website building to Facebook ads, your entire sales funnel will be accounted for.
Additionally, you can integrate with your online store and take care of your payment processing straight from the platform.
One of GetResponse's customers, an e-commerce business that sells furniture, increased its sales tremendously through the use of abandoned cart email campaigns.
What they did was send a reminder to users who abandoned their cart after 15 minutes.
If they don't convert from that, they send another reminder 24 hours later with a discount code.
And by A/B testing the emails with customer reviews, the client boosted its conversion rates by 202% and 239% for the first and second reminders respectively.
Pricing
Starts with a free plan, but it only allows you to host one landing page. So, really, you should look at the Basic plan, which starts at $12.30 per month for 1,000 contacts.
Best Sales Funnel Platforms #4: Kartra
Kartra allows you to run your e-commerce marketing operations all in one place.
Its platform covers everything you can expect from a sales funnel.
Need a landing page to generate leads?
Want to start an automated email sequence?
Have to keep track of lead tags?
All these things are possible with Kartra.
And one thing that's really cool with Kartra's platform is the ability to use sales funnels that other businesses find to be successful.
So if a Kartra user wants to share their sales funnel publicly, you can give it a try.
If you're new to building e-commerce sales funnels, this is incredibly useful.
Pricing
Starter plan is $79 per month if you pay annually, and there's a $1-for-14-days trial.
Best Sales Funnel Platforms #5: Kajabi
Kajabi is a successful startup founded in 2009.
According to its website, you can build your sales funnel in just a few minutes using their pre-made frameworks.
Taking data from Kajabi's most successful customers' sales funnels, all the copy will be pre-filled for you, and all you have to do is customize it to your linking. So, really, it's basically like copy templates.
But still, that saves you a lot of time on strategizing how to go about the copywriting.
Kajabi calls its pre-made sales funnels "Blueprints," which is a good description for them.
Besides sales funnels, or what Kajabi calls "Pipelines," the platform offers the following features
Content creation
Website building
Payment processing
Email campaigns
Dynamic landing pages
Lead tagging
As you'll see in a bit, Kajabi is a little pricey for small businesses and startups. However, the overall value proposition is great.
There's no transaction fees you have to worry about.
You can customize your e-commerce checkouts.
And as you have already seen, you have a central hub for all your online marketing.
Pricing
$119 per month for the Basic plan, paid annually.
Best Sales Funnel Platforms #6: Zendesk
Zendesk is an intuitive CRM platform for you to keep track of every aspect of your sales funnel.
In addition to creating your lead generation projects, Zendesk also scores your leads so you know who to focus your sales efforts on.
From there, you can follow up with them in the most effective way.
As an example, a jewelry-seller customer of Zendesk increased its sales by 300% during the COVID-19 pandemic in 2020.
The magic behind this massive success?
Lead management.
With Zendesk, sales reps were able to identify leads that were ready for a virtual consultation where they could see the jewelry more closely. In turn, customers just couldn't say no.
Pricing
Starts at $19 per month for 1 sales funnel.
Best Sales Funnel Platforms #7: ConvertFlow
ConvertFlow is another all-in-one marketing platform that provides all the tools you need to implement your sales funnel.
Besides the usual, like landing pages and email newsletter subscriber growth, ConvertFlow also allows for quizzes, surveys and sticky bars for e-commerce companies.
Something really helpful is all the information that ConvertFlow provides for customers. If you have any questions about using the platform, you can check out all the guides and tutorials in the resource center.
Pricing
Starts with a free plan.
Better packages depend on how many contacts you have.
Best Sales Funnel Platforms #8: ThriveCart
Now, ThriveCart isn't quite as diverse as some other sales funnel platforms on the market when it comes to product features. However, it specializes in e-commerce cart pages.
To date, ThriveCart has generated $1.7 billion in sales for its users.
One of the most prominent features of ThriveCart is its ability to let you upsell to customers. That way, you make the most out of a transaction.
And, obviously, your upselling implementation is important since, according to Sumo, upselling to customers is 68% cheaper than acquiring new ones.
Aside from upselling, some of the other features from ThriveCart are:
Retargeting
A/B tests
Coupons
Sales tax automation
Link tracking
Sales funnel statistics
2-factor authentication
Pricing
You can grab a lifetime account for a one-time payment of $495.
And the Pro plan is $690 for a lifetime account.
Best Sales Funnel Platforms #9: Builderall
Builderall is a marketing platform where you can build your website and work on all the sales-generating strategies that go along with it.
Like other platforms, Builderall allows you to automate most of your messaging with consumers.
If you're inexperienced with sales funnel software, that's okay. Builderall was designed to be as easy as possible for users.
As no surprise, its products are advertised for "beginners and gurus alike."
What's interesting with Builderall is that the dashboard becomes personalized for you based on your interests and behavior on the platform.
In turn, you spend less time searching for the features and the 45 tools to choose from.
When you sign up with Builderall, you get access to what the company calls a Cheetah Funnel Builder.
And if you sign up for more robust packages, you gain access to a larger number of niche sales funnels.
All in all, Builderal has a bulk of the capabilities you need to carry out marketing campaigns for your e-commerce business.
Pricing
Starts at $14.90 per month.
Best Sales Funnel Platforms #10: Ontraport
Ontraport's sales funnels consist of "cards."
So if someone purchases a product from you, they get moved to the "new customer" column.
If an engaged lead visits your website, their card turns red to draw attention. That way, you can easily identify who to follow up with.
It's actually pretty unique when it comes to most of the sales funnels I've seen.
With Ontraport, you can also receive sales forecasts for each stage of your sales funnel.
At the end of the day, Ontraport is a CRM platform, so it goes far beyond just offering sales funnels for you.
When you sign up with them, you gain access to marketing automation for multiple channels, landing page and form-building tools, and payment management.
Pricing
Starts at $79 per month for a Basic plan, and there's a 14-day, free trial.
Best Sales Funnel Platforms #11: Convertri
The No. 1 goal of Convertri is to turn your website visitors into paying customers.
And that's precisely what you're looking to do, right?
Of course.
Well, with a selection of over 200 fully customizable and mobile-friendly page templates, you can get going quickly.
And Convertri promises that even your biggest web pages will load in less than 3 seconds.
Now, that's kind of a big deal considering that, according to Niel Patel, 1 in 2 website visitors will leave if it takes more than 2 seconds for a page to load.
What I really like about Convertri is the dynamic text feature. With it, your web page copy will match the keywords from your advertisements — ensuring an alignment between your content and user intent.
Pricing
$75 per month when paid annually, plus there's a free trial.
Conclusion
Choosing the right sales funnel platform for your business shouldn't be a snap decision.
It's not as easy as, "Hey, that's a cool feature, I'll pick this one."
Instead, you need to account for what your goals are.
For example, if you don't know how to build a sales funnel, you'll want to choose a platform that includes templates for you.
Or if your goal is to capture leads from your landing pages and nurture them through email, you gotta ensure your sales funnel platform has those features.
As you read in this list of 11 of the best sales funnel platforms in 2022, the goal of these platforms is to convert your web leads into new customers.
While some offer an all-in-one package, others are a little more niche.
However, it's up to your own unique marketing needs and budget to choose which works best for you.
And if you want to just skip over the entire process of building and managing your online sales funnel, just outsource it to AutoGrow.
Believe me, sales funnels are kind of our thing. It's one of the most popular blog topics we like to discuss.
Plus, every time we get a new client, the first thing we do is conceptualize a sales funnel tailored to their industry.
We make sales funnels for:
So if you want to put your sales funnel on easy mode, just delegate your marketing projects to us. To get started, try our trial first.
As always, thanks for your time reading this article, and before you go …
Which sales funnel platform piqued your interest the most?
Let me know in the comments below.
Keep AutoGrowin', stay focused.