7 Bad Review Responses To Inspire Your Next Reply
As annoying as it is to deal with, every company must respond to bad online reviews.
You can't hide from them.
Because if you do, other consumers will lose faith in you.
Have you ever had those customers that are unforgivingly cruel?
And the written reviews that they leave are completely exaggerated?
Or maybe they're just made up out of thin, blue air?
It makes you wonder …
Are they really upset with your product or service? Or are they upset with themselves on some level?
No matter what, you have to respond.
If you don't know quite how to respond to bad reviews, then you'll want to read on.
In this resource, you're going to read about:
A little insight into the world of online reviews — including the likelihood of people leaving reviews, what platforms are used for them, and the influence reviews have on your reputation.
7 great examples of companies responding to bad reviews — to give you a good guideline on best (and funny) practices.
Why each example demonstrates outstanding customer service.
Now to start off, let's talk about online reviews 101 ...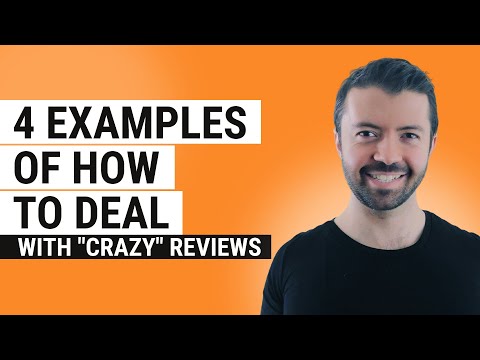 The World of Online Reviews
When someone is upset with your product or service, there's a chance that they'll want to tell others about it online.
As reported by GlobalWebIndex, 47% of internet users worldwide post product, company or service reviews every month.
In other words, you can count on 1 out of every 2 of your customers to leave you an online review.
And according to Bizrate Insights, 32.1% of consumers say a high review or rating is the most important factor in purchasing decisions —- making it more important than free shipping and discounts.
Online reviews are the most trusted form of brand endorsement.
You know all those celebrity cameos in expensive TV ads?
Well, consumers are less and less convinced by those.
Instead, they seek out genuine feedback from like-minded people.
You see, 79% of consumers trust online reviews as much as recommendations from friends and family, as per BrightLocal.
Meanwhile, ExpertVoice found that just 3% of consumers trust celebrity endorsements.
So online reviews clearly have a powerful impact on your brand reputation.
Popular Platforms for Online Reviews
But where is everyone leaving these reviews?
Some of the major review platforms today are Google Reviews, Yahoo, Better Business Bureau and Yelp.
But you can't forget about Amazon too.
Although research shows as little as 0.5% of Amazon customers leave reviews, 79% of them are influenced by reviews on Amazon, as stated by Jungle Scout.
For local businesses, Google My Business and Yelp are the most important.
According to ReviewTrackers, 63.6% of consumers check out Google Reviews before visiting a store. And 45.18% check out Yelp before a visit.
And thanks to Google's zero-click review capabilities, Google Reviews has a near-monopoly when it comes to which online review sites your prospects will check out.
As found by business reputation management firm Birdeye's "The 2021 State of Online Reviews" report, 67% of all written online reviews are through Google.
To put things in perspective, the second most common place for online written reviews is on Facebook, which accounts for just 7% of that figure.
Why You Should Care About Your Online Reviews
Now you might be wondering about the consequences of bad online reviews.
Well, according to ReviewTrackers, 94% of consumers have avoided a business due to a bad review.
And in a report from customer interaction SaaS company Podium, the average consumer won't even consider your business if it has below a 3.4-star rating.
All this sounds bad, right?
Like you're walking on eggshells with customers.
But, luckily, you have the chance to turn this around by responding to bad reviews in a positive way.
That's because 56% of consumers have changed their mind after a business's response.
Moreover, 89.7% of consumers are willing to give you a second chance, as per RevLocal.
Before we dive in, I'd like to remind you that online reviews from employees are also an important thing to monitor.
In fact, the first example in this article deals with just that.
If you want to attract and retain the best talent out there, you need to show jobseekers that you'll care about their well-being.
And you can demonstrate your transparency with potential employees. Or even win over your current employees that voice frustrations.
With that said, let's start off with the first great example of responding to bad reviews.
Great Example of Responding to Bad Reviews #1: HubSpot Shows Empathy for an Upset Employee
Have you ever received a bad review that seems completely illogical?
Recently, one of our applicants filled out just one section of the application form and stopped there. And from there, this person spread some lies about us on a review site.
In the end, the review site would not take down unfortunately as per our request.
Now, this is not an insignificant event.
According to ReviewTrackers, 83% of employees and job seekers research company reviews and ratings when choosing where to apply.
Just imagine if potentially great employees get turned away because someone decided to leave a bad rating for your company?
As tempting as it may be to talk back to them, you should reach out to them with dignity.
Remember, other prospects will be turned away if you let your emotions get the best of you.
To illustrate, HubSpot tackles poor employee reviews on Glassdoor in a mature way that demonstrates conscientiousness.
As you can see, a HubSpot representative asked to chat with the employee.
That way, they show transparency to job seekers as well as having the chance to see what went wrong with the employee's work experience. From there, you can work on how to keep more employees happy.
Great Example of Responding to Bad Reviews #2: Ice Age Meals Deals With the "Crazies"
Ice Age Meals is a company that prepares meals for health-conscious individuals — saving them time on having to cook.
Now, this small company all started with funding from ABC's "Shark Tank."
As you can imagine, Ice Age Meals received a lot of attention by being on such a popular show. According to TVLine, season 13 opened with 3.6 million viewers.
But some of that attention came in the form of bad reviews. Even from people that never ordered from Ice Age Meals.
In promotional mail the company sent to customers, they stated that one review said they cooked their food in a parking lot with dog food and exhaust fumes from their vehicles.
Throughout the letter, the word "crazies" is mentioned a few times to refer to the consumers that just leave bad reviews for no good reason.
We like this bad review example because it sounds like a human is actually speaking to you.
The letter makes you feel bad for them.
With its storytelling, you see Ice Age Meals has put in all this effort. Yet there's a vocal minority trying to tarnish their reputation.
And the letter asks customers nicely for a good review to make up for all the "crazies." From the consumer perspective, you can feel for the company.
Great Example of Responding to Bad Reviews #3: Onefold Replies With Sarcasm
When responding to bad reviews, it's not a bad thing to use a little humor.
As reported by Sprout Social, 72% of consumers want brands to be funny.
This takes us to our next example.
Denver-based restaurant Onefold received an unruly review critiquing its food.
With claims of an unappetizing breakfast taco, at least 32 local consumers found the review to be helpful.
Now that number may sound insignificant.
But with word of mouth, that number could easily add up to hundreds of put-off Denverites (is that right?).
The response from Onefold's owner, Mark, is great.
With a little sarcasm, Mark shows he's not bothered by the bad review. To consumers, he demonstrates that he's still confident in his quality of food.
Besides, the sarcasm won't hurt anyone but the reviewer.
The next example of responding to bad reviews also uses humor to ease any tension.
Great Example of Responding to Bad Reviews #4: Taco Bell Fires Back
So technically, this example isn't a review.
In fact, it's not even from a customer or an employee.
It's from another company.
But it still relates directly to brand reputation.
On Twitter, Old Spice pokes some fun at Taco Bell by asking why Taco Bell's "fire sauce" isn't made with real fire. And suggests that it may be false advertising.
A tad too literal perhaps.
But Taco Bell strikes right back with the same line of logic — by asking if Old Spice's deodorant is made with really old spices.
Now, I'm not sure if this was a coordinated effort from both brands to gain more exposure in the early days of Twitter.
But either way, it's pretty amusing.
And it makes consumers like Taco Bell more by seeing its brand personality shine through.
Great Example of Responding to Bad Reviews #5: Chobani Makes Things Right
According to a Sprout Social survey, 88% of consumers are influenced by reviews on social media.
And 31% prefer to leave product or service feedback on social media — making it the most preferred method.
So it's telling that you must bring your A-game when responding to bad reviews with your social media accounts.
Because if you don't, your reputation could start taking a nosedive.
As inspiration, let's talk about how Chobani responded to a bad review on Facebook.
A customer shared that he or she had always been a huge fan of Chobani yogurt. But this time, the customer said how disgusting the yogurt had been.
And Chobani responds by asking the customer to provide a product code and an address so they can make things right.
Normally, this wouldn't be a noteworthy example of responding to a bad review.
But Chobani nailed two things perfectly.
One is the response time.
If you look closely at the Chobani reply, it says they replied "about an hour ago." And the original post itself says the same thing.
So that means Chobani provided basically an instant response.
Although a lot of customers don't mind a 24-hour window for a response time, that window is closing.
According to a survey from Jeff Toister, responding within an hour will satisfy 88% of customers.
For every hour you let slip by, you risk a dwindling brand reputation.
And the second thing that's great about Chobani's response is the way they treat the customer as a VIP.
Unless the customer is lying, he or she is a Chobani superfan that persuades friends and family from buying yogurt from other brands.
Keeping your top customers happy is absolutely essential.
They're the lifeblood of your brand.
They account for most of your sales.
And they're more likely to be brand advocates, just as this example has shown.
By addressing this issue head-on for a high-paying customer, Chobani can mitigate the chances of losing that customer.
And responding quickly with a shipment of some (fresh) yogurt is one way to win this customer back. At least that's what I'd assume from the solicitation of the customer's address.
Great Example of Responding to Bad Reviews #6: Mastria Mazda Disputes Claims of Fake Reviews
According to a report from CarGurus, 46% of car buyers read consumer car reviews.
And 38% read expert reviews.
So for this example, I'll talk about a local Mazda dealership near me that has great Google Reviews.
4.8 out of 5 stars from over 1,000 reviews.
But you can't help but get a few outliers here and there.
And this Mazda dealership deals with each and every 1-star review nicely.
With every poor review, the dealership manager responds quickly in a friendly and courteous manner. For the most part, it's personalized too.
For example, see how Mazda responds to a customer that accuses them of using fake reviews.
Moreover, the review says that the company is unresponsive to customer outreach.
Being accused of being unresponsive to customers would be a pretty big problem.
According to Microsoft, customer service plays a role in brand loyalty for 96% of consumers.
For Mazda, this review makes them look negligent to customers.
But to any prospective customer reading the review, they can see that this Mazda dealership, in fact, does value its customers.
And the dealership says they reached out to the reviewer several times — making the reviewer look less credible. If the reviewer cared so much about buying his CX-5, why not respond back to the dealership?
Maybe it's a fake review.
Or perhaps it's sneaky tactics from a competitor.
Regardless, the Mazda dealership put a whole bucket of water on the fire with its response to the bad review.
Great Example of Responding to Bad Reviews #7: TruGreen Lawn Care Puts Itself in the Customer's Shoes
To anyone who's a fan of the movie "Fun With Dick and Jane," you know how important it is to some homeowners that their lawn looks lush, green and healthy.
Because if it's not, they'll be the joke of the neighborhood.
It's all about keeping up with the Joneses.
So for this example of responding to bad reviews, we look at a lawn care customer who left a 1-star Yelp review.
According to the customer, Rollin, the TruGreen Lawn Care team spent just 15 minutes at his house.
But he has a big yard.
As you can imagine, the team didn't get much done.
And TruGreen Lawn Care was already prepaid.
As a result, Rollin felt duped. So he warns others of his experience.
In response, Chelsea of TruGreen Lawn Care shows genuine kindness to the frustrated customer.
You see, you must put yourself in your customers' shoes to see things from their perspective.
How would anyone feel if they felt scammed? At the end of the day, we're all consumers and can relate to our customers.
But Chelsea doesn't stop with kindness and compassion.
She also makes a commitment to remedy the situation.
To win back this customer and clarify any misunderstandings.
In doing so, Rollin may very well change his review.
How can you give 1-star to a company that makes things right?
And even if Rollin changes his review to 2 stars, that's no insignificant matter.
According to Harvard Business School, a 1-star increase on Yelp can lead to 5%-9% increase in revenue.
Conclusion
The last thing any company wants is for the public to have their say about your reputation.
If you've never had to deal with a bad review, consider yourself lucky.
But one thing is for sure … you will have to deal with them eventually.
And it can be hard to know how best to respond in those situations.
This article provided 7 great examples of companies that responded well when faced with a negative review.
With this, you'll have some ideas of what might work when confronting an unruly customer.
Some general suggestions when responding to bad reviews include:
Be polite: Remember that 97% of consumers read business responses to reviews, as per BrightLocal.
Show Compassion: Maybe a customer had an unfortunate event occur that day and took out his or her frustration via online review. They could always change their rating.
Always respond: Even if a customer ridicules your business, you must respond.
And in case you think a review is illegitimate, then you should report it to the review website.
Dealing with bad online reviews is not a fun process.
But you know one way we avoid getting bad reviews altogether?
Sign up with AutoGrow today — so our team of digital marketing experts can take care of everything from SEO content creation, social media marketing, video editing and more.
That way, you attract and delight more customers.
And no happy customer will want to trash talk your brand.
Just one thing before you go.
What was your favorite example in the article of responding to bad reviews?
Let me know in the comments below.
Keep AutoGrowin', stay focused.
Mark