13 Examples of What A PR Blunder Can Do to Your Business
Picture this:
You're the regional manager of a B2B paper supplier that sells online.
And someone in one of your manufacturing facilities decides to play a prank and add an obscene watermark on every sheet of paper sold to your customers.
The watermark involves a certain cartoon duck and mouse.
Then, you have news reporters coming to your building to get a statement from you.
Everyone's wondering how you could let something like this happen.
Pressure is on.
If this sounds familiar, then it's because you watch "The Office."
And it was Michael Scott of Dunder Mifflin who faced this public relations nightmare.
But that could easily be you—at any time.
So, with this resource, I'll talk about the following:
What public relations is—-and some stats that might surprise you.
13 PR blunder examples and what lessons can be learned from them.
How mishandling of PR can affect your online business's reputation and valuation.
To begin, let's talk about what PR actually is and how it is used…
What Is Public Relations?
On its face, public relations refers to the practice of managing your brand's public image.
The idea is to be associated with positive values, ethics, and social responsibility.
Among some of the tasks carried out by PR agencies or departments are:
Establishing and maintaining relationships with media outlets
Social listening
Helping to establish a brand identity and positioning
Writing press releases
Creating a crisis management plan
Coordinating community events, such as fundraisers
Unforeseen events can occur at any time.
And we see PR blunders in the news all the time.
According to CareerAddict, PR executives rank among the top ten most stressful occupations in the US.
And here are some PR statistics you might find interesting:
Although marketing runs through the blood of AutoGrow, we can also help you with some of your public relations as well. Just book a demo call with our team and they'll let you know exactly how we can boost your brand's public image.
#1 PR Blunder Example: Toyota Recall
Traditionally, Toyota has always been considered a highly reliable car manufacturer.
That's their trademark.
But between 2009 and 2011, the Japanese giant was forced to recall millions of vehicles due to accelerator and brake problems.
And it all started with the death of an off-duty cop in California.
Consumers, especially American ones, were dishing out complaint after complaint.
Instead of owning up to the quality issues, Toyota was silent for some time.
They even tried suggesting that drivers were pressing the gas pedal instead of the brake.
Now that was an insult people weren't willing to take.
And as PR consultant Ong Hock Chuan said…
"People want to see a company take full responsibility, be empathic to the victims and their families, and be in control by outlining the problem and how they intend to solve it. They also expect the CEO to do all this."
Because of the poor reception from the media, Toyota vehicle sales in the US plummeted 16% and 8.7% in January and February 2010 respectively, compared to the previous year. That's according to a report by the Institute for Public Relations in 2011.
In the end, it was found that Toyota knowingly used faulty parts in their vehicle assemblies.
And in order to avoid prosecution, the firm was forced to pay $1.2B, according to ABC News.
#2 PR Blunder Example: Progressive Sides With a Negligent Driver
In 2010, comedian Matt Fisher's sister was killed when a driver ran a red light.
Unfortunately, the driver was underinsured, and the Fisher family asked Progressive to pay them out since the sister carried a policy with them.
As it turned out, they said no.
In fact, Progressive even defended the negligent driver in court to avoid paying the Fisher family.
And Matt posted a blog on Tumblr venting his frustration at the insurance company.
In response, thousands of angry Twitter users posted something negative about Progressive.
Of those tweets, more than1,000 said that they dropped the company.
And it didn't help that the insurer responded to each angry Tweeters with the same generic message from the Progressive mascot, Flo.
To say that consumers were upset is an understatement.
According to Insider, Progressive's likeability score took a massive hit, the lowest in 4 years.
And competitors like Geico and Nationwide likely stole away many customers due to this disaster.
#3 PR Blunder Example: Adidas' Email Insensitivity
Back in April of 2017, Adidas sent an email to its subscriber list that was rather tone-deaf given the tragedy of the Boston Marathon bombing that had happened four years earlier.
In the email, it read:"Congrats, you survived the Boston Marathon! You've conquered Boston. Share your race day experience and shop official gear."
Do you think the email was received too well by consumers?
You guessed right.No, it wasn't.
As you can imagine, a lot of people had a field day with this PR blunder.
And as Barstool Sports predicted, Adidas was forced to come out with a public apology.
So, pretty quickly, Adidas realized that its email was not appropriate.
They had put themselves in a vulnerable position. From there, they were basically begging customers to not leave them.
According to Sprout Social,72% of today's consumers want brands to be positive contributors to society.
Now let's just think. Did their email add value to society? Or did it connect with consumers?
I'd go with a no.
#4 PR Blunder Example: Uber CEO Argues With Driver
Back in 2017, Uber CEO Travis Kalinick got an Uber ride with a couple of companions.
But before stepping out once he arrived at his destination, he got in a verbal altercation with the driver.
The driver voiced his resentment toward Kalinick for abandoning the luxury brand style and opting for a more low-end service. According to the driver, this pivot cost him $100,000.
In response, Kalinick got snappy with the driver and said, "You know what, some people just don't want to take responsibility."
And there may or may not have been a few profanities thrown around in there too.
In other words, he's saying the driver is blaming others for his shortcomings.
And in Kalinick's defense, the driver was very rude and was certainly the aggressor.
Uber CEO Kalanick Argues With Driver Over Falling Fares
But as a CEO, you're never really off the clock. Especially with all the cameras around recording what you do.
Even more, over 20% of consumers cite employee treatment as an important factor intrusting a brand. That's according to a 2019 Edelman Trust Barometer Special Report.
In typical fashion, Kalinick issued a public apology. In the apology, he said that he must "grow up" and that he needs to learn some leadership skills.
You see, it didn't matter though.
And Kalinick was booted from his CEO position later in the year of 2017.
#5 PR Blunder Example: United Airlines Treatment of a Passenger
Instead of removing a passenger humanely, United Airlines security guards dragged the man down the aisle. (This man happened to be a doctor who needed to be at a hospital the next morning.)
And of course, it didn't happen without being recorded by another passenger.
Video shows a passenger forcibly dragged off a United Airlines plane
Expectedly, consumers were livid on social media, with virtually everyone furious with United.
Not only that, the CEO himself, Oscar Munoz, didn't even come out and apologize for the mistreatment of the passenger right away.
But at least he apologized for having to "re-accommodate" the other customers.
That was his initial reaction.
By the time he came forward and officially condemned the incident, it was too late.
And everyone could read right through the ingenuousness.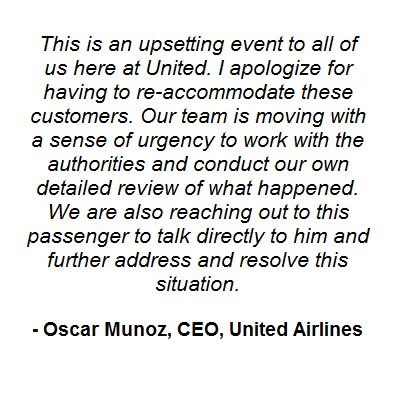 According to CNN, the United Airlines incident became the top trending topic on the Chinese equivalent to Twitter, Weibo.
With over 100 million views from Chinese citizens, the mistreatment of a passenger was the first exposure that many of them had with the United brand.
#6 PR Blunder Example: Netflix Price Hike
Price hikes are a common talking point these days.
And nobody likes price jumps, right?
So it's no surprise that Netflix had a PR blunder on its hands back in 2011 when they decided to increase its subscription price by60%.
Consequently, they lost 800,000 subscribers.
With the price hike, it was only inevitable that social media would act accordingly.
In no time, customers started a #DearNetflix campaign aimed at showing resentment towards the price increase.
And with these tweets, it's reasonable to think that Netflix's brand perception took a hit, right?
Accordingly, its stock dropped 35% within just a few months after the announcement, according to CNN Money.
#7 PR Blunder Example: Equifax Data Breach
Consumers have progressively gotten warier of data breaches.
According to AARP, their survey found that 84% of respondents stated concern for having their personal data stolen or hacked.
So when consumer credit reporting agency, Equifax, got hacked in 2017, there was a big backlash.
147 million Americans had their information breached.
And Equifax executives waited 6 weeks before coming forward about the situation.
According to CNN Business, some of the execs even sold off $2 million in shares before a public announcement. And according to MarketWatch, one of them was jailed for 4 months for insider trading.
Needless to say, Equifax's stock took a downward turn.
On September 6th, 2017, it closed at $141.39, according to MarketWatch.
And 8 days later, it was at$92.98.
It wasn't until mid-2018 that Equifax's stock price rebounded to its normal range.
Additionally, CreditCards.com says that out of all the major data breaches that major US credit bureaus have faced, Equifax lost the most trust from consumers.
According to Data Privacy Manager, only7% of consumers would write off a company that was breached and came forward immediately.
Clearly, it's how you handle the data breach that affects consumer perception.
#8 PR Blunder Example: Tripadvisor's Ill-Advised Response to a User
When a woman contacted Tripadvisor in 2019 about her being assaulted by an affiliate tour guide, she was met with insensitivity.
In their response, they asked her to post a review on their website if she wanted to.
Understandably, this was an insulting thing for them to ask of her.
Because of her disappointment in Tripadvisor's response, the anonymous victim started a Change.org petition with hundreds of thousands of signatures.
And she went on to say…
"My assault was deeply traumatic and probably one of the worst things I've ever experienced. But the humiliation I was put through when I turned to Tripadvisor for help was almost worse."
For obvious reasons, this woman remains anonymous. But her anguish can be felt by anyone with an ounce of humanity.
#9 PR Blunder Example: Domino's Pizza Tainted Food
In 2009, two Domino's employees decided to play a little prank.
One of them held a video camera recording the other putting cheese up his nose and other vomit-inducing actions.
Within a couple of days, the video was viewed over a million times on YouTube.
And the early adopters of Twitter were venting.
In response, Domino's set up an account within 48 hours and started responding to all the inquiries.
In general, the PR team acted fast and received a lot of positive feedback from customers on Twitter, thereby reducing the risk of losing touch with its audience.
But Domino's wasn't spared any fallout for the PR nightmare.
In just a few days, Domino's brand perception took a nosedive, going from positive to negative, according to a YouGov survey of 1,000 daily consumers.
"It's graphic enough in the video, and it's created enough of a stir, that it gives people a little bit of pause." — Ted Marzilli, global managing director for YouGov's BrandIndex
#10 PR Blunder Example: Nestlé Exposed by Greenpeace
In 2010, non-governmental organization Greenpeace aired an ad going afterNestlé.
And the ad features Jim Halpert look alike taking a bite out of an orangutan's finger instead of a Kit Kat bar.
The thing is, Nestlé sources palm oil from Indonesia, where orangutans live, to manufacture its products.
However, the palm oil industry destroys the Indonesian rainforest to produce its crop, so by buying from such sources,Nestlé is contributing to the damaging of the ecosystem that orangutans live in.
Over on social media, the video became a hot topic. According to marketing agency Position², there were over 215,000 tweets related to the ad.
And the video was seen over a million times, including other platforms besides YouTube.
On top of that, Nestlé's popularity soared but not for any good reasons.
Not an ideal situation.
But then, Nestlé really messed up on Facebook.
Over on its Facebook page, users came attacking full throttle.
And instead of allowing people to vent, Nestlé removed comments that showed dismay towards them—causing greater negative sentiment.
#11 PR Blunder Example: Abercrombie & Fitch Battle Mike "The Situation" Sorrentino
So the colorful star of MTV'sJersey Shore, Mike Sorrentino, was often seen wearing Abercrombie and Fitch (A&F) apparel.
But the problem was, A&F execs didn't want to associate with him.
And they were concerned about turning off their core audience.
As it read on the A&F website…
"We are deeply concerned that Mr. Sorrentino's association with our brand could cause significant damage to our image. We understand that the show is for entertainment purposes but believe this association is contrary to the aspirational nature of our brand and may be distressing to many of our fans. We have therefore offered a substantial payment to Michael 'The Situation' Sorrentino and the producers of MTV's Jersey Shore to have the character wear an alternate brand. We have also extended this offer to other members of the cast, and are urgently waiting for a response."
Basically, A&F offered a "substantial payment" to Mike "The Situation" Sorrentino for him to not wear their clothes.
Sounds like an easy payday. Sign me up.
But virtually everyone knew that it was a PR stunt. Jersey Shore had amassed an enormous youth audience, A&F's target demographic.
According to The Hollywood Reporter, the 2011 premiere was watched by 6.5 million people between the ages of 12 and 34.
And as a result of the fiasco, the company's stock dropped 9%, according to Mike himself and his CNN source.
Moreover, A&F sales dropped by as much as19%, as per Macrotrends,
#11 PR Blunder Example: Volkswagen Lies About Emissions Test
In 2015, Volkswagen found itself at the center of public outrage—the company's vehicles were found to have emit significantly more nitrogen oxide than legally allowed to.
But Volkswagen manipulated the emissions testing so that the vehicles would pass.
The scandal affected 482,000 cars in the US alone, according to the BBC.
Due to the recall, Volkswagen reported its first quarterly loss in15 years, per Reuters.
And that's not all.
Volkswagen's stock dropped 20% immediately after news of the scandal surfaced.
#12 PR Blunder Example: Apple's Buggy Maps Launch
In2012, the tech giant launched its iOS 6 Maps.
With the launch came a lot of frustration. People were getting lost.
Others were hearing the wrong language from Siri.
It was a PR blunder waiting to explode.
And that's exactly what happened.
In a rare instance, CEO Tim Cook even suggested iPhone users to use its competitors' navigation features.
As a result of the PR blunder,iPhone customer satisfaction dropped for the first time in its time being on the market. That's according to TechCrunch.
And according to The Guardian, Apple's shares lost roughly$30B of its value.
#13 PR Blunder Example: British Petroleum's Oil Spill
In one of the worst PR blunders of all time, the oil and gas company, British Petroleum (BP), showed everyone what poor communication can lead to.
After its Deepwater Horizon oil rig exploded in April of 2010, BP's CEO, Tony Hayward, was insensitive to say the least:
"There's no one who wants this thing over more than I do. You know, I'd like my life back."
With that remark, Hayward showed a lack of concern.
And he said the impact on the ocean was "modest."
Below is a map that shows the effects of the spill in the Gulf of Mexico. Does that look modest?
According to Michael Gordon of PR firm Group Gordon Strategic Communications, BP's crisis management mishaps were the result of three things:
Lack of transparency
Lack of straight-talking
Lack of sensitivity to the victims
You see, as BP's poor communication mishaps continued to compound, investors and consumers lost trust in the company.
As for monetary damages, BP paid:
According to CNN Money, BP's share value fell 40% in a little over a month.
Conclusion
With these 13 examples of PR blunders, you have a clear template to help you understand what not to do when facing public backlash.
As these examples demonstrate, if you don't have a solid crisis management plan in place, you risk a lot. Like a loss of customers and loss of funding.
Honestly, you can't afford not to focus on PR.
Here at AutoGrow, we have experience dealing with PR. For example, we have issued press releases for clients to inform the public about ongoing projects and milestone updates.
We can also monitor your social media to see consumer talking points before they lead to a PR nightmare.
Whatever it is, please don't hesitate to reach out to us.
Has your company ever faced a PR nightmare?
How did it turn out?
Let me know in the comments below.
Keep AutoGrowin', stay focused.