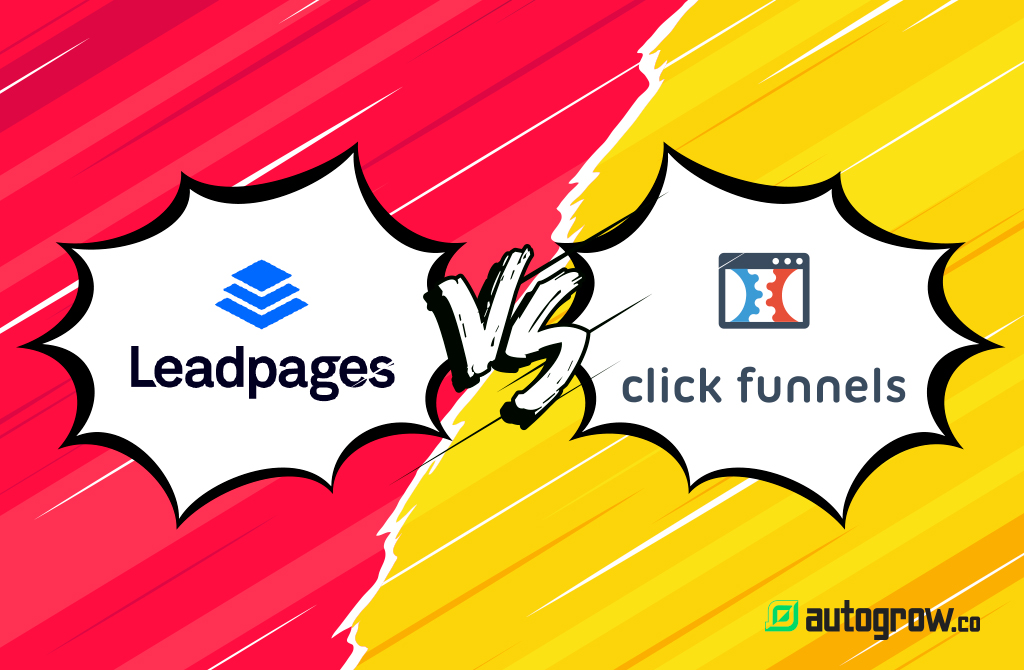 "Do you guys use ClickFunnels?"
This is a question we get asked a lot by our clients. They're always wondering what software we use to build our funnels.
If you're not familiar, ClickFunnels is a marketing app that helps you build website funnels (with a focus on landing pages, so it's not quite the definition of a funnel which might throw some people off…)
ClickFunnels is marketed as an all-in-one sales funnel solution that will quickly bring leads and put piles of money in the bank.
I'm sure for some, ClickFunnels works great.
For the majority of marketers, however, there's a lot to consider, which is why we're reviewing both ClickFunnels and Leadpages today in a head-to-head match-up).
If you're wondering which tool is best, I'm here to help you make up your mind.
I am 100% biased as a happy customer of Leadpages, but I'm going to back up this review with facts so YOU can make an objective decision. Fair enough?
Ready for round 1? Let's rumble!
Round 1: Which Brand is Better at Helping You Sell?
The way these two tools are branded can affect how you sell to your clients, or your client's clients.
Depending on which tool you use and who you sell to, client perception can be affected for better or for worse.
Leadpages: When it comes to Leadpages' brand effect on the way your products are sold, I believe Leadpages is the superior choice. Their pages are simpler, more "casual" in presentation, and it has a better content upgrade feature.
Users can automatically opt in to get a free downloadable piece of content.
From a practical standpoint, if you're trying to sell a prospect and they can immediately recognize where your site template is from (e.g., ClickFunnels), prospects are going to associate it with certain ideas related to that tool's brand (e.g., infomarketers, affiliate "buy now!" squeeze pages, or others who prefer over-the-top sales tactics).
If you're skeptical of that, think about the last time a company sold you something. Was the design of the site in any way a factor in your decision?
Of course it was.
That said, without adding custom elements, your Leadpages templates can also be more recognizable. You may not want to be associated with the Leadpages brand, even though it is positioned a bit better in the market. So this is a problem plaguing both tools.
Leadpages has more value-oriented content with a heavy focus on content upgrades, as I said. Not only that, but their templates are less busy.
ClickFunnels: ClickFunnels' templates have a lot going on by comparison. Words are underlined or bolded or italicized everywhere you look.
Most marketing consultants can easily tell when they land on a ClickFunnels page.
ClickFunnels does attempt to brand themselves as "fun" through their different promotions and demo videos. You get that sense of fun in the way they present the product to marketers and startups with a heavy dose of humor.
Leadpages on the other hand, is more to-the-point.
There's little hype around their product, how it's useful, or why you'd want to use it to grow your business.
They emphasize more customer support (e.g. their coaching program and diligent email support reps), whereas ClickFunnels prefers heavier promotion of the sales message up front and less support on the back-end.
Speaking of ClickFunnels hype, if you've been influenced by it, you're not the only one.
Marketer Miles Beckler wrote a post about how ClickFunnel affiliates sold him on the product. He said they were "not telling the full story and painted ClickFunnels as a 'bug-free' stable solution with great support…which it is not. And their support is less than helpful…"
In fact, Beckler later gave ClickFunnels the boot, describing a separate incident. This time, he waited two months for help from support after one of ClickFunnels' features didn't work on his website.
That help never came.
That said, marketer Ian Fernando writes how ClickFunnels' Facebook group community can step in and assist when the support staff is gone (like on nights and weekends). He's used ClickFunnels for 10 years.

Round 2: Which Brand Has the Best Features?
Both tools offer A/B testing. Also, users of both can build individual pages, link the pages together in a funnel flow, create a custom domain, and integrate with MailChimp, ActiveCampaign, Drip, InfusionSoft, and more.
Leadpages: Compared to ClickFunnels, Leadpages doesn't have an add-to-cart feel to it. It may be lacking the one-click upsell, but that's a feature Leadpages plans on rolling out sometime soon according to comments left by a team member on their blog.
For now, they have two-step checkouts (their newest feature) and other features like:
Automated webinars with templates
A landing page builder (below)
 LeadDigits, which allows users to text a short code to get on someone's email list
LeadLinks, which lets a user click on a link to get on to your email list instantly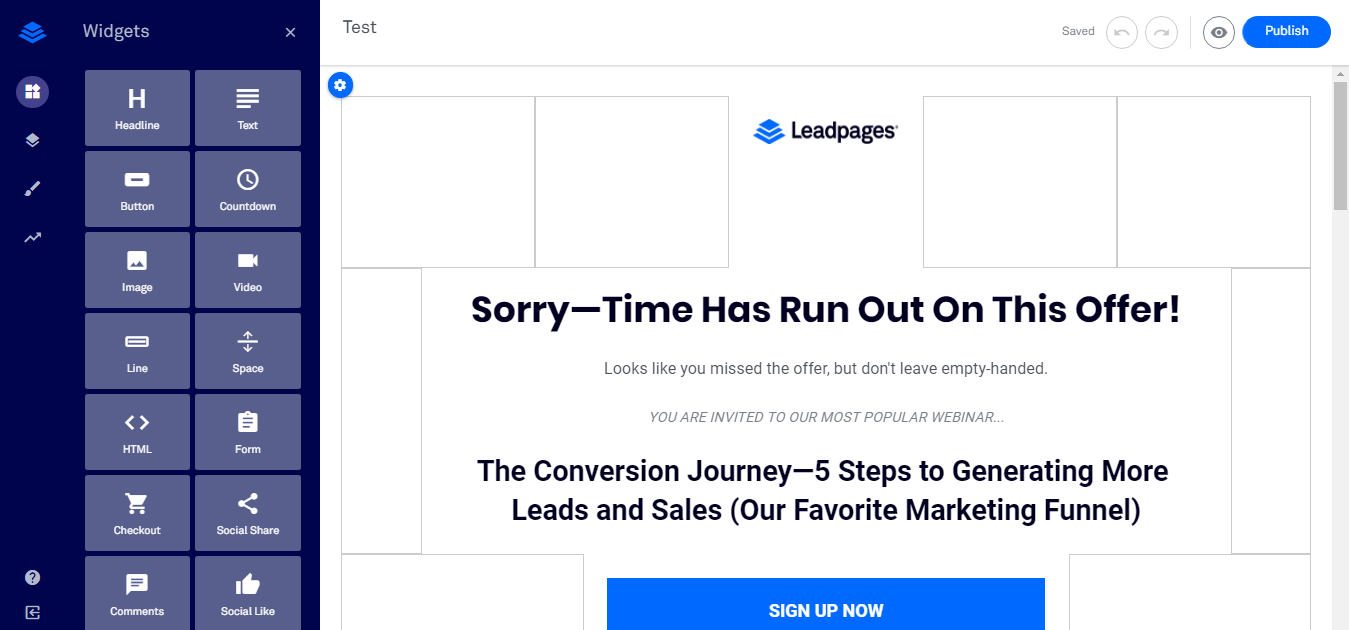 ClickFunnels: One of the most noteworthy features of ClickFunnels is the membership feature for logging in.
That's just the tip of the iceberg. There are LOTS of other features:
Checkout integrations
An automated webinar feature
One-click upsells and downsells
Social sharing of your funnels
Actionetics, an email marketing automation suite for sending emails and creating emails
Backpack, an affiliate marketing service that takes care of affiliate payouts and recruiting
Yes, ClickFunnels has many more features than Leadpages, but that's actually part of the problem.
There's a lot of research supporting the idea that having more choices can negatively impact how we feel about the decision we ultimately do make.
A report by Andrew Ward and Barry Schwartz at Swarthmore College called "Doing Better but Feeling Worse: The Paradox of Choice" delves into this very concept.
The two cited a study published by Mark Lepper and Sheena Iyengar, two psychologists. Although the research is from 2000, it's still applicable today.
The psychologists studied grocery shoppers. The store first offered a few jams, six in all. Then they increased that number to 24 jams and incentivized shoppers with a dollar-off coupon.
The more jam there was, the more people were interested in it. That said, people didn't end up sampling more jams because more were there.
They also bought less, with 3% of shoppers picking up the 24-jam pack and 30% buying the six-jam pack.
Photo courtesy of The Cafe Sucre Farine
Both UX Booth and Kissmetrics agree with these findings.
UX Booth says it's crucial to prevent your customers from overthinking. Over at Kissmetrics, they found that sales could actually decrease if a customer can't make up their mind.
To guide customers more easily into a decision, Kissmetrics recommends:
A clean homepage much like Google's search homepage
Crafting email newsletters around only one offer
Reducing social sharing options; you don't need to offer sharing links to obscure social media platforms
Round 3: Which Tool is Easier to Use?
When it comes to ease-of-use for both these tools, I'm including how difficult it is to adapt to the program or pass it off to clients or other members of your team.
Leadpages: Here at AutoGrow, we've worked with hundreds of clients over the years.
Every time we have started off with a client who had a ClickFunnels account, I would log into their account and my eyes would glaze over.
There's just a complicated user interface with a LOT of features as mentioned above and pictured below.
You see…
There are two distinct product philosophies each founder believes in for these companies' products and it's reflected in how they're built.
For example, Leadpages founder Clay Collins is of the philosophy that it's a mistake to try to build the ultimate marketing product. That's because so many have tried and failed (probably him included at some point).
Such a product is too complicated in its effort to be useful, functional, and still have a good number of features.
Now compare that to Russell Brunson, who founded ClickFunnels. He's on the opposite end of the spectrum. That's why, if you visit ClickFunnels' pricing page, every feature is there.
Coming back to Leadpages, they limit their features on purpose by an order of magnitude.
It's clearly shown in their app's interface design once you're logged in. Does this feel like an app you can learn how to use?
Yeah, most definitely.
For each page, there's one clear CTA to avoid confusion.
Their funnel templates may be more restrictive compared to ClickFunnels, but a new drag-and-drop editor solves that problem.
That "restriction" is actually a plus though, I'd argue. It allows you to get your landing pages and opt-ins up and running fast.
ClickFunnels: As I mentioned, ClickFunnels give you maximum control over everything, but this isn't always a good thing if you want to get up and running quickly.
For instance, their interface can overwhelm seasoned marketers.
You almost feel like they're making the decision for you.
In terms of how easy it is to use, I'm going to defer to a recent conversation I had with a client who signed up for our done-for-you funnel service. When we got on the subject of ClickFunnels, he said he'd recently cancelled his subscription.
When I asked him why, he said he didn't have six months to learn how to use it. He wanted results sooner than that.
That just goes to show you that while ClickFunnels may be marketed at something that's easy to use and start benefiting from, there is actually a steep learning curve for consultants who want results.
Conclusion (and the Winner!)
The winner in this battle of sales funnel tools is, hands-down, Leadpages.
Here's why we recommend you go with them over ClickFunnels:
Leadpages' branding is going to improve the value perception and perhaps even the conversion rate of your landing pages and your funnels. By partnering with a company that has a more positive, straightforward branding association, you're doing your business a favor.
You may get fewer features with Leadpages, but even if you had chosen ClickFunnels, you wouldn't have used those extra features anyway. Most of the time, ClickFunnels' features are just too complicated. By comparison, Leadpages' ease of use is refreshing.
There's higher quality support with Leadpages, especially in comparison to ClickFunnels. Of the two, ClickFunnels has the more confusing interface, so more support is needed there than on Leadpages.
Are you convinced? Do you think you'll make the switch from ClickFunnels to Leadpages after reading this review? Why? Let me know in the comments below.
Keep Hustlin', Stay Focused,
—Matt