How to Transform Your Info Product Idea Into Revenue Reality
I sold my first info product for only $19.
And while I didn't get rich from it, I did learn some pretty important lessons.
Lessons like why you have got to do some research up front (before you even put your pencil to the paper). 
Or why it's key to figure out what you want to create. 
Because as it turns out, you'll be spending a good chunk of time working on it. So you'd better enjoy it.
I also learned why you need to de-risk your efforts by knowing early on if there is a market for your product and what people are willing to pay.
That doesn't sound too difficult, does it?
Yet, in practice, most people fall off the path and lose heart—because the path is unclear.
And we all fear what we don't know… you know? 
Built from the lessons learned from my own successes and failures, this guide is the resource I wish I had when I first started out. 
With the insights inside, you'll be well on your way to learning how to create info products by…
Defining your target market

(and figuring out if your info product is something people will

actually

buy). 
Picking

the right product

to sell (and the 3 qualities that, when combined, will create the

perfect

info product). 
Selecting a

price point

, determining your

distribution channels

, automating your

marketing

, and much,

much

more.
Now let's dive into this guide on info product creation!
Step 1: Start Brainstorming Ideas for Your Info Product 
Before you even put your pencil to paper, there's one thing I suggest anyone creating an info product does first…
Figure out what it is you want to do with your life. 
Okay, getting a bit deep for an info product creation guide, right? 
But hear me out. 
Before you create your info product, you've got to love your work. Because as Steve Jobs said…
"The only way to do great work is to love what you do."
Now, besides giving you the passion to create truly great products and services, enjoying your work also comes with a variety of other benefits. 
Benefits like: 
Better mental health (less stress and anxiety)

More confidence

A desire to learn more and grow

Greater productivity
But unfortunately, workers today are feeling less happy and more stressed than ever. Check out this infographic compiled by Meditation At Work to see what I mean. 
And the reason is, a lot of people simply don't enjoy what they do. 
As a result, they (and the work) both suffer. 
That's why before you sit down to brainstorm ideas for the info product you're creating, you need to find something you actually enjoy learning about. 
So, how do you figure out what's going to keep you happy for the long haul?
Personally, when I was trying to figure out what I wanted to do before I started AutoGrow.co, I created a Venn diagram. Sort of like this one here:
Now, the trick with this Venn diagram is mixing your interests (what you love) with two other aspects that will determine the success of your info product creation: skills and opportunity.
To use this Venn diagram, start brainstorming ideas for info products that fall into these 3 circles and putting them down on paper. 
Here's how each category breaks down:
Skills

– Is there something that your friends or co-workers are always telling you-you're really good at? Something that everyone always asks you to help with? It could be anything, from cooking the world's best pancakes to debugging a computer. If nothing pops to mind, ask people—you might be surprised by what they have to say. 
Interests

– What you're good at and what you enjoy are not necessarily the same thing. For instance, I'm really great at doing the laundry… but I don't especially like it. So, for this part, you're going to think about all the things that you naturally LOVE doing. 

We've all at some point said,

"I wish someone would pay me to ____."

What's your thing? How would you fill in that blank? Play video games? Eat ice cream? It can be anything. The point is for this circle not to focus on whether or not it will fit in the other two circles.

Opportunity

– Look at the world around you. Talk to the people you know. Pay attention on social media. Read the news. What are people discussing? What are their pain points? Look for what people are complaining about. What do they wish they had more help with? Take some notes and you're likely to see topics start repeating themselves. When you see multiple people complaining about the same thing again and again, that's where the opportunity lies.
Now take all those ideas you just came up with and write them down in the appropriate circle. What you focus on when creating your info product is ideas that fall in that sweet spot where they all connect.
That spot is the perfect mix between what people need, what you're good at, and what you love doing.
Step 2: Dig Deeper Into Who Your Audience Is
After you've come up with a few ideas to work off of, it's time to try and understand your perfect audience a little bit better. 
Now, I don't want to oversell this but this could end up being one of the most important steps in this entire guide. 
The better you understand your audience, the more value you can offer them and the easier it will be to sell them on your info product. 
Unfortunately, a lot of marketers out there simply don't put in the work here. 
Google found that fewer than 2 out of 5 marketers make their business decisions based on actual consumer research. 
(It's no wonder why there's so much crap out there…)
You can have the best idea in the entire world. But if it's not something your target audience needs, it sure as heck isn't going to sell. 
And you won't have anything to show for all the effort you put into it. 
Let me give you an example.
If you focus your info product on how to, for instance, sell your $500k+ home but you're marketing it to Generation Zers (born 1996-2010), you're likely not going to bring in those killer sales you're looking for. 
That's why it's important to do some research and properly identify your target audience before you start marketing. 
Now, if you've been in business awhile, you should already have a pretty strong customer profile built up. 
You probably already know about their specific pain points, types of solutions they've tried in the past, and a few demographic details like age, profession, and maybe even location. 
But if not, Google Analytics can at least provide some basic demographic data like gender and age by going to [Audience] and then [Demographics] in the menu bar. 
Below are a few other ways you can learn more about your target audience so you can know if your info product will appeal to them. 
Check Review Sites

– Visit sites where people discuss products or services similar to what you're offering and see what they're talking about. Look for any pain points or issues that people are complaining about or need help with. Also try to pick out any common elements between these customers. 
Listen on Social Media

– Sites like Facebook and Twitter can be great for market research. People often air their grievances on social media. All you need to do is observe. Look for groups, chats, and hashtags related to your niche and take notes on the types of people you find. 
Think About Your Current Customers

– Run an analysis and see who does the most business with you. Do those people have anything in common? It's likely that they do, whether it's industry, age range, or even hobbies. Other people like them could probably benefit from your services as well.
Research the Competition

– It is highly unlikely that you've come up with a 100% unique product (sorry to burst your bubble). Luckily, that means that you can check out the other guys and see what they're doing. Who follows them on social media? Who's commenting on their blog? Find these followers and invite them to like your page, too! It works.
Send Out a Survey

– Getting feedback right from the mouths of your customers is one of the best ways to narrow down who it is that's interested in your niche and that trusts you enough to buy. So try learning more about your target market by

soliciting feedback from your past customers

. In all likelihood, their responses are bound to be a goldmine of valuable information.
Bonus Tip

– Use this time to research the competitor's products as well. Figure out what you offer that they do not, or how your products/services differ from theirs. That will be your unique selling point.
Step 3: Create Your Info Product & Determine an Appropriate Price Point 
Right now, you're probably saying, "yeah, yeah, okay. But what about the actual product?"  
So, let's start talking about creating an info product that will actually sell. And now that you truly understand your target audience, it shouldn't be too hard to do. 
By now, you should know your topic. 
You've done your Venn diagram, you understand what you're good at (and what you love), and you know what your audience needs.
Now think about how you can turn that into a product. Can you create an instructional video? An online course? A workbook or template?
Here are some of the most popular options.
5 Types of Info Products to Consider
1. eBook – A digital book that is available online and a popular choice for lead magnets. Take AutoGrow's Productize & RELAX as an example. Depending on length, writing an ebook can be time-consuming—but if you know your topic, it shouldn't be too difficult. Best of all? Once it's completed, it's passive income. You won't have to do much work on it ever again, aside from selling it. 
2. Webinar – Webinars are live videos that usually last for 1 to 2 hours. The topic could be anything, depending on your level of expertise. Products such as webinars or video training series are very popular, as today's audience tends to favor visual products over written ones. Now, webinars in the traditional sense are more often offered as free events in exchange for your email and your attention. However, selling it as a live training product is not uncommon. One big plus: you can record a webinar and continue to sell it after the fact, though it might negatively impact conversions. You'll also want to make sure you have the right paid webinar platform that integrates well with your processor, like ClickMeeting.
Online Course

– If you've taken a college course online, you understand how digital learning works. An online course requires a significant level of expertise on your subject, as well as a significant time investment. Courses usually include multiple modules and offer an in-depth review of your given subject. Websites such as

Teachable

make it easy to host a course for little-to-no investment. Plus, once you're done with all the back-end work, it's passive income.
4. Private Group – When a group of people need ongoing information on a particular topic, a private group or membership site can be highly appealing. Sites such as Slack, Facebook, or even a private URL with a password can offer an easy way to share ongoing tips and information with your participants. Private groups do require ongoing participation from you, but they also tend to be one of the cheaper products, so that's something to consider. Bonus: You may not make a lot of money off of groups, but they go a long way towards building trust in your brand.
5. Workbook – A structured form with questions and exercises for the customer to complete, a workbook is usually one of the easier info products to create. Workbooks are great for people such as coaches, with topics like "Creating a Budget to Get Out of Debt" and "Designing a Healthy Eating Plan" being quite popular. Bonus: You can sell this as a stand-alone product or add it on as an upsell with another info product, like pairing it with your most premium training program. We do this at AutoGrow with our 6-Figure Sales Funnel product.
The Type of Info Product You Choose Depends on 5 Factors…
This is your product, your business, and your life. You get to choose and design it how you want it to be.
That being said, there are some things you may want to consider when choosing which product type is right for you…
The Amount of Time You Want to Spend Creating It

– A PDF download, for example, is far less labor-intensive than hosting an e-summit. So be sure to consider how much time you'd like to spend on your info product creation before you can start seeing a return.
The Level of Ongoing Involvement You'd Like to Have

– An online course may require you to actively check in with participants, while a video series is probably more of a

passive

source of income. Think about whether you want your product to be a standalone success or if you are okay with continually putting your time and effort into helping your customers get value out of it. 
How Much Money You'd Like to Make

– Typically, the more time and effort you put into creating a product, the more you can charge for it. That being said, this only applies to products in markets that are well-researched and built for an audience that actually

needs

it. Thankfully, we covered these two crucial aspects in the steps above. 
What Your Audience Can Afford

– Above, I mentioned targeting people who had recently graduated from college. That particular audience would probably have a limited budget and therefore couldn't afford a more expensive product. If, however, your target audience is mid-career professionals, they might be willing to pay for a more premium service.
Your Level of Expertise

– "Fake it till ya make it" is a common mantra in business… but don't. Your audience will see right through it, and they'll be angry that they spent money on something that doesn't really offer much value. If you're a newbie and don't have a ton of experience yet, stick to something simple like a template, ebook, or worksheet. You won't be able to charge a lot, but you won't ruin your reputation, either.
Determine Your Price Point
Your price point will depend on two things: the amount of time and effort you put into creating your product, and (to an even greater degree) how much your audience can afford to pay.
Generally, your effort level should correspond with the value of the info product you created, like this. 
That being said, you can spend 8 weeks putting together a 15-hour online course—and obviously that's an enormous amount of work on your part—but if your audience can't pay for it (or doesn't care about it), it won't sell.
Ultimately, the effort you put into creating that product will be a complete waste.
This is why (again), it's so important to understand your audience. With a little bit of internet research, you can easily determine what sort of products they're already buying and how much they're paying for them.
Say, for instance, your competitor is selling a $150 webinar/private group combo—it's unlikely that your audience will invest in a $500 online course with you.
The key? Start small and work up to a higher price as they gain trust in you (AND as you gain confidence in yourself and your understanding of who your audience is).
Pro-Tip: Offer a "Pre-Sale": One of my favorite ways to start small and move up to a higher price is by offering a "pre-sale". A pre-sale lets you offer your product at a significantly lower price point without devaluing it.
By allowing your audience to come in at a "special rate" prior to selling to the general public, they get a price they can afford. And you can say, "Hey, this product is actually worth XX dollars, so you're getting a really special deal!"
Step 4: Determine Your Distribution Strategy (*Cough* Email List *Cough*)
Now that you have your info product, the next step is to get it out there. 
How are people going to come across your info product? 
Without a distribution strategy lined up, you're not going to be able to get your info product in front of the eyes of the people who will buy it. 
So, there are plenty of ways to distribute your product. 
You can use social media, paid ads on search engines, or even just advertise it right on your website. 
Now, while these other distribution channels are great and all, I've personally found something interesting. If you want to get your info product out in front of the eyes of your target market, you NEED to start building an email list.
This is important for so many reasons.
Your email list is a receptive audience.

You already know they're interested in your products or services.

You can reach out to them when you want feedback on your business.

You can use them to test new ideas and strategies.

Most importantly: people read emails!
Plus, email marketing has a monster ROI. 
Like $40 to $1 according to most marketers. 
And last but certainly not least, you actually own your email list. 
No change of service terms from social media networks or cancelling of your account will ever erase the contact information of the people you collected. 
Now, you may think that no one reads email newsletters anymore—but you're wrong. The average open rate, across all industries, is 21.33%.
That means that if you have a list of 2,000 people, at least 420 people will open it. And 420 people is nothing to scoff at.
Beyond that, there are people who open it who you can't track for privacy reasons. The true open rate could be closer to 30%.
So, what makes email special?
Everyone Uses Email

– People might take breaks from Facebook or Snapchat, but it's almost impossible to take a break from email. In today's world, the vast majority of communications are handled electronically—more often than not, via email. In fact, The Radicati Group found that around

3.9 billion people

used email in 2019. Sending a message to someone's inbox almost guarantees that they'll see it.
It's Easy to Personalize

– Most email marketing platforms offer several customizable fields. From including a personalized greeting, to adding social share buttons like a forward-to-friend link just for certain readers. And people

love

personalization. Emails with personalized subject lines are 26% more likely to be opened according to

Campaign Monitor

. And Instapage reports that

3 out of 4 marketers

say personalization drives higher engagement rates.
It's Inexpensive

– An email marketing campaign is one of the most cost-effective ways to promote your business. If your list is under 2,000 people, many email marketing providers are free—and even beyond that, they're fairly cheap. Compare that to a paid ad on Facebook or Twitter, and the savings are beyond comparison. In fact, marketers have reported returns of as high as

4,400%

for their email marketing efforts (that's $44 earned for every $1 spent). 
How Do You Build an Email List?
Okay, okay, so an email list is great and all. But how do you build yours? 
Don't worry. I've got you covered there too. 
Below is a quick breakdown of 6 steps you can follow to build your email list to help make beef up your distribution channel for your info product creation.
In fact, it's the same steps I took to grow our email list to nearly 22,300 active subscribers (and growing every day). 
See? 
And if you follow them, you're bound to grow your list too. 
1. Decide on the Specific Topic or Niche You're Going to Write About – You can't be all things to all people, so decide on one topic that you can specialize in. It should, of course, be related to your ultimate end-product. So, start producing content on your blog related to the niche you chose. These posts will make up the bulk of the content you distribute to your email subscribers. 
2. Determine Which Marketing Tools You'll Use – Publishing content requires you to have, at a minimum, a blog. You'll also want to have at least one social media profile. These are where you'll publish your content before you have anyone on your list, and they're how you'll get people to sign up. And, since the goal here is to grow your list, you'll also need to sign up for some email marketing software (such as MailChimp or Convertkit). Everything should be ready to go for when the sign-ups start rolling in (because they will!).
3. Put Together a Starter List – Begin with people you've done business with in the past, or friends and family that you know would find your content interesting. It doesn't matter if the list is small. The goal is to write quality content that these people will then share with their friends and contacts, thus prompting them to sign up as well. (Disclaimer: to make sure your list building efforts are GDPR-compliant, get permission from everyone before adding them to your list).
4. Optimize Your Webpage for a Higher Email Opt-In Rate – Placing sign-up forms in the appropriate places, utilizing well-timed pop-ups, and writing compelling copy can all help maximize opt-ins.
5. Offer a Powerful Incentive – If there's one thing that's true in this world, it's that people like getting stuff for free. Offering a valuable incentive like a lead magnet is often all it takes to get people to sign up for your email list. Alead magnet helps build your subscribers list while also strengthening your relationship of trust and positions you as an authority. But remember: the key elements of an effective lead magnet are creating something valuable, easily-consumed, and (this one is important) related to your core offering—otherwise, you'll be targeting the wrong kind of audience and all those opt-ins won't mean squat. 
6. Use Other Email List Building Tactics – Once you have your email list started up, you may want to start using other email list building strategies. Strategies like guest blogging, offering content upgrades, host a webinar, partner with other industry authorities, run a giveaway, create a content vault, and more. There are plenty of ways to build your email list. You just have to get creative. 
Step 5: Build Trust With Your Audience
Trust matters. 
And according to 20 years of research from the world's largest PR firm, Edelman, the effects of trust are far-reaching. 
Once your prospects trust you, they're more likely to buy from you. 
I mean, think about it: would you buy something from someone you didn't like? 
Probably not.
Robert Cialdini gives an amazing example of trust-building in his newest book, "Pre-Suasian".
In it, he tells a story about a door-to-door salesman.
I can't remember exactly what he was selling—it might have been homeowners insurance—but the exact product here isn't really relevant. It's the method he employed that is important.
This gentleman went door-to-door selling his product. 
Once inside a home, he'd sit down at the table with the owner and immediately he'd say, "Oh, I forgot something in my car. Do you mind if I go get it?"
He'd then get up, let himself out, and come back into the house all on his own. No knocking. No doorbell ringing. Just opening up the door and walking back in without the help of the owner. 
Performing this simple action triggered something in the prospect's mind. It preemptively gives them the opportunity to trust him. 
And in the book, that trust would often carry over and help the salesman close the sale. 
As a business owner, you're likely not going to be sitting down in anyone's home, but the same basic principles apply. 
You need to give your audience the opportunity to trust you before you ask them to purchase anything.
And once you've built that trust up, you can then use that trust to get your audience to buy the info product you spent so much time creating. 
7 Tips for Building Trust Among Your Audience
Trust is incredibly important in the buyer/seller relationship. 
And while you can employ sneaky tactics to do so (like with the travelling salesman), there are a number of other ways to do so. 
According to PR firm Edelman, delivering quality products or services is the best way to build trust. 
Following not far behind is having good brand ratings and reviews and charging a fair price. 
Check it out. 
Now, the question is, how do you build trust in your audience? 
Here are 7 tips that have worked for me in the past:
1. Understand Your Audience – We've already touched on this a bit. Doing audience research is crazy important. Understanding their pain points not only helps you determine which products to sell, but it helps you relate to them too. When you really recognize what your audience wants and needs, you can create quality content that they'll feel like was written just for them.
2. Be Active Online – Having a web presence is not only an easy and affordable way to get in front of people—it's also expected of you. In fact, 70%-80% of people research a business online before making a purchase with them. With numbers like that, you can't afford to NOT be there via a website and social media profiles.
3. Be Available – Simply having an online presence isn't enough. You need to be there to interact with your audience. Respond to comments, answer emails and DMs and reply to questions and complaints. Being there for your audience goes a long way towards creating confidence. In fact, a whopping 82% of consumers expect a near-immediate response to sales or marketing-related questions according to Small Business Trends. 
4. Be Consistent in Your Message – Don't hop around from topic to topic. Like I said above—choose one topic or one genre to focus on and stick with it. It may seem counterintuitive, but writing "deep" on a single topic can bring in more traffic. If you're not sure what to write about, consider the "fire bullets then cannonballs" approach. This well-known strategy really comes down to quick trial and error. Start by writing about a variety of topics related directly to what you'll be selling. Then determine which ones get the most traction. From there, you can eliminate the subjects that no one cares about and expand on the ones that do.
5. Post Testimonials & Reviews – Testimonials and reviews are different from anything you might say about your own product because they are unbiased comments. And they're also one of the most persuasive forms of social proof out there that you can use to build trust. As such, they are far more convincing than your run-of-the-mill sales pitch. A good review helps to establish credibility and promote your product in a convincing fashion—and they can increase conversion by up to 270%. Let me say that again. TWO HUNDRED AND SEVENTY PERCENT. You can't ignore a number like that. 
6. Share Case Studies – Original case studies can be great for demonstrating the usefulness of your product or service. They demonstrate real results from real customers, proving that you can do what you say. The difference between testimonials and case studies is that a case study goes into far greater detail about exactly how your product or service solved a customer's particular problem. And when you leverage case studies effectively, they can lead to conversion increases of as much as 185% and more.
7. Deliver on Your Promises – This is essential. Don't promise the fastest shipping in the industry or 24-hour customer service if you can't deliver on it. The first time you don't do what you say, or don't follow through on a promise, the reputation you worked so hard to build will be destroyed. Warren Buffett said it best: 
"It takes 20 years to build a reputation and five minutes to ruin it. Think about that and you'll do things differently." 
Step 6: Launch, Validate the Market, & Then Iterate, Iterate, Iterate
Alright. 
So you've got your audience and market research done. You've built a solid info product that your ideal customer will love. And you've built up a distribution channel like an email list and built up trust among your subscribers. 
All that's left now is telling your audience about the product and watching the sales flow in, right? 
Wrong!
You've still got more work ahead. Because inevitably, your info product launch is likely going to be a bit… anticlimactic. 
But that's okay!
Because the next step of the process is to use sales coming in (or lack thereof) as market validation. 
See, a shocking number of businesses end up failing simply because there's no market need for their product. 
In fact, it's the #1 reason why startups fail these days.
I even have a bit of experience with this myself with one of my first startups, BlueSkyLocal. I thought there was plenty of demand based on my market research. But come launch time… crickets. 
That being said, if you do launch your product to underwhelming numbers, that just means that you need to tweak it so that your target market sees the value. 
Now, you may be thinking, "But what about all that market research I did back in Steps 1 and 2?"
The truth of the matter is that no matter how many of your target customers you talk to, no matter how many opt-ins you get before launch, no matter how many pre-sales you might make…
…The insights you gain before launching are still only assumptions. 
Actually selling your product is the only indisputable market validation out there. 
So if you launch to lackluster results (or you simply want better results), it's time to tweak your info product to make it even better. And then try, try again. 
Ideas for Tweaking Your Info Product 
The question now is how should you change your product? 
Below are just a few ideas to get you brainstorming about tweaks you can make to bring in more clicks and turn your info product creation into an eventual success. 
Add More Value to Your Product

– This should be the first step when tweaking your product. Does your eBook lack citations, actionable tips, and credible research? Is your webinar bland, hard to follow, and lacking substance? Try giving

more

value. Include worksheets. Provide easy-to-follow steps to help your audience achieve a specific goal. Throw in bonuses like audio versions of lessons,

lists of online tools

, or checklists. It's why our

6-Figure Sales Funnel Training

has so many added benefits (see below). 
Try Some Slight Repositioning

– Sometimes, all it takes is a quick tweak to get the results you're after. For example, if your info product is marketing as a "guide," try turning it into a checklist. If your "webinar" isn't getting clicks, consider referring to it as an "online seminar." Small changes like these may be enough to pique your audience's interest.

Adjust Your Price Point

– In many cases, changing the price alone is enough to get sales coming in. However, take this route only if you're seeing interest in the product (e.g., visitors on the landing page, engagement with emails about the product, etc.). If you

aren't

seeing interest, then the problem isn't the price, it's what you're offering. You can also call out your price point adjustment as a way to garner interest, like we do for our prospects after watching our demo.
Change the Market

– Okay so this one can end up being more of an overhaul than a tweak. But if all else fails, it can end up being your ticket to success. The only problem is you'll likely have to build up a

new

email list of different leads, which will set you back quite a few steps (and require a lot more work). That's why I only recommend this idea as a last resort. 
In the end, the main takeaway is this: if your product isn't as much of a success as it should be (and as much as the effort you put in warranted), then you should change it until it is. 
As long as your idea is sound, your execution is strong, and your market will find value in it, you can turn it into a success. 
Step 7: Automate Your Marketing to Generate $$$ While You Sleep
You did it—you launched!
And if you followed all the steps up until now, then you've probably seen some pretty spectacular results. 
You spent a ton of time and effort getting your product ready, you had your big launch event, you made some sales and now you just want to chill, right? 
There's nothing else to do…
Wrong again!
While you'd undoubtedly get some sales as long as you've done everything right so far, the truth is you'd be missing out on a massive opportunity for revenue if you stopped there. 
See, a single email or ad is great and all. But you'll need to nurture your prospects along if you want to see the best conversion rates possible. 
Here's why: 
A whopping

96% of your leads

aren't ready to buy right off the bat according to

Marketo

.

The more "touchpoints" (or times you remind prospects about your product), the higher the chances of selling. In general,

Hubspot

says it takes about

8 touchpoints

to make a sale.  

According to the

Annuitas Group

, businesses that use marketing automation to nurture prospects experience a

451% increase

in qualified leads. Nurtured leads also make

47% larger purchases

than non-nurtured leads.
The takeaway here is this: if you nurture your leads over time, you can increase the sales for your info product. 
And who wouldn't want that? 
The problem is, lead nurturing takes time. And after sinking all that time into creating an awesome info product, it'd be nice to be able to take a break. 
That's why you need to spend just a little extra time setting up a sales funnel to automate your marketing. 
How Do You Create a Sales Funnel for Your Info Product? 
Now, a sales funnel is simply a series of steps intended to attract prospects and lead them towards a purchase decision. 
That should be every business owner's goal, right? It should certainly be your goal if you're trying to sell a new info product.
A sales funnel typically looks a little something like our Ultimate Sales Funnel Template…
It typically involves attracting prospects through a free lead magnet and then nurturing them through email follow ups and redirecting them back to your sales or lead generation landing page. 
This, of course, can be the landing page for your info product. 
I always like to suggest starting simple, and then moving up to more complex automations and personalized experiences as you grow.
For instance, eventually you may want to tweak and expand on your funnel so that it looks something like this…
In the end, the point of your sales funnel is to attract leads, nurture them so they are more interested in your product, and then direct them to your high-converting sales page.
Building Anticipation for Your Info Product Launch
Now, you can of course follow a basic info product sales funnel like the one below…
But here's a protip: turn your launch into a really BIG event. 
You want to make it exciting and fun and build anticipation. You want people to believe that your info product is something special (which it is!).
To do that, set up a pre-launch email funnel. 
This email automation is similar in nature to the automation your audience receives when they sign up for your list. 
But with this email funnel, the express purpose is to build up excitement around your upcoming product.
Each email should reveal a little more information and give a little teaser about what your audience can expect.
Just remember not to give everything away up front. You want to entice the audience just enough with quality information to make them want to invest in the paid product.
The actual day of launch should be a huge event. 
Consider hosting a webinar giving away even more information than you have before. 
Webinars are a great way to build excitement over your product. And in fact, we used to host webinars every single week giving a demo of our service.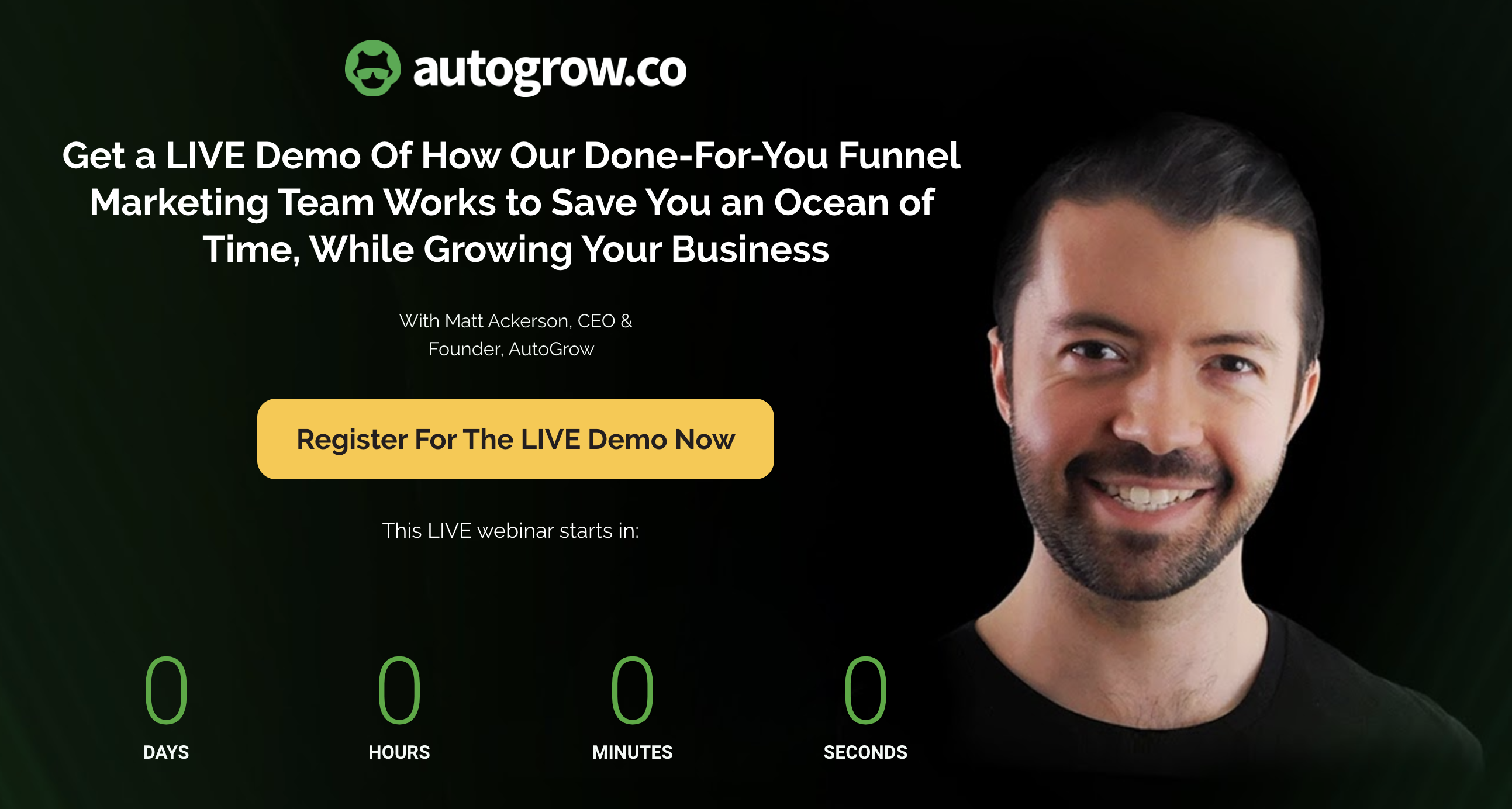 We've since switched to automated 30-min demos and VIP consultations to keep up with demand. But at the time, we were getting the majority of our new customers from webinars. 
Here are a few tips for keeping your audience engaged during your webinar. 
Add Polish

– No one likes to watch someone stumble around on camera because they're unprepared. On top of that, no one's going to stick around if you don't include engaging visuals. So be sure to create a script, use slides, and even include a worksheet that attendees can use to help keep their attention.
Create Urgency

– Tell your audience that if they purchase in the next 24 hours, they can get a super-special discounted rate. Maybe include a bonus add-on that only "early bird" purchasers can receive. Make them want to buy RIGHT NOW.
Come With Your Assets Prepared

– Remember to include a sales page on your webinar to drive people to make that purchase. Chances are, they're not going to go digging through your email chain looking for a link—you need to make sure it's right in front of them. If you can, try to create a

special

landing page that speaks specifically to people who attend the webinar. The more personalized you can get, the better. 
*Bonus*: Keep Your Info Product Working for You & Build on Its Success
Now that your product is launched and your marketing is fully automated, you can finally call it quits, right? 
Nope!
There is so much more to do.
And most importantly, if you want to really watch as your info product sales shoot sky-high, you have got to do more during post-launch than you anticipated. 
Because the more time you put into your info product marketing, the more you'll see your efforts pay off with satisfied customers and a bulging bank account. 
5 Tips for Building on Your Info Product's Success
These are some additional measures you can take to increase the success of your info product even more.
Some of these will help you increase the conversion rate for your info product and rake in even more revenue from it. Others show you how to leverage the success of your info product to help your business as a whole. 
Check them out below.
Host a Post-Launch Live Q&A 
Hosting a live Q&A after you launch is a great opportunity to make your info product and its marketing even better. 
Not only does it let you find out if everything is working (Were there any glitches? Was everyone able to connect/download/whatever?). 
But it's also the perfect venue to collect detailed feedback. 
Here, customers can tell you what they liked and what they didn't, allowing you to revamp the product before the next offer.
While sending out a survey for your info product should be standard, a live event lets you immediately address issues and may even win back some unsatisfied customers. 
Use the Information Gathered to Plan Out Bigger Opportunities
Sure, this product was great, but what else can you do?
You might find that during your Q&A people say things like, "This workbook is fantastic! I wish you offered a whole course!" or "I really loved your e-book. I wish it came in video form." 
You can use this feedback to help plan out any future opportunities (ones that you already know people are interested in buying!).
Highlight Customer Stories 
Social proof examples are so, so, so powerful at building trust (and of course, growing your sales). 
Share any success stories you gathered during your Q&A on your social media, in your newsletter, or on your blog. 
Seeing real stories about other people that enjoyed your product will make others more likely to purchase from you in the future.
It's why we feature testimonials from our clients so prominently on our homepage. 
See?
Generate Continuous Sales
There are really two ways to do this:
1. Keep the Product Available Indefinitely – Create a permanent sales page on your website, advertise it on your blog and social media and continue to solicit prospects. This tends to work out fairly well, since the initial launch garners some attention and you now have a few reviews under your belt. You can also offer ongoing discounts, despite the fact that the "early bird special" has expired. One common tactic is to promise all new email subscribers a certain percentage off of your product as a bonus for joining your list.
2. Create an Evergreen Launch – We actually did this with one of our newest products, The 6-Figure Sales Funnel Training. In just the 2-months after trying this tactic, its sales grew by a total of 30%. Basically, this means that post-launch, your product will only be available for purchase for a very limited time. After that, you will re-launch it on an ongoing basis, whether that's quarterly or yearly or something in between. This creates a sense of urgency in the audience—a feeling of, "If I don't buy this right now, I'm going to have to wait another 6 months before I have another opportunity." Trust me, it works because losing out on the opportunity gives people a good reason to decide to buy now.
Use It As a Tripwire for a High-Ticket Item
Sure, you could just settle for generating revenue with your info product and leave it at that.
But if you stop there, you're throwing away a valuable opportunity at upselling your audience to a higher-ticket product. 
After all, you've already overcome the first barrier of buying: getting your prospects to spend money with you. 
And as long as they've gotten value out of the info product you've created, they're going to implicitly understand that the more they spend with you, the more value they'll get. 
So, try using your info product as a tripwire: a relatively low-risk product that's meant to build trust and open the doors to new selling opportunities.
Try creating a new email nurture sequence specifically for customers who bought your info product. And in this sequence, educate them about the value of your higher-ticket products or services. 
You can even create an entire new high-ticket sales funnel fueled specifically by your info product.
Conclusion
Info products can be a fun and simple way to create a new source of income. And knowing how to create and sell them correctly can be the difference between success and failure.
But now that you understand the 7 steps involved in creating and launching an info product, I'm sure your product is going to be a breakout success. 
Now, here are some key takeaways from this info product creation guide to remember:
Take the time to think about what you really want to do

. Don't just hop on whatever bandwagon is trendy at the moment—because if you don't love what you're doing, you'll burn out fast.

Determine if there is a market for your product

. A quick Google search and glancing around social media will usually do the trick.

Target the appropriate audience

. You might have the best product in the world, but it's not going to sell if you're marketing to the wrong people.

Put the information you gather on your audience to good use

. Create a simple first product and determine a price point that will work for them. You can create more expensive and more complex products later on. The idea is to launch fast, make money, get motivated, and LEARN from customer feedback for future iterations.

Set up a great sales funnel

. It's the KEY to success not only in your product launch but in business overall. Otherwise, you risk "starving" in between launches like some marketing "gurus".

Don't slack once your launch is complete

. Continue to amp up your product, create demand, and build on its success.
Have these suggestions given you a clearer idea of how to create and launch your own info product?
What steps have you already taken?
I want to know your thoughts in the comments below.
Keep AutoGrowin', stay focused.