How Do You Convert Your Blog Traffic in to Sales?
I'm pumped.
But before I tell you why I'm pumped, let's start with the question at hand.
Everyone knows that traffic to your business' website is good because it somehow (magically) leads to you making more money.
Right?
Traffic is a measure of how much reach and awareness you have. So who wouldn't want more of it?
We've already documented how writing and publishing content more often and more consistently leads to higher traffic.
Of course, you could drive the same amount of visitors from paid advertising but there are downsides to doing that:
According to Hubspot, inbound marketing costs 61% less to acquire leads than outbound marketing (i.e. Facebook ads, direct mail)
Also, inbound leads (i.e. leads coming through search engines) have a 14.6% close rate on average compared to a 1.7% close rate for leads coming from outbound methods according to research from Search Engine Journal.
Clearly traffic from content marketing gets better results and is probably more valuable on the whole. The numbers I'm seeing within our own inbound sales funnel support this as well.
The logical response to this would be:
"Yeah Matt, sounds great, but how do you connect traffic coming in from your content to your bottom-line? How does a business make that leap where you have strangers coming in to your blog and then it leads to sales being made?"
It's a question I asked for most of our first year in business.
And recently, I've started to ask it again for a new reason (more on that in moment).
For your business though, here's what you need to know about how to convert the passive traffic from your blog to buyers who grow your bottom-line…
Create multiple pathways leading to the same goal
If I'm a visitor to your blog, you should be thinking about how you're going to get me to take action beyond having me read your article.
In other words, what would be the logical "next level" step I would take in your website sales funnel, and how would I get there? To build a complete pathway that guides people towards a purchase decision, you need both the what and the how.
The "what" are the levels (e.g. blog page, which is at the top of your funnel vs. a lead-generation landing page for your service, which is at the bottom of your funnel).
The "how" can be thought as bridges or stairs that connect one level in your sales funnel to the next.
Here are a few examples of how to convert passive visitors to the next level in your sales funnel:
Clear, compelling call-to-action buttons leading to the homepage or key landing pages
Free incentives to opt-in. This can be free PDF downloads or an email autoresponder course. In either case, your price for this is an email address. This gives you the opportunity to offer additional value and follow-up with prospective customers later on. Example: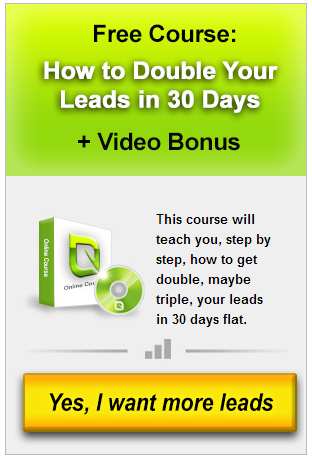 High visibility phone number or contact form in site navigation. This one is like a rule of business physics: that which is seen more, gets more attention. So if your phone number or consultation form is more visible, more people will use it. This is probably the easiest way to convert traffic directly into leads, but it's can be inefficient. If you show it on every pour blog for instance, it's like asking for the sale before you've educated a potential client on what you have to offer. You'll get more phone calls but the problem is they will be less qualified than if you first "filtered" them through landing pages or an email sales funnel first.
Going off of this point my next tip is to…
Create (and Test) Your Email Autoresponder
If you're getting email subscribers daily or weekly, but you don't treat these subscribers like leads then you're losing sales.
The best solution for this is to run every new email subscriber through an email autoresponder using the Vacuum Formula.
By doing this, you're ensuring that that each new subscriber will
Receive some relevant value from you, which is why they joined your email list in the first place
You'll have an opportunity to position your business as an authority in your market
Get an offer to buy from or to contact you.
Finally, make sure to test your email autoresponder to ensure that it works as expected (links, timing, etc.).
Once this is in place, you're setup with a marketing asset that will continue to deliver you value day after day, giving free relevant information and pitching every new subscriber a relevant offer.
Implement Content Upgrades on Your Blog
Anything that works to grow your email list after you have your automated email sales funnel in place will result in you converting more traffic into revenue.
For this reason, you want to make sure you practice the "Every Page Rule" on each blog post you write. This means your posts should be optimized to attract new email subscribers.
Offering content upgrades as an extra bonus to your blog posts gives readers a clear and highly targeted incentive to join your list.
You're essentially pitching to them:
"Hey, if you've read this far then you'll probably like a this checklist or cheatsheet I've prepared to help you remember and implement the information I taught here."
Here'a an example of a content upgrade from Hubspot's website:
The cool thing we learned at AutoGrow from repeatedly practicing this is that once you have enough content upgrades prepared, it's easy to reuse them in future blog posts instead of constantly creating new ones.
(Note: I recommend LeadPages as the best software for implementing and automatically delivering a content upgrade).
Pop-ups are "annoying" but they convert like crazy
I bought the OptinMonster plugin for our site in the middle of last year, but it wasn't until something like 4 months later that I got around to implementing it.
I kicked myself afterwards because I had no idea it was so effective as a means of engaging visitors and building our email list.
In fact, we saw a 60% increase in our conversion rate overnight using an exit detection pop-up along with the "Pop n' Spread Technique."
Tripwire: an Opt-in Offer Redirect
Perhaps the fastest way to begin connecting your traffic to your sales is to instantly redirect new email subscribers to a key landing page with a paid offer.
The purpose of that landing page is to thank them for subscribing and then make them a paid offer–ideally for something small like a $9 ebook.
Regardless of what business you're in your goal isn't to sell 1 million of these $9 ebooks. To the contrary, this is tactic is called a "tripwire" and its purpose is to "spark" the buyer-seller relationship.
For example, Ryan Deis over at DigitalMarketer.com found that people who bought his in $9 tripwire ebook were 10X more likely to buy his course offer (an ecourse that costs about $500).
He speculated that the reason is because in the mind of a buyer, the relationship has fundamentally changed after this point. The buyer has given money in exchange for value, and assuming they get it, they are much more willing to repeat the action in the future.
We haven't implemented any tripwires at AutoGrow yet, but it's on our short list of things to do later this year.
Why I'm Pumped…
In the beginning of this article I said I was excited about something but I didn't say what.
Well, our Project Acceleration Software is finally underway and I couldn't be more stoked.
Since development for it is well underway now, understanding how we are going to connect our blog traffic in it (so clients can order our services directly on the website) was the main inspiration behind this article topic.
Here's a 3 minute overview of the software:
After writing this article, I'm reminded myself: it's really just a matter of link to it, via actual links on various pages, like Call-to-Action buttons and via our emails. And as long as those links are made in context and our audience sees value in it, it will work.
The software is designed to provide the following benefits:
It will provide an easy and streamlined way for new and existing members of our audience to take our services for a test drive—with no financial risk since we'll offer a 100% money-back guarantee, plus we'll offer "service slices" in the range of $100 – $500 off our core service packages.
For our clients, it will provide a centralized dashboard to communicate with their project manager, as well as complete transparency into where their project is at, and how close it is to completion at any given time.
Finally, it's going to save everyone time by automating repetitious emails and tasks. This will help us provide a super smooth, consistent experience for our clients and our team.
I look forward to sharing the results with you after we launch later this year 🙂

Conclusion

Once you understand that traffic is just like energy or water, and you just need to create pathways to direct it where you want it to go, the rest is easy.

Don't make the mistake of over complicating it though. So many business people think success has to be complicated when it doesn't. So start simple and implement each of the above tips one at a time.

What are some other strategies for turning blog traffic into sales? Leave a comment below and let me know what has (or hasn't) worked for you.

Finally, if you enjoyed this article, please consider sharing it on LinkedIn, Twitter, Facebook, and Google+ for the benefit of others.

Photo Credit: https://www.flickr.com/photos/shaheershahid/