How Do People Prefer To Read Your Content?

How Do People Prefer To Read Your Content?
Matt Ackerson, founder of AutoGrow.co here with you.
AutoGrow works with many agencies, and I've found they all want the same thing (or rather, their clients all want the same thing): more website traffic.
Why?
Because we all know that more website traffic offers opportunities to drive growth, sales, and revenue. And the best way to do that is with two simple things: bolding text and using bullet points.
In this video, I'll walk you through why adding these two elements can greatly increase your content's readability and, ultimately, reader engagement. Plus, I'll give you some examples of exactly how to execute them.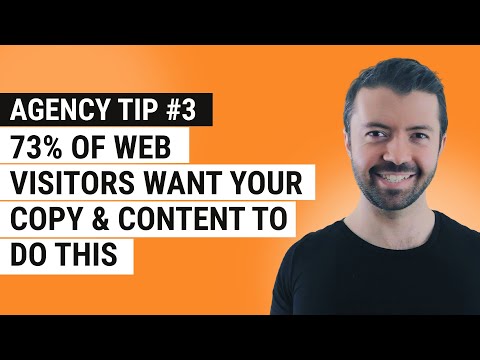 Wouldn't you love to increase web traffic by 70% for your clients?
Well, there's an easy way that you can.
We're talking about using bullet points and bolded text.
By doing so, you make your content more scannable, and it makes it easier for your readers to find the information they seek — leading to more sales since your content aligns with their needs.
And why wouldn't you do this when, according to HubSpot, over 73% of people just skim web content such as blog articles and long-form content?
Remember, nobody's looking to read a novel. Not even lengthy paragraphs.
Instead, you want to make the reading process (or should I say "skimming process"?) as frictionless as possible.
To illustrate, see how we sprinkle in bullet points throughout our blog articles for simplicity:
By the way, you don't need to use bullet points. It can be some other form of listing, such as…
or…
One more thing…if your agency needs any help managing any client projects like copywriting and content writing, Sign Up for Our $7-for-7 Day Trial Today OR Watch a Demo.
Keep AutoGrowin', stay focused.
P.S. — By the way, if you're short on time and want AutoGrow to implement this tactic for you—or help you double your revenue by increasing your agency's capacity to take on more client then, Learn More Now About Our $7-For-7 Day Trial Today OR Watch a Demo and Book as Call Here… No Hardsell, we promise