If you're like millions of people, you use Facebook every single day.
As a marketer, you know Facebook is a good resource to generate leads.
You may have even used the social media platform for this purpose before.
I have.
What about generating high-quality leads though? Is it possible to find those on Facebook?
The answer is: yes, you definitely can use Facebook to find high-quality leads. You only have to know how.
In this article, I'm going to teach you five handy tips that I have personally used to attract and convert high-quality leads from Facebook.
I'll also show you some examples of other businesses that have used Facebook to generate their own leads.
Let's dive right in…
What's the Difference Between Facebook Leads and Leads from Other Traffic Sources?
There IS a difference between the leads you get on Facebook and those on traffic sources like Google.
The main difference is context.
What were they doing before they arrived on your site? How did they engage in your website offer? That's customer context.
With Google, it's called "search intent." This means that the customer decided to look up something online and found you that way. They want something━be it an answer to a question, a product, or a service.
For example: "best travel agency for Puerto Rico vacation."
There's direct intent when a lead finds you through Google.
That's different than Facebook. People use Facebook much the same way they might watch TV.
I think of Facebook as candy for the brain, in a way. You go on Facebook when you want to take a break from work or to kill time.
The ads you see on Facebook might be relevant to you, but less so in that moment.
Context, as you see, is important. Since Facebook is primarily used for entertainment or news, that needs to be taken into account in terms of your goal to generate high-quality leads.
You can still get high-quality leads on Facebook. Yet the way you go about it is different. Take a look at these three case studies as good examples.
3 Examples/Case Studies of Facebook Lead Generation in Action
Example #1: Trilogy Funding Uses Facebook Ads, Gets More Than 100 Consultations
Trilogy Funding is one of the biggest mortgage brokers in Australia. In an effort to get more subscribers for their property investment services, the company turned to Facebook.
Using Facebook ads alone, Trilogy saw great success in a six-month span. Customer interest increased, with 131 new contact forms completed and consultations scheduled. The company also converted 1,429 new email subscribers.
Example #2: Wellness Coach Kathleen Kastner Gets Leads by Combining Facebook Ads and Blog
Wellness coach Kathleen Kastner was already a big name in her industry. Still, she wanted to expand her business even further. She used Facebook ads to do so.
Kathleen had already written a blog post with some winning recipes. She decided to add value by giving some recipes away for free through the ads. Those who clicked the ads were taken to Kathleen's blog.
The campaign worked wonderfully, as Kathleen's site had a 5% click-through rate.
Example #3: Veeroll Uses Facebook Ads to Get 100+ Email Subscriptions in Little Over a Week
Veeroll is a company that promotes Facebook and YouTube video ad traffic. When it came to running a webinar campaign, the company wanted to do something different.
Funneling $2,500 into a Facebook ad campaign, Veeroll ran two ads over time. The first encouraged readers to check out the Veeroll blog. The second sought to get webinar signups.
Veeroll also added an offer to incentivize those who signed up for the webinar. This let customers try the company's paid subscription service for free for 30 days. This subscription service had a value of $97/month.
In a little over a week, 122 people had subscribed to the webinar.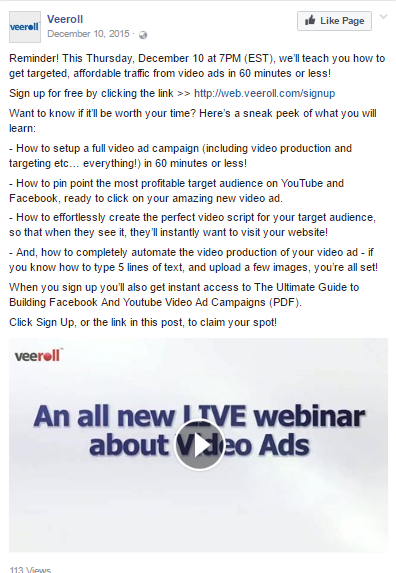 Next are five tips that I highly recommend when trying to achieve high-quality leads on Facebook:
Facebook Lead Generation Tip #1: Post Boosting
Ric Martin of Authentic Martial Arts in Largo, Florida, a recent client of ours, boosts some of his Facebook posts to drive leads for his local business. His target clientele is mostly parents of school-age kids in the area.
Ric would write an engaging message with videos and images of activities he'd do in classes with the kids. These included awards ceremonies, dance parties, and other fun themed activities.
After posting these pictures and videos on Facebook, Ric would pay $5 or $10 to promote the post. This would allow him to target it to a specific geographic region.
Ric also included a call-to-action that would encourage others to sign up for upcoming events. This tactic was very successful for Ric's martial arts dojo, as he generated more than 40 appointment bookings in a month.
When we worked with him, our funnel helped to amplify those results. Through automated follow-up and other best practices, Rick received an increased amount of bookings.
Facebook Lead Generation Tip #2: Run Facebook Ads
Running Facebook ads by itself won't get you much. In fact, if you pay for a Facebook ad that goes to your homepage, you're probably going to waste your money.
Why?
Again, it has to do with the context. There's often a lack of intent with someone clicking a Facebook ad. It could just be curiosity or lose the desire for more info.
Where you drive traffic to should take advantage of this.
For instance, driving people to a landing page for a free training webinar. The topic and title of that training would be directly related to the offer you want to make. That may be for a product or even a high-touch service.
I find that webinars of this nature are one of the best ways to generate high-quality leads. There's already a certain level of engagement. Webinars see a show-up rate of 40-50%.
Since you're on video and live, there's a lot more engagement. There's also a lot more trust built into it.
This is why 20-40% of webinar attendees convert into qualified leads according to the same study.
Look at what video marketer James Wedmore did. He used Facebook to drum up interest in his webinar. He announced it was free, used social proof, and included his face in the ad.
He also explained the benefits of his webinar, which is about making money on YouTube. He mentions how you can increase Google rankings through YouTube and how to make more money per view.
Facebook Lead Generation Tip #3: Advertise a Lead Magnet
If you want to use Facebook ads for lead generation but you don't want to do a webinar, you can always advertise a lead magnet. Specifically, I would recommend advertising a free, multi-day course.
Why do I recommend that over a downloadable guide or eBook?
There's a higher "commitment threshold" people have to overcome with a multi-day course versus a simple eBook or guide.
There's a higher level of commitment needed to opt in to the course offer. As a result, you will see slightly less volume but higher-quality leads.
Take, for example, Erika Volk Fitness. Her fitness company saw a huge change, gaining about 12,000 unique visitors and 2,000 email subscribers.
How?
All by using Facebook ads to get people interested in her email course.
Her ad, when clicked, would take visitors to a landing page on Leadpages. Those who opted in received access to Volk's course, which was a series of eight emails. She also threw in a few upsells for those who were interested.
Facebook Lead Generation Tip #4: Content Marketing/Social Media Posting Calendar
Having a content marketing or social media calendar is a more organic and processed-based approach to generating high-quality Facebook leads. This lets you track when you'll put out content. You can also use this calendar to ensure you post regularly.
What else should you include as part of this calendar? I recommend promoting both free blog content and "gated" offers (i.e. people need to opt-in to download the lead magnet).
These people already like your Facebook page and now you're just giving them a reason to opt in.
I recommend adopting a process where, at least twice a month, you're promoting your lead magnet. This is in addition to the great content you're already putting out.
From there, have an automated follow-up sequence that will nurture customers into learning about your service, and ultimately convert into making the purchase.
Ensure engagement with your Facebook fans is as high as possible before making these offers.
This works in line with Facebook's algorithm which decides how many people will see your posts. If you put out content that extracts instead of gives value, this leads to lower levels of engagement.
So when you put out those offers that are looking to extract value by opting in, you should be capitalizing on a context you've created which already has a lot of goodwill. That makes Facebook more likely to give you more exposure.
How do you create that goodwill situation?
Other than promoting blog content and other free resources that don't require an opt-in, you can post images. These images are basically like the "marketing currency" of Facebook.
Lawrence Watkins, a good friend of mine over at Great Black Speakers, was able to organically get 30,000 likes on his Facebook page. That number then jumped to 70,000 and today is over 130,000 organic likes.
He achieved this growth by that putting out lots of image-based content, such as popular quotes. Not only did volume increase, but the engagement on those image-based items was also higher.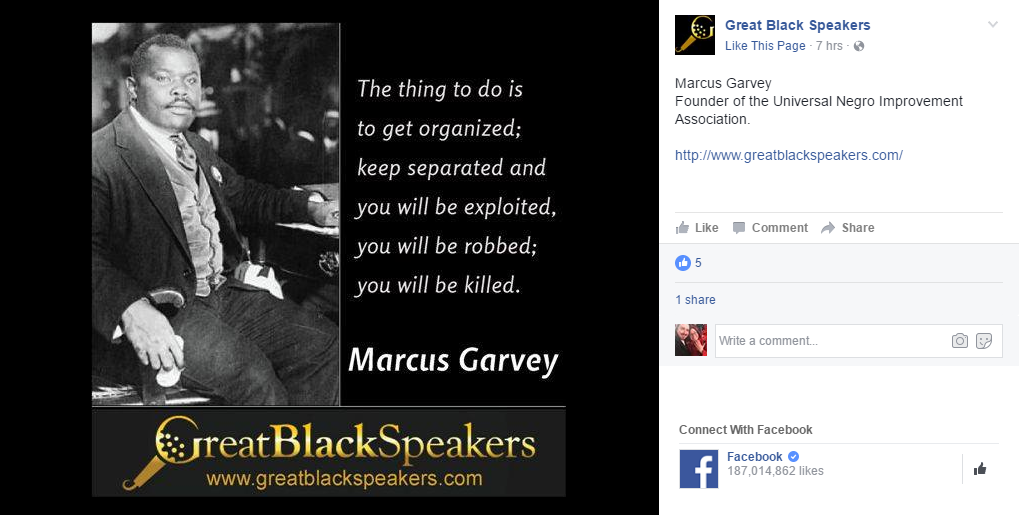 In a context like that, you're going to get more exposure and more goodwill. That way, people don't feel like you're only out for yourself. There's more of a context of friendship with your audience. That will make them more likely to convert.
Facebook Lead Generation

Tip #5: Segmented Facebook Retargeting

This tip is a bit more advanced.

It's not too difficult, but it does require a bit of strategic thought.

With Facebook retargeting, you have the option to show people one of two different ads.

The first retargeting ad may be an offer to come to your website. These prospects may be interested in your products or services. They may have reached a landing page or a pricing page but haven't converted.

With this first ad, the goal should be to bring the prospect back for a free consultation, phone call appointment, etc.

The second retargeting ad is intended for those who are already further up the funnel. These people may be less qualified but have already been on your homepage or your blog. You want to get them to come back, take advantage of a free offer or read some free content on your blog, and then gain their contact information, perhaps via a pop-up.

To segment your audience into different Facebook retargeting groups you can use Perfect Audience. This way, if people visit certain pages on your site, they will see a different ad that is more personalized to their progress in the funnel.

UK pre-owned watch company Watchfinder did something similar.

Audiences were retargeted according to ISP, on-site behavior, location, and funnel stage. Watchfinder had 20 audience segments in total.

The results were impressive. Watchfinder had 13% more order value and a 1,300% jump in ROI through retargeting. This occurred over a period of six months.

Conclusion

By now, you know it's possible to get high-quality leads from Facebook. These leads are different than those you might attract from Google or other traffic sources because of intent and customer context. With Google traffic, there's a direct intent to find information.

With Facebook, people are not immediately going to be ready to make a purchase.

To review:
Context is KEY to generating Facebook leads.
Post boosting can be beneficial, but you have to know your audience and which posts to promote.
By creating a social media calendar, you can promote your lead magnet. Remember though, goodwill matters here.
Webinars are a great way to weed out the less-qualified leads and find the highest-quality ones. You can use Facebook ads to get the word out about your webinar.
Using Facebook and Perfect Audience, you can create a retargeting campaign that appeals to different segments of your audience.
Have you used Facebook to get leads?
Were these leads high-quality or low-quality? If it's the latter, which of my five tips do you plan on implementing for higher-quality Facebook leads going forward? Let me know in the comments!
Keep Hustlin', Stay Focused,
—Matt