Email Outreach Example: How A Billion-Dollar Company Does Link-Building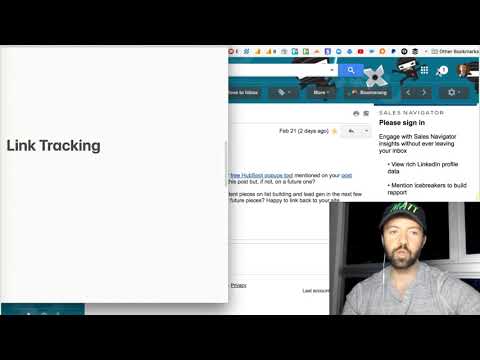 Listen on the go by downloading the audio of today's video here.
Matt breaks down the link-building email he got from HubSpot and why it stood out compared to other similar emails flooding his inbox.

This is a great sneak peek into how a billion-dollar company like HubSpot does link-building.
Hi, Matt here, the founder of AutoGrow.co. Welcome to another episode of Matt Hacks, where I give you actionable tips to make you more awesome at marketing, take your funnel to the next level and otherwise accelerate your creativity and entrepreneurial spirit.
Today, we're going to look at an example from HubSpot where they're doing email outreach to build links for their websites.
So, you want to do email outreach to build links? Great, me too. You're kind of on the fence, though. You want to model someone that's getting results to the tune of millions of visits to their website every single year, if not every month.
HubSpot's Email to Us
In this case, I'm talking about HubSpot. Let's take a look at an actual email that they sent me, asking for a link and more.
It's from Alex Birkett, and he says:
 "Hi Matt, my name is Alex and I work on growth at HubSpot.I wanted to reach out and see how we could get our free HubSpot popups tool mentioned on your post here. Any chance we can get added, preferably on this post but, if not, on a future one? Second, we'll be putting together some big content pieces on list building and lead gen in the next few weeks. Would you be interested in giving quotes for future pieces? Happy to link back to your website. Cheers, Alex."
What Made the Email Effective
Let's go over three things in particular that make this email unique and effective.
The first thing is the length. The email is short. In total, it is five sentences, so it's right to the point. Alex keeps it short and sweet, and he makes a clear ask right off the bat. He doesn't beat around the bush, he says, listen, you know, could you mention us here. Obviously, he wants not just a mention, but a link, and it's understood that that's what he's asking for.
Not only that, but I've received probably between two to three emails, sometimes up to 10 per week, where people are saying something similar to what Alex did, I often just delete them in most cases.
These might look like, "Oh my God, I'm such a huge fan of your blog. I read this post over here and it just knocked my socks off" or "Wow, can I do guest blogging for you?"
Maybe they'll even include some titles or maybe they'll ask for a link and say, "It's so funny, like what a coincidence, I just wrote a blog post that's really similar over here, like maybe you want to link to it."
The answer is no. I don't want your guest blog post because it's clear from the titles that they pitch that they haven't even looked at our website or blog.
In the case of the link ask, it's like no, because I know you're lying. You're not a loyal email subscriber because I can easily look it up, and because it's like, your email is a template.
I get five others just like it every single week, if not every single day.
So this HubSpot email clearly came from a person, and it's possible that it was sent in some sort of blanket request. I was pretty confident that after I replied to this, Alex would reply back, because it's clear that it's from his personal email address.
That's another thing working in his favor. His email is honest and to-the-point and that's part of what is appealing about it.
The second thing is that there's link-tracking, I noticed. So from Alex's perspective, when I click these links, the link is being tracked, and I can tell that because I'm familiar with how link-tracking works. If I have to roll over it, it comes up with a very particular URL that I recognize. It's Sidekick, which is a tool that is actually made by HubSpot to track opens and clicks on personal, one-to-one email communications.
That does not work in his favor from my point of view because I'm less likely to want to click through if I recognize it, which I do in this case. I don't want Alex to know that because maybe I don't want another follow-up email without my permission.
So it feels a little bit like an invasion of privacy, and it makes me less likely to engage with it. For Alex, in the aggregate, maybe it works better, but I don't think it does because I think people are more sophisticated at this point. They are increasingly recognizing, like I did, that this is a tracked link, and it makes them less likely to engage because of it.
Instead, if I were Alex, I would actually focus on replies rather than following up, if I see that someone clicked but didn't actually reply.
So that brings us to the third item, which is the way that this is structured. It's a very win-win offer, and that's the other aspect that makes it really unique. Alex is not just asking for a link, but he's actually offering one as well. He's saying, we would like to include you, to feature you as an authority in our upcoming resource that we're going to publish. He makes it very clear that he's happy to link back to our site. It's a win-win.
There you have it. That is an example of the things that make this email from HubSpot so unique, and this is a sneak peek into how they do outreach for link-building.
Again, this is a publicly-traded company at this point. They're getting millions of people coming to their website every single year, if not every month. This is an example worth considering and even modeling if you're going to be doing outreach yourself for links in the future.
So next week, on Monday, we're starting a new round of Matt Hacks. The videos are going to be focused on email list-building, because every single week we target a different level of your funnel. We start with traffic, we go to email list-building, then to sales and then to upsales, down-sales, cross-sales and how to maximize the value of your customer relationships.
Then we start back at the top of the funnel again and we go through it. Of course, each week, I'm sharing the journey with you because that's the process we use. We call it "The Auto Growth Funnel Framework," and you can follow along because it gives you one goal you can focus on each week. It really works for us, and we're sharing all our numbers with you as we go.
So on that note, I do hope you'll all join in and make sure to subscribe and like this video if you got value from it. Share it with anyone who will find it useful as well. Be sure to subscribe on YouTube by clicking the red button directly below this video right here. There's a link in the description as well to make sure you can get on our email list and never miss an episode of Matt Hacks. We come out with them four days a week, and Tuesdays we come out with an in-depth article.
All right, so until next time, my name is Matt Ack in the Matt hat, delivering your daily dose of Matt-Hacks. Talk to you soon.