41 Email List Building Strategies Proven to Get You Results
You want control over your business… You want predictable sales growth.
And yet so few actually achieve the control we're looking for—why?
Let me tell you about Joe and Phil—two friends of mine.
They both own B2B agencies and started with no outside investment.
Phil started his company a year earlier than Joe. 
But the main difference between them is that for Phil's business'…
Growth is

un

predictable.

Credit card debt goes up and down as clients pay at variable times.

Sales are made regularly, but it feels "random".
And Joe's company…
Is growing predictably month-over-month, on track to eclipse Phil's business in the next 12 months.

Conversations are short and friendly, and sales come easily.

Joe has about 50% higher profit margins than Phil's business.
Over lunch one day, Joe told me the key to his predictable success…
He focused on building up his email list and mailing them valuable content on a weekly and monthly basis.
Joe's list has become so large, and has such a "network effect" built up around it, that he's now able to get all of the sales he can possibly handle (and more), just by pushing "send" once per week. 
In today's (super value-packed) article, I'll teach you… 
How you can

build a high quality email list quickly

.

How to turn your list building into

predictable profits

.

And the 41

proven strategies

to help you grow your email list fast.
So strap on your rain boots, because we're about to make it pour email subscribers…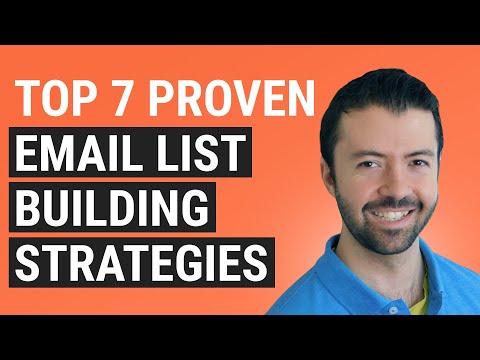 Want to jump ahead? Here's a table of contents to help you find and focus on the most relevant strategies.
Why Should I Spend Time Building My Email List?
I know, I know, you're probably thinking, "Just show me the strategies for building my email list!"
And don't worry, we'll get to that.
First, let me help you understand why an email list is the best marketing strategy and asset you can invest in creating right now.
You control and own your email list.

No being beholden to some other company's tool and

hoping

they don't go under. This marketing asset is yours and

yours alone

.
The ROI of email is an astounding 4200%

according to research done by the

Direct Marketing Association

. That means for every $1 you put into email marketing, you'll get $42 out.
On social media, you'll only reach a small % of your audience.

But with email, your messages are almost guaranteed to arrive in the subscriber's inbox (unless you're spamming). On top of that, you can target your messages specifically to a certain portion of your audience, letting you

personalize and increase the effectiveness of your campaigns

.
SEO works for generating traffic

, but most people aren't ready to buy right away when they come onto your website. In fact, just 4% are according to

Marketo

. Plus, you're really at the mercy of Google. On the other hand, email allows you to follow up and nurture relationships on a massive scale. 
See? An email list is more than just a way to send out quick updates about your company. 
Instead, it can become one of the main (and most profitable) marketing assets for your business. 
So, let's check out the strategies you can start using to build your email list.

1 – START COLLECTING EMAILS WITH A FORM (Like WUFOO.COM, A FREE CUSTOMIZABLE, EMBEDDABLE FORM)
Sign up for a free account on Wufoo.com today.
Then embed a simple 1 field form on your blog or website to start collecting email subscribers. 
On top of that, you can also connect Wufoo up to an email marketing service like Mailchimp so that your subscribers will be automatically added to your list. 
The process is super easy too. Check it out below.
2 – AUTO-PROMOTE TO DRIVE SOCIAL MEDIA FANS & FOLLOWERS ON TO YOUR EMAIL LIST
Like Wufoo and Mailchimp, Zapier is another freemium service that can do wonders for your email list. 
But instead of focusing on email marketing automation and forms, Zapier lets you automate tasks between different apps. 
Here's how it can help you: 
You can set up your Zapier account to automatically post tweets and Facebook posts with a link to your landing page. There, they can sign up for your newsletter or download your expertly-crafted lead magnet.
3 – A WELL-TIMED EMAIL POP-UP (SUMO)
Sumo is another great free tool you can use to capture email addresses. 
It's an embeddable plugin for your website or WordPress blog that lets you create well-designed and eye-catching pop-ups for your newsletter or your lead magnets. 
Plus, there are a wide variety of customization options you can use to help it match your branding and style. 
On top of that, there are a number of different triggers for you to choose from. Check it out. 
Based on research from the Sumo team, here are two quick tips for maximizing your conversions when using their list builder tool:
The best performing pop-ups come after a delay, usually from around 1-4 seconds after complete page load. That being said,

immediate

pop-ups often perform the worst.

Personality attracts interest, so don't skimp on the colloquialisms, slang, or colorful language (to an extent). The text on the button converts best when it is something "weird" or direct or unexpected, like "GIMME" or "LET'S DO IT" or "YES, SEND IT TO ME".

Pictures! No one likes bland. And when your pop-up has a picture on it, it's bound to convert much better.
4 – SHOW A SCROLL-BOX, TRIGGERED WHEN THE VISITOR SCROLLS DOWN THE PAGE
The Sumo Scroll Box is another free app that comes in the Sumo bundle. 
While pop-ups are triggered by the amount of time your visitor spends on the page, a scroll box (as the name implies) appears when they've scrolled a certain length down the page. 
Plus, you've got 2 different options. 
First, you can have a scroll box with an email collection field like so…
Or you can have a CTA box like this with no fields to fill out…
Again: plenty of choices.
And again: totally free!
5 – USE AN EXIT-INTENT POP-UP (OPTINMONSTER)
I recently purchased OptinMonster for our website. 
Don't get me wrong: I'm very happy with Sumo.
But the main benefits that OptinMonster has to offer that make it compelling are its nicely animated exit-intent plugins, as well as the ability to show specific pop-ups on specific pages AND to A/B split test them. 
Now, Sumo does offer exit-intent pop-ups on their free plan, BUT A/B testing only comes with the paid plan. See?
And since I personally think OptinMonster's animated exit pop-ups are more eye-catching, that seemed like the obvious choice.
If you're not familiar with what an exit-intent pop-up is, it's a pop-up that shows only the moment that it detects a visitor is about to leave a web page. 
They're basically supposed to capture your visitor's attention right before they move their mouse up and to the left to exit off your page. 
This is the perfect spot to clue your visitors in to discounts, special deals, or content upgrades like a free downloadable PDF version of the article they're reading (like we have on our own articles).
6 – EASILY ROLLOUT LANDING PAGES AND OPT-IN OFFERS (LEADBOXES & OPT-IN LANDING PAGES)
Leadpages is probably one of the best investments I've made into AutoGrow. 
I can't say enough about how useful their lead generation software is for quickly creating landing pages that are designed to convert. In fact, it's what we use for most of our clients and we highly recommend it for building high-converting landing pages. 
Within Leadpages is a feature called LeadBoxes. A LeadBox lets you turn an image or some text into a link that shows a pop-up opt-in box when clicked. It's also what's known as a double opt-in form.
So, you're probably asking yourself…
Why is it useful to show a pop-up opt-in form instead of embedding it directly on the page? 
Good question. The reason this is useful is because showing offers that lead to a pop-up or landing page are perceived as GIVING value rather than a form, which is perceived as TAKING value. 
From testing, the Leadpages team also found that incorporating leadboxes could actually raise the conversion rate by about 30-40%. Another benefit of the double opt-in form is that it makes your emails less likely to be marked as spam. 
Now more than ever, people are especially sensitive to spam. And it's easy to see why. A whopping 45% of emails are spam, according to SpamLaws.com.
And when your visitors go through 2 steps in order to sign up for your content, they're less likely to mark your emails as spam since they have a stronger intent to hear from you. 
Another part of the "magic" behind Lead Pages that few people realize is the fact that, if I opt in on website A (which has Leadpages installed) and I go and visit website B (which also has Leadpages installed), when I click a link and see a LeadBox, my email will already be filled in. 
This is because LeadBoxes cookies each visitor of each website visited, so when you see another landing page or pop-up, they know "hey, ok, this person is [email protected]."
Pretty cool, huh?
As a result, people have to "work" less and conversion rates are pushed even higher.
7 – COMMENTS FORM ON YOUR BLOG = MORE EMAIL SUBSCRIBERS
Your blog is a great way to generate subscribers for a couple of reasons. 
First, of course, is the fact that it generates traffic. And with all that traffic, you can point to lead magnets, newsletter subscription windows, and plenty of other offerings to build your email list. 
But one often underutilized tactic is to collect email subscribers through your blog's comment section. 
Now, you can, of course, use a pricey tool like Disqus to beef up your comments section and add some flair. 
OR…
You can simply add a required "email" section in the "Leave a Comment" form at the bottom of your blog. 
No-brainer, right? In fact, that's what we do at AutoGrow. 
8 – SOCIAL OPT-IN (AWEBER OR CUSTOM)
This one is a little more advanced… unless you use Aweber. 
If you use Aweber for your email marketing and autoresponders, you might be surprised to hear that they actually have a nifty little feature that allows people to opt in to your newsletter by clicking to connect their Facebook account. 
Then, Aweber automatically grabs their email address and name and puts it into your list.
Pretty cool, huh?
Neil Patel tested this a while ago on his QuickSprout blog and saw a higher conversion rate than on his regular email opt-in form. 
The primary reason for this is, like the Leadpages strategy above, Facebook already knows your email, so if you're logged in, the form is prefilled with your email address. 
As a result, it's just a 1 click to opt in. 
9 – IMPLEMENT A HELLO BAR (PROMINENT CALL-TO-ACTION BAR AT THE TOP OF YOUR PAGE)
Speaking of Neil Patel, Hello Bar is a very simple (and free) tool that helps you collect emails by presenting an attention-grabbing call-to-action bar at the top of your webpages. 
When creating your Hello Bar, you have the option to set a goal. Your goal will be to either get emails or drive clicks. 
Since I used a Hello Bar on this site, and because their options are a bit limited as far as downloading emails that are collected, I set my goal to get clicks. 
The call-to-action button at that time led visitors to a landing page with an offer for a free course.
Success in using the Hello Bar really depends on your ability to write a compelling 1 sentence line of copy. So test frequently with multiple Hello Bar variations.
My suggestion is to be creative and be timely. 
For example, our current banner ad on our website looks like this…
Notice anything? A smiley face with a face mask and TP (worth its weight in gold in these coronavirus times). 
And people have responded well to it!
10 – SPEEDING UP YOUR WEBSITE = MORE CONVERSIONS
When I was researching for a How-To article on retargeting, I found some data published by Walmart showing that:
"… when load times jump from 1 second to 4 seconds, the conversion rate dropped. Specifically, for every 1 second improvement in load time, they observed up to a 2% increase in the conversion rate."
Wow, right?
On top of that, Google recently published some pretty astounding numbers related to website load speed too. Have a look. 
As a result, if you're going to focus on building your email list, you should first consider improving how fast your site loads for different visitors. 
The AutoGrow team and I recently went through the process of optimizing our website to decrease load time. And although I can't say for 100% sure that this was the cause, our net email opt-in rate has continued to rise:
Here are my best tips if you plan on doing this on your website:
Use

GT Metrix's

tool and

Pingdom

to establish your current baseline speed, and then measure during and at the end of your optimization process.

Don't just test the speed for your homepage. Test it across multiple pages, like your blogroll page, key landing pages, and also on any page where you have a lot of media, plugins, or Javascripts running.

If your website is built on WordPress, download and install the Total Cache plugin.

Also, look at getting setup on a Content Delivery Network (CDN) like Cloudflare,

which

 offers a free plan.

If you're on WordPress, turn off any unnecessary plugins.

If you're on WordPress, install the "lazy image loader" plugin. This allows your site's pages to load faster by only loading images on the page or blog post that are visible to the visitor. Then, as they scroll down the page, the images are loaded automatically as they come into view.
While we can further optimize our page load time, we're already reaping the benefits of having a faster site—and you can too if you follow the tips above.
11 – GUEST BLOGGING (LEVERAGE THE TRAFFIC, AUTHORITY, & AUDIENCE OF SOMEONE ELSE'S WEBSITE)
Guest blogging has exploded in popularity as a marketing tactic over the last 4 years. 
It offers a number of benefits. In fact, I recently mentioned it in a post about great ways to boost your website traffic for free.
But the best benefit is that, when done right, guest posting will drive a large JUMP in subscribers followed by a steady stream of subscribers who continuously opt in over time.
That's because when you guest post, you're actually temporarily high-jacking another platform's audience.
  Here's the basic formula for how to do guest posting.
Find a guest post opportunity by networking.

Check what other people have already shared using

BuzzSumo

. Then

look up their email

and send them an awesome sample of your writing that's on a similar topic (but what you send them should be MUCH better than whatever they shared in the past).
Often people will just offer to let you contribute to their blog if what you write is solid

and provides a lot of value. For example, when I featured

Crazy Egg

in our

17 Best Sales Funnels article

, I shared the article with them. And since they liked it, I was invited to write a guest post on their blog.
Lower your risk:

get agreement about the title of the article first, otherwise, you might end up wasting your time by writing something that's a mismatch for their audience.
Include a call-to-action

to download some sort of bonus / upgrade that goes with the guest post at least twice in your article (once in the beginning and once at the end). For example, it can be a checklist, a free report, a template—it can even be a spiced up PDF version of the article. Note: if you have a Leadpages account, this is the perfect opportunity to include links to your offer using LeadBoxes.
12 – OFFER A FREE COURSE (DELIVERED VIA AN EMAIL AUTORESPONDER)
Free courses convert better than just about anything. 
How do I know? 
The total number of opt-ins we received over just 2 months on a free course were only about 20% less than the total number of opt-ins we've received for ALL of our content upgrades and basic newsletter subscribers combined. 
That's significant but it also makes sense. 
If you offer a free email course on a subject or a question that resonates with your audience, you can expect that it will do well. 
Neil Patel, for instance, has built up his email list to just under 200,000 subscribers over the last several years largely because of his email course offer.
Here's another example from my friend Brennan Dunn over at Double Your Freelancing, who has built up his email list to over 15,000 subscribers in just under 2 years.
13 – OFFER A FREE TOOLS REPORT
Offering a free tools report is a quite common opt-in bribe. 
I've experimented with it a bit and had success to a limited degree, but there are 2 prominent cases where offering a tools report worked extremely well. 
A few years back, Clay Collins and the guys over at Leadpages published a blog post where they showed the highest opt-in landing page they tested to grow their own email list, and it was a free tools report. 
With so many digital marketing tools available these days, people want to know what the experts are using. That way, they know what kind of results they can get with those specific tools. 
It's a great form of social proof. And when done well, it can be an awesome lead magnet for building your email list. 
Michael Hyatt is another example of someone using a tools report to his advantage. 
A few years back, if you visited his site, you'd notice the opt-in widget on the right hand-side along with his free ebook offer. The ebook offer promised to show you "inside his toolbox," giving you suggestions on web apps and resources that you should use to grow your business.
He's since incorporated this toolbox right into his website actually. 
14 – BLOG POST BY LINE
This one is simple and marginally effective, but every little bit counts. 
In the by-line right below your blog posts, insert a link that visitors can click to sign up for your newsletter. Here's what I mean.
That's pretty much all there is to it, but a quick note… I've tested this with and without Leadpages' Leadbox feature. 
I found that the plain link that sends visitors to a newsletter sign-up page converted at a much lower rate (might have been 0 actually) than when I used a Leadbox link instead.
15 – GIVE MULTIPLE OPTIONS FOR OPTING IN ON THE SAME OFFER ("LEARN MORE" LINK IN YOUR SIDEBAR WIDGET)
No matter what it is you're selling, there are a number of principles that guide how your audience will make their purchasing decisions and move through your marketing funnel. 
I call these the 11 Laws of Sales Funnel Physics.
And law #9 is the Law of Range. 
Basically, it states that people are more likely to buy (or opt in) when they have multiple choices for doing so. 
It's why we offer multiple packages for AutoGrow's services.
 For this reason, you want to consider giving people multiple options to opt in for your offers. 
Here's an example from Michael Hyatt's website where he does just that.
What I like about how Michael does it here is the fact that he truly gives you two choices, not just two call-to-actions. First choice will get you to sign up immediately. 
The other will take you to a landing page where you can learn a little more and then opt-in there. 
Very smart. Copy this on your own website.
16 – USE THE "TWO-STEP OPT-IN" STRATEGY (BUTTON ON THE PAGE INSTEAD OF A FORM)
I kind of covered this one already in earlier points above, like where I talk about Leadpages and how it's important to be able to create an array of landing pages quickly and easily. 
Here's the bottom-line on this strategy:
Instead of having forms on your pages to collect email addresses, you will generally see a higher conversion from having links that lead to a form.

The form can be shown (as is the case if you're using Leadboxes, a feature of Leadpages) in a pop-up.

Or, you can drive that traffic to a landing page where visitors are prompted to fill out a form on the page.
For some psychological reason, people prefer to decide first "Do I want this, yes or no?" before they decide, "Do I want to give up my email for this, yes or no?" 
The founders of Leadpages hypothesized that the reason was visitors actually interpreted forms as "taking value" rather than giving it.
17 – USE LESS FORM FIELDS
This is one of those low-hanging fruit strategies that you can implement easily across your website and sales funnel in a matter of minutes. 
Simply put: if your goal is to collect email subscribers… then why are you requiring fields other than an email address on your form? Avoid creating an opt-in form that looks like this:
Not only should you not require all those fields, but take them out! 
Take them ALL out, and just require an email address. 
Early on, I was able to double our email conversion rate by just changing our form from 2 fields (first name and email) to just 1 form field (email address). 
Plus, one case in particular from our Proven Sales Conversion Pack showed how one company garnered a whopping 1864% more completions by simplifying their forms. 
Before:
After:
18 – PAGE-SPECIFIC EXIT DETECTION POP-UPS
I talked about generic exit-detection pop-ups in an earlier point, but now let's talk about a more advanced version of that email collection strategy. 
To review: Exit detection pop-ups are a "smarter" form of email capture pop-up. It appears when it detects that the mouse from a visitor is moving off the page and he or she is probably about to hit the back button or type in a new web address (example below). 
There are a number of free options for this, including Sumo (discussed earlier), but none of them work as well as the paid exit-detection pop-ups that are out there. 
I personally use and recommend OptinMonster, which costs $199.
The biggest benefits of using something like OptinMonster is that you can A/B test your pop-ups AND set specific pop-ups to appear on specific pages.  
So, creating an exit-intent pop-up is a macro optimization you can make to your site, whereas creating page-specific exit pop-ups is a micro optimization which leads to higher conversion rates. 
Why? Well, think about it. If you're reading an article about, say, building your email list and you see either…
You're more likely to opt in for the second offer because it is more RELEVANT to what you're already reading about and interested in. 
19 – THE CONTENT UPGRADE
The Content Upgrade is a tactic that's been around for a while, probably popularized in more recent years due HubSpot (an inbound marketing company) practicing it on every one of their blog posts. 
The basic definition of a content upgrade is this: on every article you publish on your blog, you create a simple bonus or "extra" that a visitor can get access to by providing their email. 
There are a couple of ways you can go about this. 
First, you can go the HubSpot route and offer a free downloadable version of the article right off the bat. See?
Or you can create an offer that's related to what your audience is reading about. 
Of course, you don't have to create a checklist as the upgrade:
you can call it a guide

you can repurpose old blog posts that performed well

you can make templates (like fill in the blank, or, if it's design-related, a webpage template)

you can offer X additional / advanced tips (for people who want to learn more)

OR you can shoot a video giving a demonstration of what you talk about in the article
One recent example from our own blog is a downloadable sales funnel template within an article about how to create a high-converting sales funnel.
It's worth noting too that the more visible you can make your content upgrade, the more likely it'll be to get clicked. That's why we use our iconic yellow text boxes to call them out. 
20 – BUILD YOUR LIST WITH A COLD EMAIL CAMPAIGN (TARGETED, WITH A FREE OFFER)
This strategy is more controversial. I recommend you consider it only if you're just starting out and your list is small or non-existent. 
Otherwise, the long term consequences of using this strategy will hurt your brand and your business. 
Note: It's not spam if you approach the process from the perspective that you're just going to be super cool to the people in your market by offering to give away some truly useful information for free. 
And as long as you aren't hard selling anything on a large scale. 
Some people will disagree with that statement, but that's ok. 
Here's how it works:
1. Start by compiling a list of about 1,000 contacts who are in your target market (more detail on how to do this below).
2. Email each of them a personalized offer (but don't include a link—you want to make THEM ask for it).
3. When they reply showing interest, THEN send them the link.
So how do you build this list of "cold" contacts? 
Start by Googling with specific search terms that will lead you to the websites of your target audience. 
For example, if you're targeting US-based dentists, understand that you're targeting a local business market and start by listing your top ten target cities. Then, match up the searches you make with each location. For instance:
"dentist, new york city"

"dentist, chicago"

"orthodontist, seattle"
Then for each website you find, look for the name of the decision-maker and their email address. 
If it's not available, just use the contact form on the site itself and not the URL location. 
After you have your list compiled, go ahead and write your email template. Consider using a template like this:
The above template is partially based on the "Break Through Email" system that's been used to generate millions of dollars in sales for its founder, as well as his students of the course. 
The format is a bit different but it's a good starting point to help you get results. 
Then, all you have to do is create a unique landing page for your offer using Leadpages and once they respond, send them to the link. Simple as that!
21 – REQUIRE AN EMAIL ADDRESS IN ORDER TO VIEW PRICING
This one is simple and relatively quick to implement. 
The idea is to put a "gated" email opt-in requirement around your pricing page. This accomplishes two strategically important goals beyond just growing your email list:
1. It discourages people who are not seriously interested in your product or service because they need to make a small commitment in order to get access.
2. It allows you to segment subscribers on your email list (i.e. who opted in for what offers?). You can then create an autoresponder to automatically follow up with these people, further educating them on the benefits of your product or service, nudging them to take action.
Two great examples of a "gated" email requirement on a pricing page are:
1. CrazyEgg.com. They've since changed up their pricing but a few years ago this was how their pricing page looked. 
2. Kelly Cammack, Apollo Answering Service, Houston, TX Apollo / Kelly is one of our best clients at AutoGrow. Kelly is so on the ball that she actually recommended we implement this in her website design before we had a chance to suggest it ;). 
22 – CONTINUOUS SPLIT TESTING (GOOGLE, INSTAPAGE, LEADPAGES, UNBOUNCE)
Split testing, also referred to often as A/B testing, is one of the most effective ways to increase your conversions. 
A split test on your website means to run a randomized test with two or more design variations being shown to different visitors. The "winning" design variation is the one that gets you more results (clicks, email opt-ins, purchases). 
Split testing makes a lot of sense for websites with 10,000+ visitors per month, so for that reason, you should question whether this is the right strategy (right now) to help you grow your email list. 
When your website is ready, here are 4 tools you can use to make split testing your landing pages or email opt-in forms / pop-ups easy:
1. Instapage. Instapage makes it incredibly easy to create and split test landing pages without learning how to code. It also integrates with WordPress and the design of every page is highly customizable.
2. Leadpages. I've talked about Leadpages in one of the first points above. Similar to Instapages, not only can you easily create landing pages, but they make it incredibly easy to run split tests on those pages AND on the email opt-in pop-ups. The only downside to Leadpages is the limitations it imposes on how much you can customize the design of each page or pop-up. Leadpages also integrates with WordPress among other web services.
3. Unbounce. I've used Unbounce only once. It seemed easy enough to navigate at the time, and they have a very wide selection of landing page templates to choose from—as well as a WordPress integration, among many others.
4. Optimizely and Visual Website Optimizer. I'm grouping these two together because they are very similar. Both tools are specifically built ONLY for split testing different design changes on your site. I've used both (briefly) in the past without any complaints. VWO seemed easier to get started with, in my opinion, and both integrate with WordPress and other services.
23 – THE "EVERY PAGE RULE"
The Every Page Rule is simply this:
"Every page on your website should be thought of as a landing page."
Again, for the sake of helping you to remember and to help you increase your email subscriber conversions:
Think of every page on your website as a landing page (this includes your homepage, your about page, even your blog post pages).
As a result of putting this "mindset strategy" into practice, I was able to grow AutoGrow's email list over 630% faster over just a few short months. 
But what does it mean, practically speaking, for you and your website? It means a few things:
By designing every page to act as a landing page, you can quickly grow your email list and leads, which in turn builds your business.

The first step to implementing this is to focus on redesigning your core sales funnel webpages (the blog comes second).

When moving on to apply the rule to your blog, start with macro-wins that apply across the entire blog design (i.e. a free report or course offer widget).

Go for micro-wins. Look at which pages are performing the best and "tighten" those up pages by offering relevant content upgrade offers.

There are some pitfalls to watch out for. It's easy to take this idea to an extreme and hurt your conversion rates, which is why I recommend an iterative, balanced approach that will help you grow steadily over time.
This "mental strategy" might be a lot to think about, so here's a quick win along the same lines…
24 – IMPLEMENT A FEATURE BOX
The Feature Box is exactly what you see in the screenshot above: a box on your website that calls out what kind of benefits your audience stands to gain by subscribing to your email list.  
It was popularized (invented?) by Derek Halpern of Social Triggers fame. 
In one case example that Derek wrote about on the DIY Themes blog, implementing the feature box on his website resulted in a 51% increase in email sign-ups. 
25 – STICKY WIDGET
The Sticky Widget (which is a free WordPress plugin that you can download here) helps to take advantage of the notorious, all-too-common blank white space on the right side of your blog. It does this by letting your email opt-in call-to-action "follow" the visitor down the page. See screenshot below for an example:
Then scroll down a little…
See how our lead magnet offer follows you down the page? 
Pretty cool stuff. 
The way it works is like this:
First, install and activate the plugin.
Second, in your WordPress dashboard go to Appearance -> Widgets
Third, add or select an existing widget with your email opt-in code / call-to-action inside and check off the "fixed widget" option. That's it!
26 – RETARGETING DONE THE RIGHT WAY
Retargeting ads used to be an amazing new technology a few years ago. But these days, it's one of the most commonly used tools in a digital marketer's toolbox. 
Here's how retargeting ads work to bring back visitors to your website who didn't convert…
In this context though we're looking to build your email list. 
So instead of using these ads to send visitors to, say, your pricing page, you instead want to send them to a simple landing page which will help to educate them about all the super cool benefits they'll receive when they opt in to your newsletter.
Alternatively, you can retarget your visitors with a lead magnet too. 
27 – RUN ADS WITH A SELF LIQUIDATING OFFER (SLO)
This strategy is pretty popular among more seasoned marketers like Ryan Deis (founder of Digital Marketer) and others who are huge proponents of spending money on ads in order to acquire traffic. 
After they convert that traffic on a free offer, the newly opted-in subscribers are sent to a page that says "Thank You" with an offer to buy something (usually something inexpensive, less than $50 so it can be considered an "impulse buy").
This is what's considered a tripwire. 
Here's why adding a tripwire to your site can lead to massive gains, both in sales and subscribers:
1. It helps you to segment your subscribers (i.e. someone who purchased goes into this bucket with this follow-up sequence, and a person who doesn't purchase goes into a different bucket).
2. It offers, or perhaps completely pays for the cost of the ad clicks it took to convert 1 person on the spot.
3. As Ryan Dies found from testing this, subscribers who buy immediately, even if it's only for a tiny offer like $7—they are about 10X more likely to buy something larger in the future.
Pretty practical reasons, right? I ran a test with a self-liquidating offer a few years back if you're interested in exploring this strategy further. 
Here's the bottom-line on self-liquidating offers…
If you can get it to work, you can advertise for free, which means you can build your email list literally for free.
28 – HOST A LIVE WEBINAR
Landing pages for webinars have a high email opt-in rate.
Webinars are often seen as more valuable compared to other free offers because subscribers get to interact personally with the host (especially at the end during the Q&A). 
In fact, the personal touch is especially important with webinars. One case study from our Proven Sales Conversion Pack found that they were able to increase their sign-up rate by 66% just by adding a more personal picture to their landing page. Check it out below. 
Before:
After:
Plus, a webinar is a limited time, live event so there's a feeling of urgency and scarcity there. 
Other than building your email list, hosting webinars is also growing in popularity these days because they convert really well for paid offers, like with info products. 
One example of this is John Lee Dumas over at Fire Nation (formerly Entrepreneur On Fire) who has largely built up his multi-million dollar business by hosting a weekly webinar. 
But what if your email list is too small or non-existent to bother with hosting your own webinar, and you can't afford to run ads either? That brings us to…
29 – JV WEBINAR—OFFER TO HOST A WEBINAR FOR SOMEONE ELSE'S AUDIENCE
If you're looking to grow your email list, few ways are better than doing a JV (Joint Venture) Webinar. Similar to guest blogging, a JV webinar lets you leverage someone else's existing email list. 
Here's how it works:
1. Define and plan out your webinar presentation, along with a premium offer which you will make to the audience at the end of the presentation. Your presentation by itself should be valuable and help to take your viewers 1 step closer towards their desired end result. This helps build trust which in turn increases overall sales.
2. Find a JV partner with an existing email list (in your industry with a similar or overlapping target market) and offer to host a webinar tailored to their audience.
3. Host the webinar, make the presentation, and make your pitch
4. Split revenue with your JV partner PLUS you get to keep all of the email subscribers who opted in as part of your list now!
A friend of mine—who shall remain nameless—was able to double his email subscriber list size in the last 3 months… 
"So what?" Ok, so his list was about 10,000 subscribers before, and now it's over 20,000. "Whoa." 
Exactly.
30 – FORM A MARKETING ALLIANCE ON A SIMPLE EMAIL LIST OFFER (1 CLICK TO OPT IN)
Forming a marketing alliance to grow your email list is similar to doing a JV webinar, except the goal is specifically to grow your email list.
To do this, you need to find one person or organization who is willing to promote your business to their email subscribers. 
The first step here is providing a good reason why their subscribers would be interested in joining your email list in the first place. For example, it can be one or more of these reasons
You have a compelling free report to share with them.

Your audiences are similar in terms of who the subscribers are.

The content you regularly distribute to your email list is so consistently awesome that there's no reason why you shouldn't be recommended to their subscriber base in their next newsletter.

You're offering a free course that will help them towards some end result they want.
There are a few possible incentives you can give your marketing ally in exchange for promoting you:
1. Revenue share from life-time of the client (after the subscriber converts)
2.  Revenue share on the initial offer
3. Cross-promotion
4. And in some cases, you can just pay for someone else to promote you to their email list
One other advantage of doing email list promotions like this is that you have the option of doing a 1-click opt-in. This is especially easy if you have a Leadpages or Keap (formerly Infusionsoft) account. 
Generally speaking, the easier you can make it for people to subscribe the higher your opt-in rate will be. Makes sense, right?
31 – RUN A GIVEAWAY
One of the fastest ways to grow your email list is to run a viral giveaway, sometimes also called a raffle. The way it generally works is like this:
1. You advertise the giveaway to your existing email list and place an ad for it on the side of your blog.
2. Entrants are first required to enter their email address.
3. Then, in order to get more "entries" and increase their chances of winning, they can share it on social media or via email with friends.
4. Once per month, the winner is chosen and the prize is delivered.
Andrew Warner experimented with this strategy on Mixergy.com a while ago. It was quite successful at growing his email list. 
In a more prominent case with a full write-up on Tim Ferris's website, Harry's, a company that makes high-end shaving kits for men, ran a similar contest-like promotion before formally launching and managed to gather over 100,000 email addresses. 
Finally here are my recommendations for giveaway / raffle tools:
Rafflecopter

– Integrates with WordPress, social opt-in options, monthly payment to access.

KingSumo

– 1 time payment for their WordPress plugin, nice template out of the box. Easy enough. I plan on trying this one when we run a giveaway on AutoGrow.

Free giveaway plugins – There are plenty of free options out there for hosting a giveaway, but none of them look too appealing visually.
32 – INCREASE VISIBILITY OF HIGH-PERFORMING CONTENT
This one is another one of those "quick wins" because it requires little additional effort and no need to create new content. 
What you want to do is look through your existing base of content for articles and pages that have performed quite well. 
To do this:
Look at your articles with

content upgrades

that drive a large percentage of your current email list conversions.

Look at your Google Analytics data for any unexpected spikes in traffic—what happened on that day and what page(s) were people arriving on?

Look for which pieces of content you have that have been shared the most.

If you have no or very little content—use something called "success surveillance" as Andy Jenkins calls it, to spy on your competitors and other industry players.

BuzzSumo

, a free tool, allows you to do this. Simply type in a topic or URL of a website and it will show you the top, most shared content. You want to look at which headlines and topics perform the best and then write something similar (but better).
After you have your content, whether it's a downloadable content upgrade or an article, advertise it on that unused "real estate" on your blog's right sidebar. 
There are a variety of ways to do this. For instance, you can combine this strategy of increasing visibility of high-performing content with the sticky widget strategy from point #25 above. Other ways to implement this strategy include:
Featuring high-performing content in exit-detection pop-ups.

Building simple email opt-in landing pages around your high-performing content, then linking to it from your primary navigation bar.

Blogroll email collection widget (example pictured below from Ramit Sethi's

I Will Teach You To Be Rich

).
33 – USE THE SUNFLOWER TECHNIQUE
This is a topic I plan to write more on in the future, but I'll briefly summarize it here. 
A little old website called Mint.com launched back around 2008. And if you took a quick glance at their footer links, you'd notice something interesting. 
Each link had "rich anchor text" (meaning the words used for the link were purposefully chosen) and the pages they linked to were landing pages. 
Taking note of this strategy, when I launched my previous business, BlueSkyLocal.com, in 2009 I made sure we followed the same strategy (see below).
The website was young and had few inbound links at the time. 
However, I knew that by crafting valuable (and simple) landing pages with information that users on the web were searching for, we could naturally start to capture organic traffic. And we did. The site still gets traffic today even though I haven't touched it in years. 
Here's what one of those landing pages looked like:
The idea was that by branching off key pieces of content from our homepage (kind of like a sunflower plant branches petals out from its core), we'd get more traffic and drive more free trial sign-ups. 
And we did (until we made the genius move of removing our free trial option of course—but that's a story for another day 😉 ). 
This strategy can work just as well for you when it comes to building your email list. Here's how to do it:
1. Build simple landing pages with useful, unique content.
2. Use a clear call-to-action to drive that traffic back to your core funnel or another landing page with a free offer.
3. Get more email sign-ups.
34 – SCALE THE PEAKS, BABY!
Ok this one I have to give credit to my man, Noah Kagan, for coming up with it. 
It's one of those intuitive ideas that you might have kind of known in the back of your head, but as soon as you hear it you're like, "Wow, that makes perfect sense." 
Here's the gist of the "Scale the Peaks" strategy (and a reader warning, it's heavy stuff so try to stay focused for the next few lines):
1. Look at your analytics and find days or times or basically anything that is, statistically, a positive outlier result in your data.
2. Figure out what caused it.
3. Do more of what caused it, to get that "peak" effect, then repeat from step 1.
Here's a great example I can give you for step 1. 
I was curious to figure out which traffic source was sending us the highest converting traffic. And when I say "converting" I mean, obviously, converting from a visitor to an email subscriber. 
My theory was that the answer would be organic traffic from Google… But I was 100% wrong.
No, literally, I was 100% wrong because traffic coming into our site from LinkedIn converted 100% better (or twice as well) as Google. 
So in this example, to "scale that peak" of our highest converting traffic source, I need to figure out a way for us to grow our inbound traffic coming from LinkedIn. 
Here's another example, not related to email but still relevant… I found out that our audience really likes articles that include multiple forms of media (video, images, and text). 
So I did more of those and we grew our traffic as a result of more visitors sharing our articles. 
Simple, right? 
Of course, it goes without saying that I put significant effort into making sure the articles were useful. 
So to review, find out which tactics or channels convert best and then double down on each one to grow your email list. 
Speaking of scaling the peaks, you might want to think about…
35 – EXPERIMENT WITH NATIVE ADVERTISING (THE RYAN DEISS WAY)
The concept of native advertising has become increasingly hot recently. 
If you're not familiar with the term "native advertising" it means content that is put in with the regular "stream" of organic content on social networks (or other non-digital mediums) and labeled as "sponsored." 
For example, here's a native ad from my newsfeed on Facebook.
We've all seen ads like this by now. 
But one smart way to drive more clicks and build your email list is to send the traffic from ads like this to specific content posts on your website that have already been identified as "high performers" in terms of the visitor to email conversions, social shares, and/or commenting. 
In addition, Twitter recently came out with its "Lead Generation Forms" feature (which is free). It allows you to easily collect email opt-ins by offering some sort of content incentive. Here's one I found from Ryan Deiss, co-founder of Digital Marketer.
Note: I get the sense that in order to convert with paid traffic being sent to blog post content, you really have to figure out what's most likely to convert in advance and make sure those pages are optimized for capturing email opt-ins. 
Otherwise, you'll be going through a process of trial and error, which will require more investment to get right. 
36 – BUYING AN EMAIL LIST…?
Don't. 
But if you do, check out point #20 above about building your email list with cold email.
And remember: even if it works, it's not a sustainable, long term strategy.
37 – REPOSITION A FREE OFFER LANDING PAGE TO TARGET A NEW MARKETING SEGMENT
There is no rule again repurposing old content—especially when certain content appeals specifically to individual market niches. 
Almost no one does this even though it saves a lot of time. 
Plus, positioning any page to be more specific in who it appeals to is almost guaranteed to convert better as long as the traffic arriving on that page is from the targeted niche. 
For example, let's look at a popular, high-converting landing page template from our friends at Leadpages.
In this example, you've got an offer for a downloadable free report. 
Now, let's say I had already created a report and used this landing page to target answering service companies—but I also want to target law firms. 
What's the best way to do this? 
Well, you don't need to create a new report assuming the current one is also applicable to law firms. Instead, reuse the same report as the incentive but recreate the same landing page with slightly tweaked content and copy. 
You want to name specifically who you're appealing to, and use colors and graphics they will find relevant. 
For instance:
"Free report reveals… the top 5 reasons most law firms fail to get new clients with SEO (and what to do about it)."

Insert a graphic of a book, but design it to have more relevance to the legal field (stone columned building, a gavel, or the inside of a courtroom).

The background should be partially inspired by the colors observed being frequently used on local law firm websites.
Do this right and you're not just saving time on having to create a new, unique report for each market segment—you'll be able to use essentially the same message to convert more prospects into email subscribers within different niches.
38 – USE THE LAW OF SCALE (GROW ON TOP OF WHAT ALREADY HAS DISTRIBUTION)
The Law of Scale is what all good marketers recognize, intuitively or explicitly.
And in fact, it's actually one of the 11 Laws of Sales Funnel Physics (Law #10).
It states that in order to get to scale, you must leverage that which has scale. 
In other words, if your business' email list is on level 1 (small), and you want to get up to level 2 (medium), use the tactic that will get you up there: the elevator, the stairs, a ladder, etc. Except in this case the stairs and the ladder are other websites. 
In order to grow exponentially, you've got to tap into other networks. You've got to take advantage of other platforms that have a distribution different than and larger than your own network. 
Make sense?
One of the most effective ways to do this is with guest blog posts. Brian Harris from VideoFruit.com and others have used this technique to attract hundreds of new email subscribers to their lists.
The basic formula works like this:
1. Find guest post opportunities via networking or Google search.
2. Write something valuable and that's worth sharing.
3. Include a content upgrade and a link back to your website to capture email addresses.
That's it! 
Bonus points: to make the guest post content perform even better for the long term and not just on day 1 when it's published, do your research beforehand:
Find out what topics and headlines have worked best on that website in the past.

Optimize your content to rank well for keywords people are searching for.

Don't guest blog for sites that have a lower page rank than you (chances are that their audience is smaller anyway).
Another way to apply the Law of Scale other than with guest blogging is by writing and publishing content on other websites where you have your own profile. 
For example, Medium and LinkedIn both give you the ability to syndicate articles on the website. The added benefit to doing it on their websites is you can leverage their high root-domain authority to instantly ensure your content will rank higher in the SERPS (search engine result pages).
39 – THE CONTENT VAULT
If you're frequently practicing the content upgrade strategy as part of your blogging efforts, you'll quickly amass a base of "premium" upgrades. 
One relatively advanced method for packaging this base of content upgrades is to create a "content vault." 
This is where you require visitors on your website to register and in exchange they get full access to all of your content upgrades instantly (plus some other goodies, ideally). 
Ryan Deiss used to practice this technique on Digital Marketer (see below).
However, his site has grown massively since then. And as a result, he's actually converted Digital Marketer Lab into a paid option.
The "Plus" version of DM Lab actually comes with a 14-day free trial, so if you're interested, check it out.
Sites like Video Fruit have also launched similar membership-only sections of their websites.
This strategy is one more incentive to encourage visitors to opt-in on your website using their email. 
There are basic tools and plugins that allow you to set up this membership functionality on your WordPress site, but most of the best ones have a paid option.
40 – VIDEO CALL-TO-ACTION (CTA)
This is a more advanced tactic for those of you using video to market your business. 
According to Oberlo, a whopping 90% of website visitors report that video helps them make buying decisions. And customers are 4X more satisfied watching video content than reading about your product. 
Since video is so widely consumed, it makes sense that if you're going to include it as part of your website's sales funnel or on a blog post it you should position it to generate more email subscribers for you. 
Here's how it works:
1. Create your video content.
2. Edit it to include a clear CTA button and link, or an embedded form field in the beginning, middle and/or end of the video.
3. Publish the video and track the number of opt-ins you receive.
If you're doing this with YouTube videos, you only have the option of including links. In order to do this you need to enable link annotations and a few other steps. 
On the other hand, if you use something like Wistia you can include a form that appears at a specifically timed moment within your video (in addition to any link annotations). 
In order to proceed, you can require viewers to input their email address (which will go directly into your Mailchimp (or other) account.
Plus their analytics tracking is currently superior to what YouTube offers.
41 – ADD (REAL) SOCIAL PROOF AROUND OR NEAR YOUR PRIMARY OPT-IN CTAS
This is a very common practice, especially on the homepages of startups and companies that have a relatively young brand. 
The idea is that by leveraging the credibility and trust already built up by other brand names (i.e. press outlets) or authority figures, you can build trust and authority faster to get a visitor to convert into a subscriber. 
It's one of the most effective types of social proof you can use to build trust. 
So, what does social proof look like with your opt-ins? Well, here are a few examples.
Putting a testimonial around the CTA.

Putting press logos near the CTA.

Specifically saying how many email subscribers there currently are ("Join X number of subscribers..").

Picture of an authority figure with a quote.

Some other third-party logos.

Or some combination of the above.
I caution you to always use REAL social proof. Faking it is not only unethical, but it can also tarnish your brand integrity. 
Now to wrap it up with some social proof CTA examples: This one is from the sidebar of our blog.
Here's an old one from Backlinko:
And here's a new one from Backlinko's newsletter (which now has its very own landing page!):
CONCLUSION
If you want to "stack" traffic and grow your business' sales with mathematical predictability, then it's time to start focusing on building your email list.
You have a huge number of strategic options to choose from when it comes to building your email list.
If you don't have an email list, start by implementing some of the simpler strategies, like points #1 and #2.
Implementing just 5-10 of these strategies can help you see huge gains in your email list growth almost overnight.
This list shows you some of the best, most effective strategies available—but it only scratches the surface.
Each one of these strategies by themselves probably won't do much to "move the needle" and help you grow your business.
But a coordinated, thoughtful implementation of several of them will make a massive difference over time. To quote Tony Robbins, "one millimeter of difference means the difference between failure and success."
Now, which of these strategies have you gotten results from when building your email list? What kinds of techniques have you used in the past that aren't on this list?
Let me know in the comments below.
And as always, thanks for reading.
Keep AutGrowin', stay focused.