Use These 11 Promo Examples To Succeed This Black Friday
Black Friday is just around the corner.
It's the day when some people are recovering on the couch after some overly ambitious Thanksgiving dining.
And it's also the day when millions of people seek out great shopping deals, like the ones you'll be offering.
In order to stand out from the crowd, you have to run an effective marketing campaign.
Companies and agencies everywhere are already starting to plan their Black Friday campaigns. If you're one of them, you'll want to read on.
In this resource, I'll talk about:
All you need to know about the holiday shopping season going into Black Friday — including 2020's data and sales projections for 2021.
11 Black Friday promotion examples you can learn from to raise more awareness and demand for your brand (or client) during the holiday season.
Consumer insights that will help inform your holiday marketing campaigns.
Black Friday is a great opportunity to spread the word about your business and grow your customer base. But first, let me give you a rundown of what to expect from this year's holiday shopping season.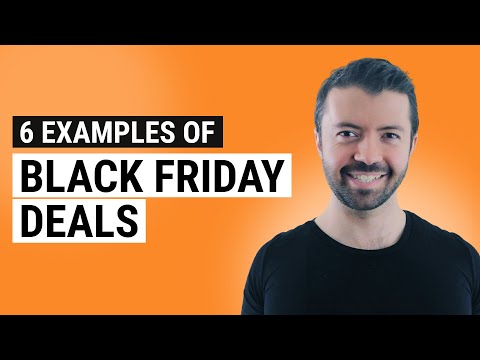 Preparing for the Holiday Shopping Season
Black Friday marks the beginning of the holiday shopping season between November and December.
As the main motivation, consumers are looking for discounts. They want to see value. It's your chance to get more people into your brand ecosystem.
According to Adobe, online sales are projected to be $910 billion globally for the 2021 holiday season and $207 billion in the U.S.
For reference, that's an 10% increase from the 2020 holiday shopping season.
In an article from Forbes, it mentions that online consumers spent $9 billion on Black Friday alone in 2020. And that was a 21.6% increase from 2019.
I'd be remiss to not mention Cyber Monday as well (for this article, I'll use "Black Friday" as an umbrella term to encapsulate both).
As stated by Adobe, at the peak of Cyber Monday, consumers will spend $12 million every minute.
In total, consumers spent $10.8 billion on Cyber Monday 2020 — breaking the record for the most online sales in a single day.
This all sounds great, right?
But, hopefully, the U.S. supply chain challenges haven't affected your business.
Historically, holiday prices have always been, on average, 5% cheaper than the previous year, according to Adobe.
But with the supply chain challenges coupled with the accompanying high inflation and higher gas prices, consumers will spend 9% more this holiday season.
Additionally, out-of-stock prevalence has increased 172% compared to the 2020 holiday shopping season.
But this is an opportunity for some retailers.
In a survey from McKinsey & Company, just 13% of respondents said they would wait for an item to come back in stock this holiday season. Instead, they'll switch brands or even the retailer.
That means if you can keep your stock levels up and price points fair, you're in a position to steal customers from your competitors.
Unfortunately, none of this will matter if you don't drive enough awareness for your company.
As you know, consumers have a plethora of options to choose from. And there's a large cluster of brands competing for the affections of consumers in your industry.
If you're going to have a successful Black Friday and Cyber Monday season, you'll need to nail down an outstanding marketing campaign.
So let's jump into the first Black Friday promotion example to raise awareness for your awesome deals.
Black Friday Promotion Example #1: ChattyFeet Donates to Charity
According to Mintel, 84% of U.S. consumers say it's important that a company supports charitable causes.
And maybe your company already does so.
But maybe you don't usually highlight it during Black Friday when more eyes are on you.
So this is a chance to win over the 50% of consumers that say they'd switch to a company that supports a cause they believe in.
For an example, take a look at sock seller ChattyFeet.
Usually, Black Friday is about sales for customers.
But ChattyFeet switched things up a bit.
Instead of getting a discount, customers can feel empowered to know that they've donated to charity.
For many, that's what the holidays are all about anyway — giving.
By doing this, ChattyFeet differentiates itself from a lot of its competitors.
Black Friday Promotion Example #2: Cellular Outfitter Uses FOMO
During Black Friday and Cyber Monday, shoppers are in a free-for-all. They expect items to become out of stock.
They want to save big with sales.
And everyone is on edge.
That's where you need to carefully choose the right words for your calls to action in ads, emails, your website and other touchpoints.
To create a sense of urgency, Cellular Outfitter uses FOMO (fear of missing out).
According to TrustPulse, 60% of people make purchases due to FOMO. And usually within 24 hours.
To promote its early access to a Black Friday deal, the company sent an email with the following subject line:
See, with this example, you can see that the stop signs grab the email recipient's attention. It tells them that something is urgent.
And within the email, customers can't miss the fact that it's the last day to claim a free phone grip with any purchase and to get up to a 50%-off discount.
Using FOMO makes consumers act impulsively.
Because they feel like they might regret not taking action.
Black Friday Promotion Example #3: OneAdaptr Offers Free Shipping
In its "Q2 2021 Consumer Trends Report," Jungle Scout found that 80% of consumers expect free shipping when ordering at least a certain dollar amount.
And 66% expect it no matter what.
Those numbers are pretty high. But they'll be even higher during the Black Friday season.
According to Shopkick, 70% of holiday shoppers in 2020 said free shipping was the biggest perk to be offered.
Science and design company OneAdaptr gets this.
On its website, the company promotes its free shipping worldwide by using the code: BlackFriday17.
The graphic is creative and really pops out to the website visitor.
If you forget to offer free shipping incentives, consumers will look to your competitors.
And plenty of your competitors will accommodate that demand.
As reported by Adobe, the average minimum order value to qualify for free shipping drops by 8% during the November-December holiday season.
With that, let's proceed to the next Black Friday promotion example.
Black Friday Promotion Example #4: Exclusive Access for Cupcakes and Cashmere's Top Customers
You may have heard of something called the Pareto principle.
It says that 80% of your sales will come from 20% of your customers.
It's a sweeping generalization, but it's based in truth.
And then there's the fact that it's much easier to sell to existing customers than it is to acquire new ones.
During this Black Friday season, take care of your top customers.
Offer them early access to your deals.
For example, Cupcakes and Cashmere lets its VIP Rewards members enjoy early access to its Black Friday sale.
According to Accenture, 48% of consumers expect specialized treatment for being a good customer.
Black Friday Promotion Example #5: Walmart's TikTok Campaign
On Black Friday 2020, Walmart broke its web traffic record for a digital sales event.
And how did they do this?
With its #UnwrapTheDeals TikTok campaign.
Using a shoppable filter, users could tap for randomized deals.
Then, the users would be directed straight to the product page for checkout.
According to Shorty Awards, the 3-day campaign generated 5.5 billion views with over 1 million video uploads using the hashtag.
Black Friday Promotion Example #6: SMSBump Retargeting Cart Abandoners
According to eCommerce personalization company Barilliance, the global cart abandonment rate for Black Friday 2020 was 77.79%. And 78.46% on Cyber Monday.
The fact of the matter is most of your potential customers will not follow through with a purchase.
But you can try to win them back with retargeting tactics.
As found by Omnisend, the cart abandonment email conversion rate during Black Friday 2020 was 58.86%. And 30.10% for browse abandonment emails.
But besides email, you can also do this with SMS text if you want to.
SMSBump provides a nice example of a Black Friday cart abandonment follow-up.
In the example provided, SMSBump is retargeting a hypothetical customer that left the checkout before purchasing the items in their cart.
And once the Black Friday sale is over, the customer would receive a text notifying them the sale has, in fact, been extended. Within the text, the customer can click on a link to complete their purchase.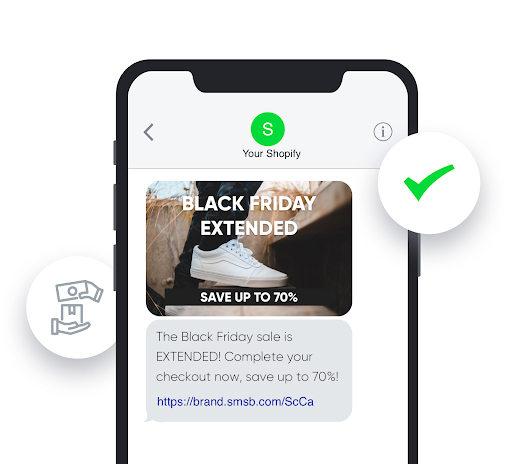 Before you carry out any retargeting campaigns, make sure you avoid these 5 retargeting mistakes.
Black Friday Promotion Example #7: GoDaddy's Facebook Post
Your Black Friday deals won't be any good if no one knows about them.
Sure, you'll get some sales from organic traffic and your newsletter. But what about the billions of social media users out there too?
As reported by McKinsey & Company, 58% of U.S. consumers will be influenced by social media during the 2021 holiday shopping season.
As an example of an effective Black Friday social media post, let's look at GoDaddy's Facebook post in 2020.
Well, technically, this is for Cyber Monday. But that's part of why I like this example.
GoDaddy chose to promote itself on Cyber Monday as opposed to Black Friday because it fits the brand better.
As a tech-oriented company, it makes sense to prioritize Cyber Monday.
And the accompanying text is humorous, which 53% of consumers like to see from brands, as per Clutch.
Black Friday Promotion Example #8: Mobile Text From Toys"R"Us
In its forecast for holiday shopping 2021, Adobe projects that smartphone users will spend $86 billion this holiday season.
That's a 16.6% increase from 2020.
Offering Black Friday specials via text makes it much easier for you to reach mobile shoppers — who account for 2 out of 5 online sales during the holiday season, as per Statista.
You see, your customers can't really miss your text.
As stated by TechJury, 98% of SMS marketing texts are opened, easily making it the go-to messaging medium.
As an example of this type of promotion, take a look at the SMS efforts from Toys"R"Us.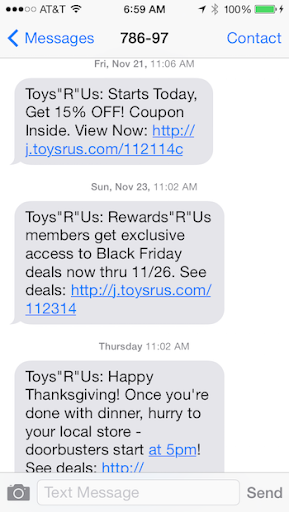 The copy for this text is well executed. As you can see, the text uses the CTA words "View Now" to make customers take action. It's more direct.
And for in-store shoppers, the text adds a sense of urgency by telling them to hurry.
Lastly, the text just makes Toys"R"Us's top customers feel rewarded by notifying them of their deals before anyone else.
Black Friday Promotion Example #9: Giveaway From Ruby & Quiri Appliances
Look, people love free stuff.
It's tough for consumers to turn down the chance to win something. Especially if it requires nothing more than filling out a short form.
Or if you're promoting on social media, just autofill form — which leads to a 189% higher conversion rate, according to Formstack.
As an example of a Black Friday giveaway, look at the one below from Ruby & Quiri Appliances.
As you can see, the copy is very clear and concise.
And the call-to-action button jumps out at you with the use of gold.
Also, by letting people know the giveaway ends December 1st, the ad creates a sense of urgency.
Black Friday Promotion Example #10: Carhartt Uses a GIF in Its Email
For this Black Friday promotion example, apparel company Carhartt gets creative with its email campaign.
By depicting a blind opening up, it signals the beginning of the sale. Better yet, it's like telling customers, "It's a brand new day."
And the minimalist design makes for easy comprehension on all devices.
What's great about the example is the use of a GIF.
GIFs are more interactive and interesting than normal emails.
Your email recipients will be more enticed.
In one case study, Dell saw a 42% increase in click rate and a 109% increase in revenue with the addition of a GIF in its email, according to Drip.
Black Friday Promotion Example #11: Birchbox Incentivizes a Referral
When your customers make a purchase this Black Friday, why not get one of their friends to do so too?
I'm talking about referrals.
At first, you might be thinking that it's risky. Having a referral program means giving deals to two people at the same time, often in the form of store credit.
In theory, if they don't spend enough, you could be in the red.
You might be thinking, "What if they just use the referral once?"
Or "Is it really worth the time and financial investment?"
But don't fret.
According to Talkable, referral programs have an average ROI of 300%-1000%.
This takes me to the last Black Friday promotion example for this post.
For the 2020 Black Friday season, makeup company Birchbox used referral marketing platform, Mention Me for its promotions.
You see, Birchbox highlights the importance of friendship. And they want customers to feel like they owe it to their friends to notify them of a deal.
But not only will friends get 50% off their subscription, the customer doing the referring will also get their own discount.
Referrals are just good business any time of the year.
According to Nielson, 84% of people trust recommendations from people they know — making it the most effective form of marketing and advertising.
And when you have more website traffic and more sales during Black Friday, it's your chance to make your existing customers happy while onboarding their friends too.
Conclusion
Need Help With Your Holiday Marketing Efforts? Sign Up With AutoGrow To See Your Ideas Made Real
As the holiday season approaches, it's important to start thinking about how you can raise awareness for your business or client in a competitive marketplace.
Fortunately, there are plenty of ways to reach prospective customers through digital marketing efforts.
The 11 Black Friday promotion examples outlined in this article will help get you started on laying out an effective campaign to jumpstart this year's holiday season.
And you can use these examples to inspire your other holiday promotions too.
But keep in mind that a lot of consumers start their shopping early. In a survey from McKinsey & Company, 45% of respondents said they start holiday shopping in early October. So it's crucial that you don't wait until the last minute to come up with a strategy.
If these ideas seem overwhelming or if you want some expert guidance with crafting a strategy tailored specifically to your online store needs, consider signing up for AutoGrow.
Our team is ready to help craft compelling content across all channels so you can build momentum before the holidays arrive.
So will any of these examples help you with your next campaign?
Let me know in the comments below.
Keep AutoGrowin', stay focused.
Mark