9 Website Lead Gen Strategies to Convert Visitors into Leads
So you put up your website, even splurged on a great design and placed all the info in until it looked sleek and shiny. You clicked the "Launch" button and now it's live!
And has been…for quite some time…and yet…tumbleweeds…
"Where are the customers?!" is what's going through your head.
You did what you were supposed to, right? So why isn't the money rolling in?
Well, there's a lot more to running a website if you want to be making bank and growing a thriving business.
In this article, I'll tell you some tweaks you can make to your site—that are actually website lead generation strategies—so it starts attracting leads and turning them into paying customers. I'll also tell you:
What is lead generation?

Where your website falls in the lead generation strategy.

9 strategies to generate leads with your website.
Are you ready for this? Let's start by reviewing…
What Is Website Lead Generation?
As the company that coined inbound marketing (more on that some other time), Hubspot, describes it, "Lead generation is the process of attracting prospects to your business and increasing their interest through nurturing, all with the end goal of converting them into a customer."
Which is exactly what you want.
And you want to do this without having to spend money on advertising or other expensive marketing tactics. That's where lead generation comes in. It's all about using your website to attract leads that you can nurture into sales.
Let's take a deep dive into the simple ways you can do just that.
9 Website Lead Generation Strategies
This guide provides a glimpse into the best website lead generation strategies you can implement to create, promote, and monetize your website.
And these tips are for all. Any size business can use implement them on their own website and see results.
But for the most part, lead generation requires organization, consistency, and a whole lot of data. Here's where you can get started.
Website Lead Generation Strategy #1: Clearly Define Your Target Audience
If I asked you to describe the kind of person who'd love your products and services and who you'd want to do business with the most, would you be able to describe them in detail?
Would you be able to pick them out in a sea of people?
Because to attract these buyers, you need to know what they need, what they prefer, and what influences their decisions. There are several methods you can use to gather this data:
Surveys

Focus groups

Industry reports

Tools such as Google Analytics
If you know who your target audience is, you can create content and messaging that interests them.
Give them something to care about.
For example, say affordability is important to your target market. Then talk about it! If it's not, then don't.
In 2016, Cintell published a study on B2B buyers, done in partnership with several other companies, including MarketingProfs and ResearchScape. The report found that companies that exceed their revenue goals are 2.3 times more likely to have conducted buyer persona research than those that missed their revenue goals. 
Business Wire detailed this finding saying, "Companies that exceed lead and revenue goals are:
"2.3X more likely to research the drivers and motivations of their buyers,

"1.6X more likely to understand the fears and challenges of their buyers,

"and 2X more likely to include the buying preferences of their personas than companies who miss these goals."
The same study also found that more than ⅔ of the companies who missed their targets did not conduct qualitative interviews to research buyer personas.
If you want to be on the winning team, you need to start caring about your customers enough to want to get to know them.
Website Lead Generation Strategy #2: Offer Valuable Content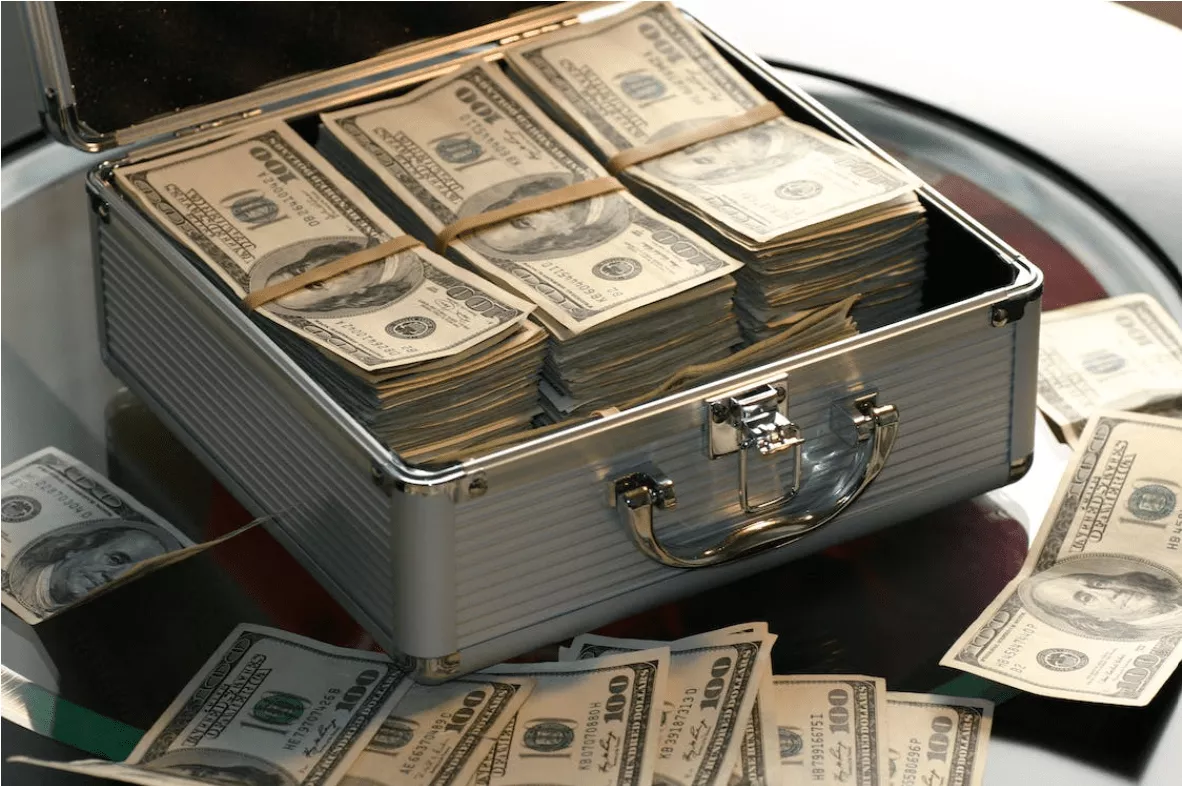 Would you believe that publishing blogs, posting on social media, and giving out free guides brings in more than triple the leads that outbound marketing does but is more than 50% cheaper?
That's what Demand Metric found out. 
When you share important information, people will see you as an expert. Share enough and you'll be seen as an authority in your industry.
According to Hubspot, large blogs are most effective at improving brand awareness when they publish 3-4 times a week and best at gaining more traffic when they publish 4-5 new articles a week.
While it's not a hard-and-fast rule, it definitely underscores the possibilities of what free content can do for your business. 
Website Lead Generation Strategy #3: Make It Easy To Subscribe
Let's take a moment to study your emails, shall we? (Don't worry, we won't judge.)
I'm willing to bet a good chunk of them are from email subscriptions to different product brands, maybe a fitness blog or two—more, if you're into health—and a few others that are about the latest trends in your line of work.
This shows only one thing: email marketing is NOT dead!
And there are definitely no signs it will be in the near future. Email marketing is still one of the most effective website lead generation strategies and channels, with an average ROI of $40 for every $1 spent, as reported by the DMA.
So make your call to actions (CTAs) clear and simple. Make the CTA button color pop. Be specific. Use statements like these:
Subscribe to our email list

Follow us on social media

Get a free trial

Request more information

Learn more
Website Lead Generation Strategy #4: Optimize Your Forms
This is a key step in generating leads on your website, so it's important to take note.
Forms are often the first point of contact with potential leads, and they can either encourage or discourage visitors from providing their contact information.
To optimize your forms for lead generation, they should always be short and simple.
Never ask for more information than you need. Stick to the basic information such as name, email address, and phone number, as well as more specific information that will help you segment and qualify leads.
But that's not all you can do with forms. Here are a few other tips:
Make sure that forms are easy to understand and visually appealing.

Use clear and concise language.

There should be labels and placeholder text to help guide visitors through the form.

Your forms have to be optimized for mobile devices. Chances are, a good number of those filling them out are on their smartphones.
Website Lead Generation Strategy #5: Use Social Proof
You can't really blame people for wanting to be cautious.
It's your job to prove that they can trust you to conduct fair and legitimate business. A 100% guarantee isn't necessary, at least not with all products. Instead, social proof is a better method.
When was the last time you bought something because your friend recommended it? Or when was the last time you went to a cafe or restaurant because you saw people on social media raving about it?
How about purchasing something or availing of a service because the company won an award in their industry?
Social proof is a form of persuasion that influences customers' behavior through the actions and opinions of others. It's a popular decision-making tool used by the public and it's used even in the business world. In fact, it's one of the most effective website lead generation strategies.
Businesses use social proof to validate their products and services to potential buyers.
There are several types of social proof that you can use on your website to establish reliability with your target audience. These include the following:
Customer testimonials:

Positive testimonials from satisfied customers can impact how consumers feel about your brand, increasing their likelihood of purchasing.

Case studies:

Case studies show how your customers have benefited from using your products or services. It helps build trust with potential buyers and convince them of the value of what you offer.

Social media followers:

When people see that many others are following you on social media, they're more likely to trust and engage with your brand.

Industry awards and recognitions:

Displaying awards and recognitions from industry organizations or publications can help establish the reliability of your business.
But remember, social proof is only really effective if it's honest and relevant. No black hat techniques, you hear?
Website Lead Generation Strategy #6: Personalize Your Follow-Up
Any lead generation strategy employs a customized follow-up strategy.
Don't make the mistake of sending out boilerplate emails; that's a surefire way to kill your response rate. Personalize your follow-ups so they appear more professional.
Your leads gave you their contact details for a reason: they want to hear from you.
So reach out! It's important to continue engaging with them. This builds a relationship and nurtures them towards a sale.
There are several ways to personalize your follow-up, including these:
Segmenting your leads:

By segmenting your leads based on their interests and behaviors, you can tailor your follow-up to their specific needs and preferences.

Personalized email campaigns:

These help build a relationship between you and your prospects.

Personalized offers:

A well-designed personalization strategy will let your customers know that you value them as people.

Personalized landing pages:

Tailored landing pages help you convert leads and drive traffic by presenting them with the information they need in order to make a purchase.

Personalized CTAs:

They can increase click-through rates by 202%. It's true. Ask

Hubspot

.
Your follow-up can be powerful in generating leads for your business. The key is to tailor it to each potential customer. The more specific and tailored it is, the more likely you are to generate leads that are interested in what you have to offer.
Website Lead Generation Strategy #7: Test and Refine Your Approach
Say it with me. Test, refine. Test, refine. Test, refine. 
It's the only way you'll know for sure what's working and what isn't. To achieve success, and most importantly, maintain success, you can't rely on guesswork.
By regularly analyzing your results and gathering feedback from your target audience, you can make improvements to your approach and maximize its effectiveness.
There are several key areas to test and refine, including:
Content:

Test different types of content, such as e-books, white papers, and webinars, to see what resonates with your target audience and drives the most leads.

Calls to action (CTAs):

Alternate CTAs, such as button colors, text, and placement, to see what encourages visitors to take action and provide their contact information.

Forms:

Use various form fields and layouts to see what encourages visitors to provide their contact information and what information is truly necessary.

Follow-up:

Test different follow-up techniques, such as email campaigns and personalized offers, to see what drives the most engagement and conversions.
It may take some time for you to reach the point where your website is generating leads on its own. In the meantime, you'll need to continue testing your approach in order to refine it to fit your business. As you test and refine your approach, your conversion rates will improve.
Website Lead Generation Strategy #8: Make Use of Landing Pages
Did you know companies with more than 40 landing pages generate 12X more leads than those with only 1-5 landing pages?
That sounds extreme, but Hubspot has the data to prove it.
Does that mean you should make over 40 landing pages for your business? No, not necessarily. (Phew!)
You'll have to do your own research, and experiment to see what works for your business. But if in doubt, following this tip, as one of your website lead generation strategies, could work for you.
Website Lead Generation Strategy #9: Utilize Lead Magnets
Quick explanation: A lead magnet is a free offer, such as an e-book, white paper, or webinar, that is designed to attract and engage your target audience. You provide valuable information, they provide their contact information.
A fair deal, in other words.
Lead magnets provide value to your target audience by addressing their specific needs and interests. They also help build trust and credibility with your target audience.
Because you're providing them with high-quality free resources, you're showing you're not just trying to make a quick buck.
To get the most out of your lead magnets, be sure to promote them effectively. Here are a few ideas of where you could best do that:
Your website 

Your business social media channels

Email campaigns

Ads
But what other reason is there to go through all this trouble? Well, lead magnets help to qualify leads.
They provide insight into the specific needs and interests of your target audience. If you understand how a potential customer thinks and feels about your product or service, you can tailor your follow-up to increase the chances of converting them into a customer.
You'll also know who's ready to move further along in their buyer journey, and the lead magnet helps them get there.
Conclusion
The online environment is a great way to expand on the typical "brick and mortar" approach to sales and make the most of the internet's capabilities as an advertising medium.
Ultimately, the best course of action is to try out a few different approaches, measure them against one another, and see which ones work best for you.
What's important is you have a good grasp of:
What lead generation means

What website lead generation strategies you can use

The foundation of it all, research
So what's your plan? How do you plan to tackle lead generation for your site? Or have you already done some of these? I'd love to know how it went!
Let me know in the comments below.
Keep AutoGrowin', stay focused.