17 Super-Affordable Online Marketing Tools to Grow Your Sales
"Do you guys use this tool?"
That's a question we often get from our clients. 
They're always wondering which online marketing tools we use to build out our funnels, landing pages, emails…
And of course, a top consideration is always (especially now): cost.
"Which tool will get the job done well—AND not cost me an arm and a leg?"
Luckily there are a decent number of affordable digital marketing tools. Many are even free or ½ the cost of current tools you might be using now.
Because when you sign up for the right tool, yes, you'll get more leads and sales, but you'll save at least $1,133 per month. 
Of course, there are other factors to consider here—features, time, ease of use…
But if you're wondering which tools we use, recommend, AND that will save you a bundle, then this curated list will help.
Here's a preview of what I'm giving you today…
17 affordable marketing tools you can switch to today to

save money

.

Successful case studies

of companies that have used these same tools to get awesome results.

The

lowest prices

you'll ever find (some of them are even free or start at $1.65/mo), and… 

How and when to use them

at each stage of your funnel.
Let's start reviewing the tools, save you some ca$h, and pump up your sales funnel
Click here to download it now.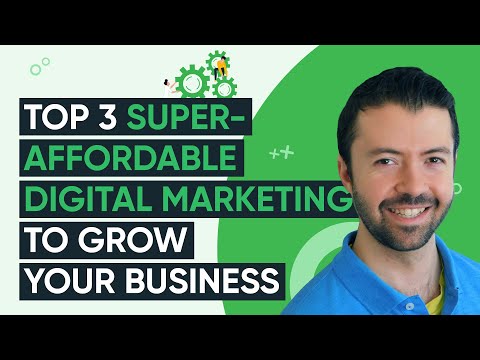 For Checkout: 
1. SamCart—Affordable SaaS Tool

What Is It?
This digital marketing tool allows you to create simple checkout pages for your business. 
They also have a ton of templates to choose from so you can A/B test your checkout page copy.
SamCart is a great and affordable tool to use for upselling too. 
You can create upsells and downsells that are dynamic based on how your customers respond and whether they take an offer or not.
For example, if someone rejects the paid trial for your training, you could have a downsell for a free trial instead. 
Maybe it could be another tripwire. 
Or you could also cross-sell something at a similar price point, maybe a complementary product to the tripwire, for example.
Then, if prospects reject that, you can upsell or downsell them on the trial again. You can do that up to 10 times with SamCart.
When we started using this tool 2 years ago, we thought it was kind of clunky because there's limited ability to kind of put things where we want them to go.
But after getting the hang of things, now we use it for all of our info products checkout pages.
This is how one of them looks like by the way…
Pricing
SamCart is a very affordable tool.
And there are 3 packages to better fit your needs.
Launch at $49/mo, Grow at $99/mo, and Scale at $199/mo.
Why Use It? 
When we first used SamCart, we were worried because they didn't have a 2-step opt-in or 2-step click where you click on a button and instantly a checkout form would appear on the page. 
But they came up with a solution for that based on feedback we shared with them.
So not only is it now easy to create a checkout page, but it's super easy to integrate with PayPal. 
And customers can check out faster.
I recommend SamCart if you sell any kind of products online where you want to have a seamless checkout experience with multiple payment options, and the ability to do upsells, downsells and cross-sells to maximize the customer lifetime value. 
Also, as a customer, I found their feature set to be perfect. 
It's not too much. It's not too little.
They take feedback from customers very seriously.
If you make an argument or show them an example of how you would want to use a new feature or tweak it, they're actually very open to it and iterate that change very rapidly.
Examples of Marketing Success With It
Freak Athletics' founder, Rocky Ullah, used Infusionsoft for years. 
His basketball training website made a considerable splash. 
It had YouTube hits in the 17+ million mark and Facebook fans in the millions.
And one day Ullah gave SamCart a try.
He liked the advanced analytics, 1-click upsells, and checkout page customization. 
After using SamCart on his website, Ullah reported 29.3% of added sales. 
This translated to about $36,773.45 in revenue over a year.
For Building Landing Pages: 
2. Leadpages—Affordable SaaS Tool

What Is It?
Leadpages is a landing page builder.
We use it to create and optimize all of our landing pages and our clients'.
We've been their customer for 3 years already. 
And it's the best tool we've used so far for building landing pages.
It's a good plugin to add to the foundation of your site because you're capitalizing on opportunities to capture new leads who might be stopping by to check out your content or service offerings.
When it comes to Leadpages' brand effect on the way your products are sold, Leadpages is the best option. 
Their pages are simpler, more "casual" in presentation, and it has a better content upgrade feature.
Users can automatically opt in to get a free downloadable piece of content.
It also has more value-oriented content with a heavy focus on content upgrades. 
And not only that, but their templates are less busy.
Pricing
Leadpages has a solid referral program.
They have a 30% commission rate–—not too shabby in the world of affiliate marketing. 
And they also throw in a few perks for successful affiliates. 
If you get over 20 sales per month, you can unlock the ability to offer exclusive Leadpages discounts and limited-time offers to your audience. 
And they offer 3 very reasonable pricing packages: Standard: $25/mo, Pro: $48/mo, and Advanced: $199/mo.
They limit their features on purpose by an order of magnitude.
Standard comes with only email support, Pro comes with email and chat, and Advanced is the only one that allows for phone support along with email and chat. 
A few other notable differences are that only the higher tiers come with unlimited A/B testing, email trigger links, and online sales and payments. 
Why Use It?
Leadpages is easy to use.
Anyone who starts using it will have a good experience because it's a user-friendly tool.
It doesn't take much time to learn how to use it.
And for beginners, it has different templates designs that you can choose from. 
All templates include pre-built sections with placeholder widgets that you can edit and customize.
Also, their customer support is great. 
You can get to chat with someone from Leadpages' support in real-time and open a ticket request for assistance.
Leadpages has a pretty vast network of resources for members and non-members to choose from. These resources include:
Blog

A wide collection of well-made and informative ebooks

A weekly podcast

Webinars and other marketing training programs

Free marketing training university (ConvertedU)
A lot of this content focuses on increasing audience marketing know-how and how Leadpages can help supplement your marketing goals. 
Examples of Marketing Success After Using This Tool
Leadpages founder Clay Collins is of the philosophy that it's a mistake to try to build the ultimate marketing product. 
That's because so many have tried and failed (probably him included at some point).
For marketer and entrepreneur Dan Henry, he turned $441 in Facebook ads and Leadpages into $900,000 in real estate sales.
And this was the simple landing page Dan created with Leadpages.
Chirag Kulkarni, the CEO of Taco Agency, who specializes in content marketing and link building says:
"Leadpages is one of my favorite tools to use. Finding, managing and creating great landing pages can be a tedious task, especially if you aren't technical. One of my favorite ways to use Leadpages is to create landing pages for driving specific audiences to my website.
For example, if I got quoted in a magazine like Inc.co, I will run an ad and send people to my site and have a title that says something like 'Welcome Inc.com readers!' By personalizing my landing pages, I get a much higher conversion rate on my campaign."
And Chet Holmes International who specializes in boosting the success of small and mid-sized businesses, switched to Leadpages in 2014. 
They decided to use it to boost the presence of their eCommerce store. 
And sales spiked to 1100% after their landing pages went live.
For Email Automation: 
3. ActiveCampaign—Affordable SaaS Tool
What Is It?
ActiveCampaign is a cloud software platform that offers software for customer experience automation which combines email marketing, marketing automation, sales automation, and CRM features.
We use ActiveCampaign to send our newsletters and email campaigns. 
Pricing
You can pay as little as $15 for their cheapest package, and $279 for their most expensive.
And for a limited time, they're offering CRM with Sales Automation for 3 of their packages for free.
They've got tons of features and their prices are pretty low compared to other options.
Why Use It?
ActiveCampaign's customer support isn't that great to be perfectly honest. 
And the tool's a bit buggy but your emails do get sent.
Despite the downfalls though, I still recommend it because the functionality it provides is worth its weight in GOLD.
And the cost savings are worth the money.
So, instead of trying to immediately convert a new site visitor, use ActiveCampaign in your sales funnel to nurture a relationship with them first.
This requires less thought from the prospect, and they'll generally be more willing to do it, especially if they get a free resource (such as a lead magnet).
Once you have their email address, use this tool to automate a follow-up email sequence to nurture them so they eventually buy. This is the "follow up" stage of your funnel.
Examples of Marketing Success After Using This Tool
E-signature resource ApproveMe allows WordPress users to get digital signatures for notarizing documents. 
They tried ActiveCampaign to find out which leads were using their demo service. 
For instance, if a lead used the demo service, ApproveMe labeled them as "tried demo."
To see how much money was coming in from these leads, ApproveMe used Site Tracking in ActiveCampaign. 
Site Tracking allows you to see what users are doing on your website, and use your marketing to respond to what web pages they've visited.
Finally, they crafted automated emails that went out to different audience segments that were broken up by engagement level, previous behavior, and other factors. 
They reported more engagement and a 110% sales spike in a month.
For SEO: 
4. Google Keyword Planner—Freemium Tool
What Is It?
Google Keyword Planner is a free Google Ads tool that suggests keyword ideas and traffic estimates to help you build a Search Network campaign. 
It also helps you search for relevant keywords and ad groups ideas for any topic.
Pricing
This is a free tool for new or experienced advertisers. 
You can use Keyword Planner to search for keywords, see how they might perform, and to choose competitive bids and budgets to use with your campaigns for free.
Why Use It?
Relevancy is crucial in keyword selection. 
And Google Keyword Planner lets you see which keywords in your niche are trending for new or existing campaigns.
You can search for those keywords based on terms relevant to your product or service, website, or landing page.
It also gives you historical stats and traffic forecasts. 
With this tool, you can easily search for your target keywords. 
And best of all, it doesn't cost you a dime.
Examples of Marketing Success After Using This Tool
Casa Kids, a custom-built furniture for children saw a traffic rise by 30% within a few months of using Google Ads.
For Delegating Simple & Complex Marketing Tasks:
5. AutoGrow—Affordable Productized Service + Products
What Is It?
The AutoGrow Web App lets you hand off your digital marketing tasks through the app—whenever you want to.
Do it from your laptop or from your phone.
Just log in to our app, create the tasks you want to delegate to us, and we'll get the work done for you. 
All we need from you is the digital marketing tasks you want us to work on. That's it.
Pricing
The AutoGrow Web App is very affordable.
It starts at $19 per day.
And it has 4 different packages to fit your needs. 

Supreme package at $2,999/mo for those who want more work to get done, Ultimate at $1,799/mo (most popular), Superhero at $999/mo, and Hero at $599/mo for those on a tighter budget.
With each package you can get unlimited tasks completed by us per month.
PLUS, for your peace of mind, you're backed by our 30-day 100% satisfaction guarantee.
And we're about to launch a special offer—a marketplace where you'll be able to get just one task done without subscribing to any of the packages.
But more on that in another article.
Why Use It?
First, the AutoGrow Web App saves you money and time.
Second, no one's offering you the same service.
No one out there has an app where you can just submit your request for the work you want to be done. And best of all, you can do it all without having to get on the phone with anyone. 
But of course, we do still offer clients the option to get on a call with our Digital Marketing Strategist if that's still what they want. 
PLUS we offer transparent communication in real-time via Skype. 
Soon we'll have a Live Chat integrated to the app where clients can ask questions and get updates in real-time.
AutoGrow is not only affordable, simple, and useful. But it actually lets you delegate to us any digital marketing task you need.
Here are some of the tasks we can do for you…
Examples of Marketing Success After Using This Tool
AutoGrow saves our clients an average of $16,906 per month and 20 hours per week.
One of our clients is Kelly Cammack of Apollo Answering Service. 
Thanks to AutoGrow, Kelly saw her revenue double. 
And this let her hire a better sales team that now handles the deal closings for her. 
Also, Russell Kommer of e-Software Associates (a 7-figure company), turned a projected 10% loss for the year into a 30% revenue growth after working with us. That translated into $300,000 in extra revenue.
For Ad & Graphic Design: 
6. Bannersnack—Freemium Tool
What Is It?
Bannersnack is a cloud-based, professional banner and ad maker.
This tool lets you create fully responsive banners for all screen sizes on any device.
It comes with plenty of features that allow you to design your ads and manage and implement advertising campaigns across online channels.
Pricing
Bannersnack is a freemium tool.
They offer plans for individuals: freelancers, small businesses, and designers. And they also offer team plans for startups, companies, and agencies.
However, their free plan lets you customize up to 10 ads per month.
Their paid packages are pretty affordable. 
They start at $12/mo and they let you create and edit up to 30 designs per month.
It's a matter of choosing the plan that best suits your business' needs.
Why Use It?
Bannersnack lets you create display ads in every shape or format. And with it you can:
Create HTML5 animations

Add interactive elements

Add videos

Add call-to-actions

Add links

Embed your own custom code
You should try this tool because it's pretty easy to use. 
You can start from scratch or select a default template or standard-size layout. 
For customizing each template it's as simple as dragging and dropping images, text, or any other element.
For Recording Videos: 
7. Screencast-O-Matic—Freemium Tool

What Is It?
This is a screencasting and video editing software tool.
Screencast-O-Matic lets you record your screen, edit your video, and share it as a file or link.
And it's perfect for practically anyone with practically any goal—work, educational, or personal.
Pricing
Screencast-O-Matic is a freemium tool perfect for anyone looking to record a video.
And these are the features you can enjoy for free:
Record Screen and/or Webcam

Record Window or Full Screen

Zoom in While Recording

Trim Recordings

Captions

Save to Desktop

Publish to Screencast-O-Matic and Youtube

Quick Share to Facebook, Twitter and Classroom
But if you consider those features are a bit limited for you, they offer 2 more plans: Deluxe and Standard.
Both are charged yearly and start at $1.65/month and $4.00/month each.
And they both have 18 different features to try and some extra specific editing setups.
Why Use It?
It's a simple tool: you just click on and start recording your screen.
It limits you to record 15-minutes videos per upload for free.
If you want to record more than 15 minutes, then you need to upgrade to any of their paid packages.
This tool is very friendly and super easy to use.
Plus their customer support is phenomenal.
For Teamchat & Team Meetings: 
8. Skype—Freemium Tool
What Is It?
Skype is a telecommunications app that provides instant messaging services, video chat, and voice calls between computers, tablets, mobile devices, Xbox One console, and smartwatches. 
Pricing
This free digital marketing tool lets you communicate with groups of up to 50 people.
However, Skype for Business with the video conferencing feature, instant messaging, calling, and document collaboration starts at $5/user per month.
It provides high-quality video with up to 250 people at a time.
And it lets you call phones or send SMS messages if you pay as you use it, or buy a subscription.
Additionally, it lets you make international calls.
Why Use It?
This is the tool we use daily to communicate with the AutoGrow team and clients.
Skype's like our virtual office and it's been a great tool so far.
It's free and it has tons of features like screen sharing, HD video calling, call recording, etc.
For Client Booking / Scheduling:
9. Calendly—Freemium Tool 

What Is It?
Calendly is a simple and easy-to-use scheduling software that lets you schedule meetings without having to do it via email.
Prospects just click on the day on the calendar widget they want to book an appointment and that's it.
A confirmation and reminder email will be sent to both the prospect and the client.
Pricing
Their free basic package includes features like:
Calendar integrations with Google Calendar, Office 365, Outlook, and iCloud

Schedule unlimited events

Personalized Calendly link

Automated event notifications

Add Calendly to your website 

Intercom integration 

Knowledge Base access
But if you're looking to upgrade, they have 2 affordable packages: Premium (starting at $10/mo) and Pro (starting at $15/mo).
They also have a 14-day trial where you can try their tool.
At the end of your trial, you'll be automatically downgraded to the basic, free plan.
Why Use It?
Hands down. I 100% recommend it. 
It's simple, valuable, and it's very reasonably priced.
It also saves you time because you no longer have to contact prospects to book a call through an email or phone call. 
They can do it right through the booking calendar.
And it's the exact same tool we use for all of our clients that offer consultations as part of their services.
Calendly is super practical, accelerates your sales, and improves service quality. 
For Live Chat Software: 
10. Tawk.to—Freemium Tool
What Is It?
Tawk.to is a live chat support & messaging application.
It focuses on communication between websites and their site's visitors. 
Their platform allows you to reach out to your customers directly from your website, mobile app, or from a customized page.
You must try it because it makes it easy to send personalized and real-time customer service messages and monitor traffic on your website.
Pricing
Tawk.to is a freemium online marketing tool.
And it also lets you hire an agent for $1/hr.
That means they staff an agent for your website. 
Someone can handle all the communication with your site's visitors 24/7 while you take care of other areas of your business.
You can try this option by signing up for their free 7-day trial.
Why Use It?
This is a great tool with a great mobile app.
The fact that it actually lets you communicate with your site's visitors in real-time makes it even greater.
Tawk.to facilitates the sales closing because it lets you nurture the relationship with potential buyers before they leave your website.
And not only that, but their agents can handle all the communication with your site's visitors and help you drive sales while you manage other areas of your business.
Examples of Marketing Success After Using This Tool
We at AutoGrow use Tawk.to and not only it's helped us grow our sales, but the design is super simple and appealing without being invasive on the screen.
This is how it looks on our website…
And when our site's visitors click on it, the chat widget is displayed.
Right after we started using Tawk.to's live chat, 3 clients signed up for our services in 7 days.
For Analytics: 
11. Google Analytics—Freemium Service
What Is It?
Google Analytics is a web analytics service offered by Google.
It tracks and reports your website's traffic. And it lets you measure your advertising ROI, your Flash, video, and social networking sites and apps.
It helps you get a better understanding of your customers and it gives you the free tools you need to analyze data for your website.
Pricing
Google Analytics should be part of your digital marketing strategy from the start.
It only takes a few minutes to add the Analytics code to your website. 
You can use the service without paying a monthly fee, but if you want more advanced features, there's a recurring fee.
Why Use It?
One of the best ways to discover where your sales funnel is "leaking" leads is understanding the fundamental levers of online growth. 
And Google Analytics is great for that,
It reveals a lot about your funnel—if you know where to look.
It's a two-step formula that will unveil the largest holes by tracking your visitors and their actions.
Just make sure it's set up to track your website's traffic by creating a conversion goal in Google Analytics.
Then, set it up to track your funnel and let the data come in for a period of 2 weeks to 30 days (at minimum).
Once you have the data coming in, you can clearly see where your funnel is leaking leads.
For example, take a look at where numbers are dropping off in the example below.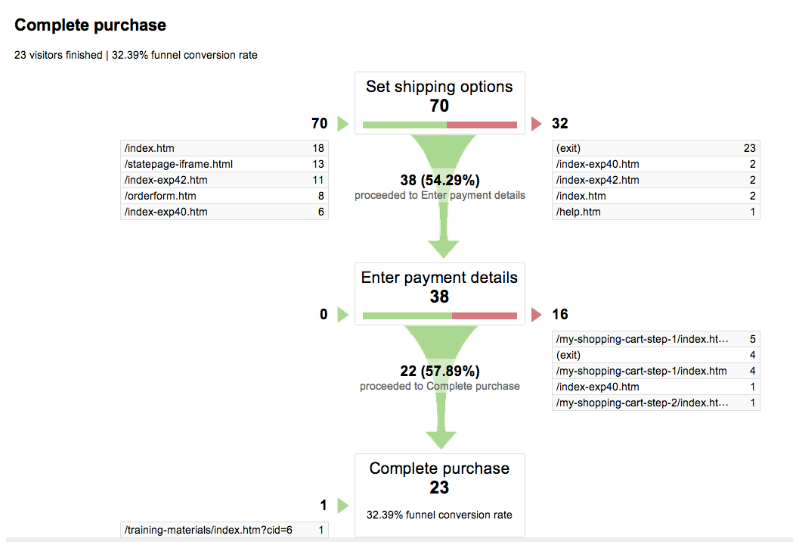 This will give you a clear sign of where the bottleneck is.
Finally, all of your tweaks and changes can be focused on that specific area of your funnel.
For A/B Testing on Landing Pages:
12. Leadpages—Affordable SaaS Tool
Why Use It?
Leadpages is not only great for building landing pages but also for A/B testing.
You can create a landing page and actually test two variables to compare the results on which gets you closer to completing your goal.
Examples of Marketing Success After Using This Tool
One of our strategies to recession-proof our business was to A/B test our homepage. 
With one small change to the copy in our headline, we saw a whopping 80%+ increase in conversions at a 99% confidence interval. That's 80% more people going (at least) one step deeper into our funnel.
And when you multiply those results by every single day of the month, that's a huge boost in money coming in.
Take a look at the two headlines we A/B tested and see the tiny tweaks we made…
"Watch Your Digital Marketing Tasks Get Done" 
Vs "Delegate All Your Digital Marketing Tasks—Without the High Costs of Hiring" 
The second variation ended up winning. We were making an assumption that our "all-in-one team" would sell more. But the word "Delegate" was conveying more value to the audience and the messaging was clearer.
We invested zero money into doing this A/B test. We just used Leadpages for it and it's already massively optimizing our conversion rate.
For Personalized Email List Building:
13. Thrive Leads—Affordable SaaS Tool
What Is It?
"I've tried all the major page/opt-in software out there and Thrive is the best because it's so flexible. I basically run my entire business with Thrive, plus a shopping cart."
Joshua Earl, Email Marketing Pro
Thrive Leads is a WordPress plugin tool for generating email subscribers. 
These are some of its key features:
Trigger opt-in forms based on a user's site behavior or how long they've used the site.

SmartExit+ for catching prospects before they exit the site. 

SmartExit+ pop-ups will only appear based on specific conditions.

A two-step opt-in process for more conversions.
This tool is especially well-known for its personalized opt-in forms, where users have the ability to set up forms like:
Multiple choice forms

Scroll mats

Content locks

Screen filler overlays

Opt-in widgets

Slide-ins

Two-step opt-in forms

In-line forms

"Sticky" ribbons

ThriveBox pop-up lightboxes
Pricing
Thrive Leads comes with 3 pricing packages starting at $67/mo.
And it also gives you the option of becoming a Thrive member for $19/mo.
Why Use It?
The main goal for Thrive Leads is to capture the contact details of a lead and personalize the message. 
You can do this with their pop-ups, exit pop-ups, and landing pages.
With Thrive Leads, the sales funnel process would be two-pronged. 
First, you want to create a visually appealing landing page or lead magnet to attract visitors. Then you want to convert those visitors into leads with an enticing offer.
Examples of Marketing Success After Using This Tool
Joshua Earl wrote a case study about how he gained more email subscribers using what he calls the 80/20 "Peel and Stick" Technique and Thrive Leads.
He explains it as such: 
"When you're buying clicks on AdWords, 80% of the customers will come from 20% of the keywords you bid on. And among those top 20% of keywords, there are probably 3-5 that drive 50-60% of your total business.
Those 3-5 keywords deserve special treatment, because every little bit of juice you squeeze out of them can have a major impact on your sales…'Peel and Stick' is…the technique for improving the results of those top keywords. You single them out and test custom ads and landing pages JUST for those keywords."
By following this technique and obtaining email information via Thrive Leads, Earl had a 372% increase for those interested in The Ultimate List of Programming Books.
For Creating Pop-ups:
14. Sumo—Freemium Tool
What Is It?
Sumo is a suite of tools for automated site growth. 
The 4 tools they offer are:
The Smart Bar for email collection that can be used as a CTA or placed at the bottom or top of the page window. 
Share Buttons for social sharing.
Welcome Mat for email collection that can be added as a video, CTA, embedded on an article, or on a landing page.
List Builder for email collection that can be added as a click trigger or a pop-up.
Pricing
Sumo offers a free plan and a paid option with unlimited features but doesn't offer a free trial.
Why Use It?
Noah Kagan, the founder of OkDork.com, a business and marketing resource that offers website traffic tools that can be used without any coding experience, says:
"It's helped me grow my mailing list while I'm eating tacos at lunch. CARNITAS! Yeah, you automatically get more email signups everyday. Setting up an autoresponder to request demos = gold."
Examples of Marketing Success After Using This Tool
Tony Robbins wanted to break the 1,000,000 site visitor mark monthly. 
And for that, he used Welcome Mat, Sumo Pro, and other apps from Sumo.
The Welcome Mat feature, in particular, was helpful for Robbins. 
He didn't have to make any tweaks to his homepage, but he still secured preorders and contact information from leads.
In all, Robbins had a 15% jump in leads and broke the 1,000,000 site visitor mark monthly.
For Website Hosting:
15. FortRabbit—SaaS Platform
What Is It?
FortRabbit is a traditionally service-focused hosting platform tailored to the needs of modern PHP web development. We actually use it here at AutoGrow and it has been a smart decision.
Not only do they provide affordable hosting solutions to web designers, startups, and digital agencies. But they've also adapted to the economic outbreak to keep customers' business online.
Pricing
They offer 3 pricing plans.
Light that starts at $5 per app monthly, Standard at $15 per app monthly, and Plus at $30 per app monthly.
And all 3 packages come with a free trial.
Why Use It?
If you're a developer and/or have a developer who can set it up for you, this is a very scalable tool built on AWS.
For Uploading & Promoting Videos:
16. Vimeo—Freemium Tool
What Is It?
Vimeo is an ad-free video platform.
This optimized online video streaming site allows you to upload and promote your videos with a high degree of customization.
Pricing
Vimeo is a free tool you can use to manage your personal or professional videos.
However, with their most expensive package Premium, you can store up to 7 terabytes of video, do live streaming, and get a good set of analytic tools. 
Their cheapest package starts at $20/mo, and their most expensive at $75.
Why Use It?
With Vimeo, the idea is to get everyone to host some of their high-quality videos on the site to drive viewers who are looking for visually-stunning videos. 
You must try it for your business or personal life because Vimeo doesn't run video adverts. 
With no interruptions while watching your videos, viewers can watch it all the way through.
You can also customize your Vimeo channel with a logo and colors.
Also, you can control who can see your videos and password-protect a video. 
For Creating Forms:
17. Wufoo—Freemium Tool
What Is It?
Wufoo is a free form builder. 
It's a WordPress plugin/standalone tool that can be easily embedded on most WordPress pages and blog posts.
Pricing
Wufoo offers 4 pricing packages starting at $14/mo.
It also has the option for a free trial in case you want to give it a try.
All of their packages come with different features that you can check on their pricing page…
Why Use It?
Through Wufoo, you can easily survey people on your website to determine the types of content they're most interested in. 
You can also use it as a way to gate your pricing.
Some of their key features are:
Collection of email addresses for lead generation.

Integrates with ActiveCampaign, MailChimp, and other email marketing tools.

Can be used as a checkout form and to collect payment information.
Here at AutoGrow, we've found that Wufoo is very useful.
For instance, after someone opts in on your email list, they get redirected to your survey page. 
This is the beginning of your survey funnel.
And that's where you should ask people a couple of basic questions, like their biggest challenges and more about their respective businesses with a Wufoo form.
Then, based on their answers, you should personalize the experience for them in terms of content.
This increases engagement, especially email open and click-through rates. 
Examples of Marketing Success After Using This Tool
Lawrence Watkins, founder of Great Black Speakers said that their email subscription rates have increased by 30% with Wufoo's Mailchimp Integration.
Conclusion
Click here to download it now.
I'm confident this list of affordable digital marketing tools you can switch to will help you at every stage of your funnel.
The idea is for you to try them and optimize your funnel as much as you can.
They can simplify your marketing workflow, save you time, and effort. 
Instead of switching from tool to tool or having to ask your developer to get their hands dirty with code, you'll save time.
With these free and/or affordable online marketing tools, you'll attract and convert more prospects for less time, less effort, and less money than would otherwise be possible.
And if you're still a bit skeptical, give them a try.
I guarantee it'll be worth it.
Now tell me something. 
Do you think you'll make the switch to any of these tools after reading this article? 
Which tools will you try first?
Let me know in your comments below.
Keep AutoGrowin', stay focused,